Calvin L. Inks (1867-1949)
and Nevada B. Minerd (1874-1956)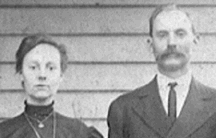 Nevada and Calvin Inks, 1906
Calvin L. Inks and Nevada B. Minerd were first cousins who married each other.
Calvin was born on Nov. 18, 1867 at Farmington, Fayette County, PA, the son of Andrew J. and Minerva (Minerd) Inks. He grew up on a farm in Farmington, but came to Connellsville as s a young man in about 1890. At the age of 22, he worked as a merchant in Dunbar, Fayette County.
Nevada was born on the Fourth of July 1874 in Dunbar, Fayette County, the daughter of Isaac F. and Frances Caroline (Jordan) Minerd. She is known to have lived in childhood in southern Virginia (where her mother's people were from) and also in North Dakota.
On Jan. 15, 1890, Calvin and Nevada were married at Dunbar, Fayette County, by the hand of "Squire" A.C. Duncan, a justice of the peace. At the time, Cal marked his age as "22" while Nevada's was disclosed as "between 15 & 16 years."
Several months after their wedding, the Uniontown Genius of Liberty reported that "Cal looks well and enjoys himself among his old friends."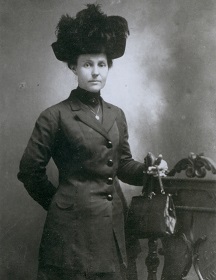 Nevada at about the time of marriage
In November 1906, they are believed to have spent the Thanksgiving holiday at the home of Cal's parents in either Farmington or Fairchance, Fayette County.
The Inkses lived at 252 East Fairview Avenue in Uniontown and later on Tenth Street and at 404 Jefferson Street in Connellsville, PA. In 1910, Nevada's brother Oliver boarded at their home in Connellsville.
Their five children were Ethel Minerva Eutsey, Sanford M. "Sam" Inks, Robert Inks, Oliver "Clyde" Inks and Floyd Inks.
Sadly, Robert (1893, spinal meningitis) and Floyd (1899) died in childhood and are buried at Hopwood Cemetery near Uniontown.
Calvin was employed by the Baltimore & Ohio Railroad for about 45 years, and was a member of the B&O Maintenance of Ways Employees and the B&O Veterans Association. Nevada was a member of the Ladies Auxiliary of the B&O Veterans Association.
He may be the same "Calvin C. Inks" who, working as a carpenter in June 1909, was injured at work when he fell 20 feet from a scaffold at the B&O ice plant in Connellsville. Reported the Weekly Courier, "He received a serious scalp wound and was badly bruised, but otherwise his injuries were not serious... Inks made a mis-step, which resulted in the tumble."
Cal was affiliated with the B&O's train running to Cumberland, MD. Many years later, one of the local journalists who gathered news every day at the B&O station in Connellsville wrote this about the era:
The Cumberland accommodation -- No. 48 the reporters knew it by -- may still be running. It used to arrive from Pittsburgh around 9. Not many "personals" in the crowd that got aboard her. It didn't tax a cub reporter's ability to discover that elbowers and elbowed were for the most part deadheads -- maintenance men, bound for points up the line to spend the day doing their bit to keep the road running. Regulars included the late W.S. Schenck, bridge foreman, and Thomas Edmonds, boss painter, Calvin L. Inks, retired carpenter, as recalled, was a member of Mr. Schenck's bridge crew.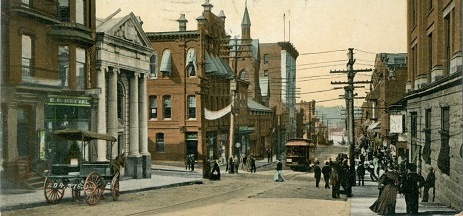 Connellsville's Main Street, circa 1909
When Cal celebrated his 31st birthday in 1899, his friends threw a party at his home on Fairview Avenue. The Courier said he was "presented with a gold watch by his admiring friends." In 1908, when he reached his milestone 40th birthday, reported the Courier, Cal received a surprise party. "The affair was cleverly arranged by his wife and was indeed a great surprise," the Courier reported. "On his return home from prayer meeting he was completely surprised when greeted by about 20 of his most intimate friends. The evening was spent in a most delightful manner until a late hour when a bounteous repast was served." He received a "very handsome umbrella" as a gift, and among the out of town guests attending were Miss Mary Whetzel" of Brownsville and William Dusenberry of Uniontown.
Active in the community, Cal also was a member of the Central Methodist Church board of trustees for 40 years and a member of the F.O.M. Class of the church's Sunday School. He also was a member of the International Order of Odd Fellows. Nevada belonged to the Dames of Malta, and to the Daughters of Union Veterans of the Civil War, Emma B. Goodyear Tent No. 46. She is known to have hosted meetings in their home of the King's Daughters of the Methodist Protestant Church.
The DUV of the Civil War appears to have been a largely social group. One Daily Courier article from October 1938 reported that a covered-dish dinner was held at the Elks Hall in Connellsville in honor of Nevada's birthday and those of three other members -- Mary Kerns, Isabelle Loomis and Clara Zimmerman. "Places for twenty-two members were laid at a large table which was laden with many good things of the season," said the Courier. "Appointments were in keeping with Hallowe'en. Favors were small flower-shaped holders filled with candy. The honored guests were each presented with a cake." The following year, she was elected as treasurer of the group, and in 1941 she served as chaplain. The group provided transportation in September 1952 so that 78-year-old Nevada could attend an upcoming dinner.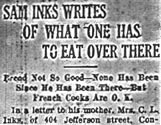 Daily Courier, 1918
Son Sanford M. "Sam" Inks served in World War I with the 26th Engineers. Less then a month before the Armistice, he wrote a letter from France to his mother which was reprinted in the Oct. 16, 1918 Connellsville Daily Courier. Part of the letter read:
Well, sweetheart, I am still on the right side and am enjoying the best of everything this old world can dish out; I mean good health, wealth, happiness and all. Mother, really I would like to see you again. I often sit and wonder about you, on my part, dear, I can see you as well as if you were here. Mother, dear, would you not be surprised if I was to walk in on you some night about 5:30 and say 'well, dear, is supper ready?' Mother, I will never forget your good bread and jelly now. Mother all the jelly you sent me was so good and I surely enjoyed it. I have not had any real good bread since being over here, but I have had some mighty fine suppers with the French people. Tonight I am going to get my fill of eggs. I know a French lady and she is going to let me have a dozen eggs.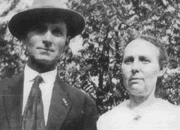 In September 1928, at the death of his sister Minnie Johnson in Philadelphia, Calvin and Nevada traveled to attend the funeral.
Cal died on Aug. 12, 1949, at the age of 81, in their home on Jefferson Street. His death followed two surgeries in late 1948 and early 1949, leaving him bedfast. Following a funeral at the Central Methodist Church, led by Rev. W.C. Marquis, he was laid to rest in Green Ridge Memorial Park.
Nevada outlived him by seven years. She enjoyed traveling to Detroit to visit with her married son Clyde and his family. She is known to have baked a three-tiered wedding cake for her granddaughter Dorothy (Eutsey) Ackerman in 1946, and at the age of 86 to have attended the wedding of her grandson Charles E. Eutsey in Connellsville in July 1950.
She passed away on Sept. 13, 1956. She rests beside her husband at Green Ridge. At the time of her death, Nevada had 10 grandchildren and six great-grandchildren.
~ Son Sanford M. "Sam" Inks ~
Son Sanford M. "Sam" Inks (1893-1970) was born in 1893.
He was considered "one of the best known young men in Connellsville" by the local newspaper, the Daily Courier.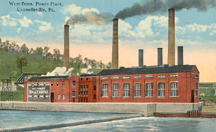 West Penn power plant, Connellsville
After his discharge from the army following the end of World War I, he returned home to Connellsville. He attended Douglas Business College, and worked for many years in the billing department of West Penn Power Company in Connellsville, retiring as a supervisor.
On March 4, 1920, Sam wed his first wife, Mae DeHaven. The ceremony took place in Pittsburgh, where Mae resided at the time.
His second wife was Ethel Margaret Pierce. In the early 1950s, they took long vacations to Florida, spending three weeks at a time in St. Petersburg and Miami Beach. In 1958, they retired from Connellsville to Holly Hill, FL. By 1962, their home was in Daytona Beach.
Sam died on July 18, 1970, and Ethel died in 1994.
They rest for eternity at Green Ridge Cemetery in Connellsville.
~ Son Oliver "Clyde" Inks ~
Son Oliver "Clyde" Inks (1908-1962) resided in Detroit, MI.
He married Ella Cropp ( ? - ? ) and had one son, Gerald Inks.
Clyde died in a Detroit hospital on Sept. 5, 1962, at the age of 54. His obituary was published in his old hometown newspaper, the Connellsville Daily Courier.
Son Gerald Inks lived in Michigan circa 1962.
~ Daughter Ethel (Inks) Eutsey ~
Daughter Ethel Inks (1890-1964) married Clyde E. Eutsey (1891-1946) in December 1912. Clyde was born Aug. 4, 1891, the son of Jacob and Marie Eutsey.
They lived in Connellsville, where they belonged to the Central Methodist Church.
The Eutseys had eight children, of whom seven are known -- Charles A. Eutsey, Clarence E. Eutsey, William C. Eutsey, Harry Eutsey, Nevada Cartwright, Mildred Vanorsdale and Dorothy Ackerman.
Clyde was employed for 27 years with West Penn Power.
He passed away at the age of 54 on Jan. 8, 1946, in Pittsburgh's Mercy Hospital. Following a funeral led by Rev. Lawrence A. Stahl of the Central Methodist Church, his remains were laid to rest in Green Ridge Memorial Park. At the time of his death, said the Daily Courier, he was survived by four grandchildren.
Ethel outlived him for many years, and resided at 209 North Cottage Avenue. In August 1946, she hosted the wedding of her daughter Dorothy to Jack Warren Ackerman in her home.
She died at age 74 on Nov. 23, 1964.
Son Charles Andrew Eutsey (1921-1979) was born on Sept. 22, 1921. He was employed as a young adult at Anchor Hocking Glass Corporation in South Connellsville. During World War II, on Aug. 11, 1942, he enlisted in the U.S. Army and was assigned to Fort Meade, MD. Later, circa 1946, he was stationed at Las Vegas Army Air Field, where he trained how to operate B-29 bomber remote control turret gunner technology. In July 1950, he married Betty Louise Hough (April 20, 1924-2019), daughter of Elmer "Bud" and Fannie (Gallentine) Hough of Connellsville. She was a graduate of Franklin Commercial School. The couple did not reproduce. Upon marriage, they immediately began living in Pine Bluff, AR. There, Charles was employed by the Larkin Transformer company as a foreman, and Betty with Bell Telephone Company. By 1956, the Eutseys had returned to Western Pennsylvania, and made their home in Washington, Washington County, PA. Betty retired from Verizon Telephone Company and belonged to the Telephone Pioneers of America. She was a member of the Wesley United Methodist Church, the Chartiers chapter of the Order of Eastern Star, the Daughters of the American Revolution and the Red Hat Society. Sadly, Charles died at the age of 57 on Jan. 24, 1979. His remains were interred in Green Ridge Memorial Park. As a widow, Betty outlived her husband by nearly 41 years. She spent her final years in Connellsville. She died at home at the age of 95 on Dec. 27, 2019. Pastor Michael Brinker officiated at the funeral service, with burial held in Green Ridge Memorial Park.
Son Harry Eutsey moved to Cleveland, OH, in about 1941, remaining there until his marriage in 1948. He wed June Port, the daughter of Lee W. Port of Connellsville, on Feb. 28, 1948. He lived in Connellsville in December 1956.
Daughter Nevada Eutsey (1917-1968) was born on Oct. 18, 1917 in Manor, Fayette County. She married William H. Cartwright and resided in Connellsville for decades at 236 East Apple Street. Circa 1954, she was active with the American Red Cross and helped organize a door-to-door fundraising canvass effort. They were members of the First Christian Church, with Nevada volunteering her time as the snack bar at Connellsville State General Hospital. The Cartwrights had four children -- Richard C. Cartwright, James Cartwright, Sandra Adams and William H. Cartwright Jr. Sadly, son William Jr. died on Nov. 13, 1960. Nevada passed away at the age of 50, on Feb. 7, 1968, "after an extended illness," said the Daily Courier.
Daughter Dorothy Marie Eutsey married Jack Warren Ackerman, son of LaVerne Huston, and a resident of Pontiac, MI. The ceremony, in August 1946, was held in the Eutsey home in Connellsville, followed by a reception for 55 relatives and guests. Dorothy's grandmother Nevada (Minerd) Inks baked a three-tiered wedding cake. They lived in Kalamazoo, MI in 1956 and in Mason City, MI in 1968.
Daughter Mildred Eutsey married Clarence R. Vanorsdale, son of Clarence Vanorsdale Sr., on May 19, 1952. The ceremony was held in the parsonage of the Central Methodist Church, officiated by Rev. Dr. Clair R. Wick. The Daily Courier reported that Mildred had been employed by Auburn Rubber Company, and Clarence by Anchor Hocking. Mildred made Connellsville her longtime town of residence. They had one known son, Charles Vanorsdale.
In 1970, grandson Charles Vanorsdale won the Fayette County Public School spelling championship held at the Connellsville Area Junior High East auditorium. He then went on to further competition in Pittsburgh, and later won a Getty Oil Scholarship to study earth science at the University of Tulsa, OK. Over the years, he has been employed by Saudi Aramco.
Son William C. Eutsey (1923-1956) was born on Aug. 12, 1923. He resided in Connellsville, where he worked at Anchor Hocking Glass Corporation for many years. He married Sue (?) and had one daughter, Carol Sue Eutsey. In about 1947, he moved to Ashtabula, OH. Sadly, William died in Ashtabula at the age of 33 on Dec. 13, 1956. He was buried in Ashtabula.
Copyright © 2000-2002, 2006-2007, 2012, 2020 Mark A. Miner