Frederick Fay Lytle
(1891-1976)

Fred Lytle was born on Mary 25, 1891, in Ehrenfeld, Cambria County, PA, the son of John Thomas and Elizabeth "Lizzie" (Miner) Lytle.
Fred's father was a coal miner, and his family had recently moved from Perry County, OH, where his older siblings, brothers, George and Clarence "Bobby," and sisters, Edna and Elizabeth "Bess," were born.
The family resided in Coupon, PA, when younger brother Wilse was born in 1896. In about 1899, they made their permanent home in the small coal mining borough of Lilly on Railroad Street, so named because it ran alongside the railroad track of the busy Pennsylvania Railroad.

Boxer Fred Lytle
The Lytle household suffered a tragedy on March 30, 1898, when 15-year-old George died. The Lytles welcomed additions (and family secrets) in 1904, with the birth of Edna's daughter, Pearl, and in 1906 with the birth of Bess's son John "Pete," both of whom were raised by John and Lizzie.
The Lytles may have been a lower-class rural-American family, but they did have talents. John was fairly skillful with pen and ink drawings, and Bess was gifted with a paintbrush. John was also an avid reader, and was known to hand out a few pearls of wisdom to the neighbors. Fred was a sportsman. As an adolescent, he excelled in boxing, and was thought to have won a contest or two. He was also a good bowler.
Fred grew up surrounded by an extended family, for most rural Pennsylvania families were large then. His grandparents, Thomas and Maletha (Ogburn) Miner, lived in Lilly, and his grandmother, Mary Jane (Walker) Lytle-Evans lived on a farm in nearby Cambria Township. Both of his grandfathers had fought in the Civil War, and both had for a time been prisoners in the notorious Libby Prison in Richmond, VA. John's father Lewis had for years been presumed dead, and so his mother remarried to John Evans, but it was later thought that Lewis may have been a deserter.

Fred as a teen
Fred is seen here as a teenager. Like most young men of the town, he and his brothers went to work in the coal mines. However, Fred soon realized grander ambitions when he became a police officer and chief of police in Cresson, and later served as county detective for Cambria County.
On July 20, 1914, Fred married 18-year-old Josephine Roberts of Lilly in a civil ceremony in Ebensburg. One month later, Josephine gave birth to their daughter Ferne. Whereas Fred's American roots ran deep, Josephine's parents were Scottish immigrants. Allen Roberts was a coal miner, and so were Josephine's five brothers.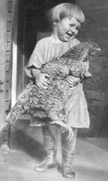 Ferne Lytle
Their marriage was not quite welcome, at least not by Josephine's family. The Lytles were Protestant, and Mary Elizabeth (Brawley) Goldie-Roberts was a staunch Catholic. In fact, she had converted her husband by throwing stones at the Presbyterian Church – when he attended service. Mary Elizabeth was born in Ireland but raised in Scotland, had given birth to five children there, buried a husband, immigrated, remarried, and gave birth to another five children in America. While Mary Elizabeth had five daughters, Josephine was her father's only girl.
Fred and Josephine resided in Lilly. Daughter Ferne is seen here during that era with a favorite rooster.
On March 7, 1916, Fred's father died of tuberculosis at the age of 57. In September of that year, their second child was born, so they named him John Thomas. In 1918, William was born. Fred converted to Catholicism, they remarried at St. Brigid's Church in Lilly, and their children were baptized.
In 1918 Fred's brother Bobby married Margaret Smith. Four months later he went to Europe to fight in the Great War (World War I), where he was soon wounded and hospitalized. When he sufficiently recovered, he found he could no longer work in the mines, so he found work upholstering chairs and such. He and Margaret had six children before he died in 1929 from pneumonia and the after effects of war.
Bess married Jacob Brady around the same time as Clarence and moved to Pittsburgh where she and Jacob had five children.

A typical coal mine operation in Lilly
In 1921, Pearl Lytle died from typhoid at the age of 16. Edna had never married, and for years worked as a domestic servant. Wilse remained single, and both he and Edna helped look after their mother as she lived on into her 70s, 80s, and 90s.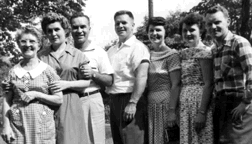 The Lytle brood - seen with their mother, L-R: Josephine, Ferne, John, Bill, Esther, Rita Mae and Fred.
In April 1924 Lilly was the site of a Ku Klux Klan-instigated riot that resulted in the deaths of three men. About 450 members of the KKK arrived on a special train to protest the firing of six men from the local mineworkers union for allegedly having ties to the KKK. Nine-year-old Ferne, a precocious child who loved to read at an early age, was by herself picking up some groceries when many members – with their tall, pointy white hoods drawn over their heads – had arrived in town. With Fred's family native Protestants, and Josephine's Catholic immigrants, there was probably much discussion on the motives of the riot. The April 11, 2004 edition of the Pittsburgh Post-Gazette featured a story on this riot, entitled "The Tiny Town That Fought the Klan."
It is not known whether Fred aided in driving out the KKK as police chief of neighboring Cresson, but as a county detective, he had an active role in upholding prohibition of the 1920s. His closets at home were soon filled with bottles of booze confiscated during liquor raids. Graft and corruption were an unfortunate bi-product of Prohibition and very much rampant even in the small towns, and it is thought that Fred, once a teetoteler, started to spend too much time away from home and in the company of morally bankrupt individuals.
By 1926, Fred and Josephine were the parents of six – three boys and three girls.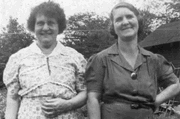 Fred's mother and ex wife (right)
The Great Depression of the early 1930s hit Lilly hard. With the economy at a standstill, there was little demand for coal, and so few jobs were to be had in Cambria County. Fred, too, lost his job.
The future looked bleak in Lilly, so Fred decided to find work elsewhere. Around 1931, Fred hopped on a train and headed West. Fred wrote to Josephine to let her know where he was. For a time, they exchanged a few letters. His wife and six children were counting on him to provide for them through these hard times. Somewhere out West, Fred made a decision; he chose to start a new life.
Josephine and her children waited to hear from Fred. But no news was forthcoming. Rita Mae and Freddie went to their grandmother's house in hope for something to eat. Josephine soon moved in with her older sister, Sarah Leahey, whose husband, recently deceased, had run the general store in town. John and Bill left school and got jobs with the WPA. Ferne married in 1932 and soon had two children. They all did what they had to do to get by.
Where was Fred? One night in the late-1930s, Bill was at the local watering hole, where his old neighbor T.A. Ryan informed him that Fred was in Reno, Nevada – and living with his sister, Dixie.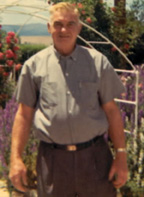 Fred, 1967
Nothing is known of Fred's travel across America. In late 1936 he was employed by the Black Mammoth Mining Company in Silver Peak, NV, one of the oldest mining towns in the state. It is not known whether Fred left Lilly with his neighbor's daughter, Dorothy "Dixie" Ryan, or whether he sent for her. But he eventually divorced Josephine and married Dixie, 16 years his junior.
Fred and Dixie settled in Reno where they lived together for many years running a motel named Dixie's Motel. Fred became an active member of the Free Masons and was an avid bowler.
Fred's mother and his former wife Josephine remained on good terms.
In Lilly, Fred's mother lived on into her 90s. Fred returned to Lilly once in the late 1950s to see her. Daughter Rita Mae lived in nearby Sankertown, so Fred paid her and her children a visit. Fred gave each of Rita Mae's children five silver dollars.
Around 1960, Bill's son Jim visited Fred and Dixie when he was in the service, and Fred was cordial.
In 1967 son John, his wife, Mary, and their younger children, stopped by for a visit on their way to California to see Esther and young Fred. (A photo of Fred Lytle from that visit is seen here – note his huge arms.)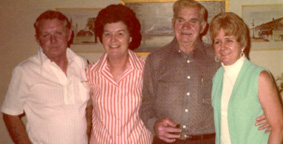 Fred with his three youngest children circa 1974
In 1974, his three youngest children, Esther, Rita Mae, and Fred – who had little memory of the father they hardly knew – paid him a surprise visit. Fred, now 83, cried when he saw them.
Like his mother, Edna, and Wilse, Fred lived on into his 80s.

Fred and Dixie, 1974
Fred and Dixie are seen here, circa 1974.
He died on December 17, 1976 of lung cancer at Washoe Medical Center and was buried at Mount View Mausoleum in Reno. He was 85.
~ Son William Allen Lytle Sr. ~
Son William Allen Lytle Sr. (1918-2014) was born in 1918 in Lilly.
He married Mary Leahey ( ? -2013) and they relocated in 1942 to Philadelphia. The Lytles changed residences again in 1953, moving to Paulsboro, Gloucester County NJ. They were members of St. John's Roman Catholic Church.
They had seven children -- James Lytle, Mary Oksten, William Lytle Jr., Elizabeth Reimer, Michael Lytle, Thomas Lytle and Anne Daly of Mantua.
William was a longtime employee of Mobil Oil in Paulsboro, working as a dispatcher, fleet instructor, foreman and truck driver. He retired in 1981 and then went to work as a runner for First National Bank of Gloucester County. He enjoyed spending time at the Paulsboro Sportsman's Club, and "enjoyed building, repairing and performing odd jobs around his house and the houses of his children," said the NJ.com website.
Active in the community in her own right, Mary served on the Rosary Society of their church, taught C.C.D. classes and served from 1965 to 1986 on the Paulsboro Board of Education. She was employed in the general ledger department of the First National Bank of Paulsboro.
Sadly, Mary passed away on Dec. 30, 2013 at the age of 92, terminating a marriage which had lasted 73 years.
William only survived a few months longer than his wife. He died at the age of 95 on March 15, 2014, at Shady Lane Nursing Home. He was laid to rest with his wife in the St. Joseph's Cemetery in Swedesboro, NJ. At the time of his passing, he and Mary had produced 15 grandchildren and 17 great-grandchildren.
~ More Info ~
For more information, contact great-grandson Craig Adams. Be sure to visit Craig's genealogy website, CraigBarryAdams.com.
Copyright © 2003 Craig Adams. Published on Minerd.com with permission of the author.