Elizabeth 'Lizzie' (Miner) Lytle
(1865-1960)

Lizzie Lytle

Elizabeth Abigail "Lizzie" (Miner) Lytle was born on Jan. 23, 1865 near Sego, Perry County, OH, the daughter of Thomas M. and Maletha (Ogburn) Miner. Lizzie was born in a log cabin, and was a redhead.
Lizzie was born a year after her father was discharged from service in the Civil War due to his poor health. When Thomas' father, Frederick Miner Sr., passed away in 1871 at the age of 94, it is likely that his portion of his inheritance was much needed. A few years later Thomas obtained a pension from the government for his wartime disabilities.
Lizzie learned to read and write at a one-room schoolhouse in nearby Crooksville.
It is thought that Lizzie was one of eight children, although only five survived into adulthood. Besides Lizzie, there was older brother Harvey, and younger brothers Fred, Wil, and Charles. Lizzie was the only girl.
In about 1876, Lizzie's family moved from the Sego area to nearby Bearfield Township. Then, in about 1880, her father purchased a one-half acre tract at McLuney Station in nearby Harrison Township.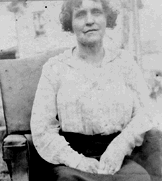 A younger Lizzie

On Sept. 19, 1881 in Perry County, Lizzie married John Thomas Lytle (1857-1916), a coal miner. John was born in Pennsylvania but resided in nearby Bearfield Township. Lizzie was just 16 years of age.

Lizzie and John had these children: George R. Lytle, Edna A. Lytle, Elizabeth "Bess" Brady, Clarence Warren "Bobby" Lytle, Frederick Fay "Fred" Lytle and Wilse Gilmore Lytle. They also raised two grandchildren as their own: Pearl Lytle and John "Pete" Lytle.

It is presumed their first child, George R. Lytle, was born around 1883 in McLuney.

George was born in 1883, Edna in August 1885, Bobby on Valentine's Day 1887 and Bess in February 1888, all in McLuney. It is not known when Lizzie and John moved east to the coal mines of Cambria County in Western Pennsylvania, but around 1890 is a fair guess. The Lytles are one of the very few members of our family of that generation to migrate eastward, rather than to southern or western destinations.

Fred was born on May 25, 1891 in Ehrenfeld, Croyle Twp. Fred had red hair like his mother, and so he was nicknamed 'Red.'

Wilse was born in August 1897.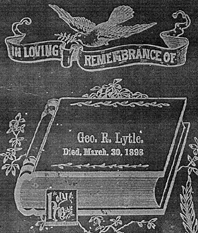 George Lytle's funeral card

Tragedy struck on March 30, 1898 when oldest son George passed away at the age of 16 from typhoid fever. He recently had begun working with his father in the coal mines. He is buried in Coupon, Gallitzin Twp. His funeral card, seen here, was mounted on heavy black cardboard, and contains a moving poem:

A precious one from us has gone,
A voice we loved is stilled;
A place is vacant in our home,
Which never can be filled.
God in His wisdom has recalled
The boon His love has given;
And though the body slumbers now,
The soul is safe in Heaven.

Sometime in the late 1890s, Lizzie's parents, along with her brother Charles, relocated to Cambria County. In 1900 they resided in Gallitzin, and by 1910 her parents were living just a few miles away in Lilly, near Lizzie. Her father was now in his seventies, half-blind and of terrible physical condition. Brothers Wil and Fred by 1910 had relocated to Cambria County as well and brother Charles had moved to New York State. Lizzie's mother-in-law, Mary Jane (Walker) Lytle Evans (who had a thick cockney accent as a result of her being from Northern England) and her second husband, John C. Evans had also recently moved to Cambria County from Perry County, Ohio.

On Nov. 30, 1904, Edna gave birth to a daughter, Pearl Lytle. Lizzie and John "adopted" Pearl and raised her as their own. Sadly, Pearl died on August 25, 1921 at the age of 16 of typhoid fever. She is buried in Lillydale Cemetery, Lilly.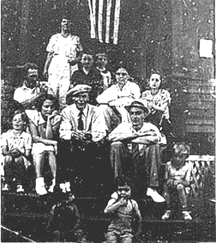 Lizzie, children, grandchildren

In 1905 Bess gave birth to a son, John "Pete" Lytle. Lizzie and John "adopted" Pete and raised him as their own child, too.

Lizzie resided on North Railroad Avenue in Lilly for the remainder of her life. The house stood next to the railroad tracks, and it shook when the train roared by. Their kitchen was in the basement, and Lizzie -- and later Edna -- cooked over a coal-burning stove.

Lizzie's father, Thomas, passed away on March 24, 1910 at the age of 79 and was buried in Lilly. Her mother collected on his Civil War pension for the next eight years until she died on February 5, 1918 at the age of 79.

As young men, Bobby, Fred, and Wilse all worked in the coal mines with their father. There was not much other work to be had in Cambria County.

Fred was the athlete of the family. As a young man, it is believed that he became welterweight boxing champion of Cambria County. On July 20, 1914 in Ebensburg, Fred married a local Catholic girl, Josephine Agnes Roberts (1895-1971), the daughter of a Scot and an Irish-Scot. They resided in Lilly and had six children: Ferne Ruth Moyer Rossiter, John Lytle, William Lytle, Esther Agnes Webb, Rita Mae Adams and Frederick Lytle Jr.

Lizzie and John had been married for 35 years when on March 7, 1916 John died of tuberculosis. John had been a coal miner for most of his life, but it is said he taught himself how to read and write and became an avid reader of all kinds of literature. He was such a scholar among the locals that he was sought out for advice on legal matters and such. It is also said he was also an accomplished illustrator of pen and ink drawings. Unfortunately, none of his works survive.

Lizzie with daughter in law Josephine and granddaughter Rita Mae Adams
Son Bobby married Margaret Smith in 1918, and they had 6 children: Marjorie E. Link, Edna Ziegler, George D. Lytle, Hallam J. Lytle, Bernice Caulk and Jeanne Kennedy. Bobby fought for his country in World War I and was wounded in the leg. In 1920 he was recuperating at the US Army General Hospital in Carlisle, Cumberland County, PA, while his wife and infant daughter Marjorie were living next door to Lizzie. His injury left his one leg stiff, and he thereafter walked with difficulty. He could no longer work in the coal mines, so he opened a repair shop, where he did such things as upholster chairs. Sadly, he passed away of pneumonia on Feb. 19, 1929 at the young age of 42. His youngest child was just one year old. Margaret later lived in nearby Cresson. She outlived her husband by 46 years. Bobby and Margaret are buried in Lillydale Cemetery.
Lizzie's mother-in-law passed away in 1922 at the old age of 90 and was buried in Lloyd Cemetery, Ebensburg, Cambria County.
In the 1920s, son Fred became chief of police of neighboring Cresson, and later a county detective. This was during Prohibition, when the sale and consumption of beer and liquor were against the law. Fred was involved in liquor raids, and in "buys" where an undercover agent purchased a bottle of booze, which later would be used as evidence in an arrest. Fred's home soon became filled with such evidence. His experience with the corruption and vices that surrounded the trafficking of liquor had a detrimental effect on him and his family. It is thought that he was fired from his job in 1931, at the beginning of the Great Depression.
The Depression of the '30s was a difficult time for everyone. Those who managed to still work in the coal mines only labored a few hours a week and for less pay. Times were so tough that the Red Cross delivered a shipment of stale flour, and the town was grateful. In 1931, soon after he lost his job, Fred left his family. He took the train out west in the company of a young woman named Dorothy 'Dixie' Ryan, who was 17 years his junior, and who was the daughter of his neighbor. By 1937 they were living in Silver Peak, NV, where Fred was employed by the Black Mammoth Mining Co. He wrote a few brief letters to Josephine, but it was their son Bill who learned of Fred's whereabouts at a bar in Lilly from Dixie's brother. Bill also learned that Fred had gotten a divorce, and had married Dixie. While Fred was making a new life for himself, Josephine and their six children made the best of a bad situation. For a time they went to live with her sister, and the boys found jobs with the Works Progress Administration (WPA).
Daughter Bess later married Jacob Brady and had five children: Jacob Brady Jr., Richard "Dick" Brady, Elizabeth 'Betty' Brady, Ann Brady and Clarence 'E.I.' Brady. Bess was blessed with her father's artistic talents, for she was a gifted painter. It is thought that Bess died sometime in the 1960s near Pittsburgh, PA.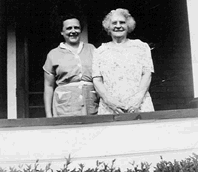 Lizzie with daughter Mary
"Adopted" grandson Pete married a woman named Mary and they had a daughter, Mary Ann. Pete later moved to Linesville, PA, but often returned to Lilly to visit. He died in 1978.
Wilse and Edna never married. Wilse was a coal miner, and Edna worked for many years as a domestic servant to Thomas Leahey of Lilly. They lived all their lives in Lilly and helped care for Lizzie as she lived on into her 70s, 80s, and 90s.
On August 7, 1960 Lizzie passed away at her home in Lilly. She had lived to be 95, outliving her husband by 44 years. She is buried in Lillydale Cemetery beside her husband.
Son Fred later ran a motel in Reno, NV called "Dixie's Motel." He died on December 17, 1976 in Reno, NV of lung cancer. He was 85. He never reconciled with his family, but he did entertain some of his children and grandchildren, who had longed to meet him out of their own curiosity, really. Fred had returned to Lilly once in the 1950s, perhaps out of his mother's request. Fred is buried in Mountain View Mausoleum, Reno, NV.
Edna had her mother's longevity genes, for she, too, lived to be 95. She passed away on May 12, 1981 at Lee Hospital. Up until her death she had been living in the house on North Railroad Street that her mother lived in for so many years. She is buried in Lillydale Cemetery.
Wilse died a year later on September 25, 1982 at Murray Manor, Murrysville. He was the last surviving member of his immediate family. He is buried in Lillydale Cemetery.
Lizzie is remembered by her grandchildren and great-grandchildren as "Ma" Lytle. She was a tough old woman who buried a husband, children, and grandchildren, who was shamed into giving her grandchildren food during the Great Depression, who at 90 years of age sat in her rocking chair and cracked walnuts with an ax, and who is somewhat fondly remembered as a real tough cookie.
The Lilly community was in the news on Christmas Day 2008 -- when an 1851 painting of an old local saw mill was published on the front page of Pittsburgh Post-Gazette. The work was painted by Alfred S. Wall and entitled "Old Saw Mill," and today is on display at the Westmoreland Museum of American Art in Greensburg, PA. Click to see the painting and news story.
For more information, contact great-great grandson Craig Adams.
Copyright © 2002 Craig Adams. Published on Minerd.com with permission.