Home

William Stewart McKnight
(1898-1929)


William and Fannie
William Stewart McKnight was born in 1898 near Dawson, Fayette County, PA, the son of Charles and Keziah (Stimmell) McKnight.
He was united in holy matrimony with Mary Frances "Fannie" Junk (1898-1982), the fourth-born daughter of Thomas Newton and Abigail Augusta (Gilleland) Junk.
Born on April 21, 1898, Fannie was one of a baker's dozen of siblings who included William Junk, Anna Junk, Leslie Junk, Paul Junk, Winfield Junk, Louella Junk, Robert Junk, Augusta Junk, Nillie Junk, Henry Junk, Harry Junk and Olive Junk.
Fannie's mother died in 1914, when Fannie was 16, and the teenager was given the chore of preparing the meals and doing the housework.
William and Fannie had six children -- Hazel Charlotte Hixon, Paul William McKnight, Oliver Newton "Newt" McKnight, Glenn Ellsworth McKnight, Dora "Dot" Dykun Ganoe and Robert Ernest McKnight.
The young family made its home near the Bryan Methodist Episcopal Church in Dawson, Lower Tyrone Township, Fayette County. The federal census of 1920 shows the 22-year-old William employed as a repairman on the Pittsburgh and Lake Erie Railroad.

Pittsburgh and Lake Erie Railroad Yards at Dickerson Run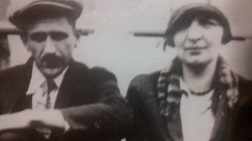 Rare image of the couple together
Tragedy struck in the summer of 1929 when William contracted a deadly case of typhoid fever. He was "ill but a short time," reported the Connellsville Daily Courier, and died at his home on July 5, 1929, at the age of 32. The funeral was held at the Bryan Church in Dawson, led by Rev. William F. Seitter, followed by burial at the Dickerson Run Union Cemetery.
The widowed Fannie continued to make her home in the Dawson area. In 1930, when the federal census was made, Fannie and her six children lived under one roof in close proximity to the homes of her father in law Charles McKnight and uncle in law Ostman Theodore "Tod" McKnight.
She was valiant in her efforts to raise six children on her own and never got over losing her young husband so suddenly. She was determined to keep her family together though, and she succeeded.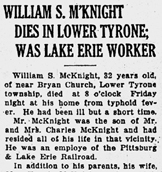 Connellsville Daily Courier
Four of the McKnights' sons -- Paul, Newt and Glenn -- served in World War II. Newt and Glenn were pictured together in a local wartime newspaper article, along with their cousins Charles McKnight and Jesse F. McKnight, sons of Clarence "Jay" and Clara Belle (Keffer) McKnight.
Fannie always had a cow for milk and butter, and pigs and chickens for meat and eggs. The boys got jobs on farms wherever they could to help out. In 1939, Hazel was working at National Distillers at Broadford, between Dawson and Connellsville. The distillery hired Fannie as a cook, while Newt, Glenn, and Bob worked there at various times. When the distillery closed, Fannie was hired at the newly-built Brownfield Elementary School, just minutes from her home, as the head cook.
The students at Brownfield all loved Fannie and called her "Aunt Fannie", "Grandma", or "Gram." She worked there until she was 62 and broke her leg. She was also very active at Bryan Methodist Church and Dawson Grange.

Pittsburgh & Lake Erie logo
She helped the grange with their debts many times, cooking for public and private fund raisers. She had two or three poems printed in the Pennsylvania State Grange News.
In April 1974, to celebrate Fannie's 76th birthday, her daughter Hazel Hixon held a large family dinner party at her home in Dawson. In addition to all of Fannie's six children and their spouses, said the Daily Courier, the following grandchildren attended: Mr. and Mrs. John McCovish and daughter Jean of Dawson, Mr. and Mrs. Randolph Anderson and daughter Lisa of Roscoe, PA, Robert McKnight of Connellsville, Mr. and Mrs. David McKnight of Connellsville, Mr. and Mrs. Jmes McKnight of Canfield, OH and Mr. and Mrs. Kenneth McBee of Erie, PA. As well, a number of Fannie's siblings were able to come, including her brother Leslie Junk and wife of Dawson, and sisters Louella Ference of Connellsville and Olive Graft of Vanderbilt.
Recalled a grandson, "She always kept a firm, yet loving hand in her children's lives, stressing fairness and respect for others, involvement in church, and good manners. A trait that has trickled down through the generations to many , thanks to her."
Fannie passed August 11, 1982, at the age of 84, after more than half a century of separation in death from her husband. She left behind many great memories and proud descendants.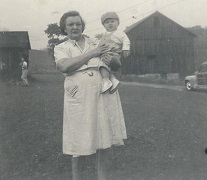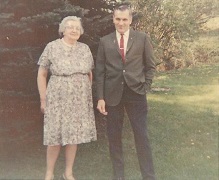 Fannie with granddaughter Vicki (left, 1951) and son Bob, 1957
~ Daughter Hazel Charlotte (McKnight) Hixon ~

Hazel Hixon
Daughter Hazel Charlotte McKnight (1915-living) was born in 1915.
On Nov. 25, 1939, at the age of 24, she married George R. Hixon (1913-living), son of William D. and Minnie (Nicolay) Hixon of Dawson.
The McKnights' wedding ceremony was held in the parsonage of the Presbyterian church in Monongahela, Washington County, PA, where their friend Rev. Ross M. Haverfield, who also was chaplain of the Pennsylvania State Grange, officiated. An article in the Connellsville Daily Courier noted that the couple had no attendants at their wedding which otherwise was marked by "quiet simplicity."
At the time of marriage, Hazel and George both worked at A. Overholt & Company distillery at Broad Ford near Connellsville. Said the Courier, "The couple will reside in a newly erected home on the farm of the bridegroom's father" near Bryan Methodist Church.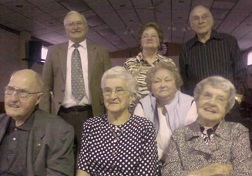 George & Hazel's 75th wedding anniversary.
Front, L-R: George, Dot Ganoe, Hazel.
Middle: Meryl K. McKnight (wife of
Newton). Back: Glenn, Ida and Bob.
They resided in Dawson and had one daughter, Donna Hixon.
During World War II, George served with a medical detachment of the U.S. Army in France, where he held the rank of sergeant. He and his brother in law Robert, Glenn and Oliver McKnight were pictured together in the Jan. 22, 1945 edition of the Courier, under the headline "Three Brothers, Brother-in-Law in Combat Areas."
George later worked at the Pittsburgh and Lake Erie Railroad. In about 1949, when he was age 36, he became employed as acting postmaster in Dawson and was appointed postmaster on June 30, 1950 during the Truman Administration. He remained in the position for 26½ years, and was a member of the Fayette County Postmasters Association, the National Association of Postmasters. Upon retirement in May 1976, he was pictured on the front page of the Daily Courier weighing several packages on his last day of work.
He and Hazel were active for decades in the Dawson Grange, and served as master and picnic committee leaders. Hazel's brother Paul was involved as steward circa 1937 as was a distant cousin, Grace (Strickler) Luckey. He also was a master of the James Cochran Lodge of the Masons and for two decades was a member of the Selective Service Board No. 68. His name was in the newspapers regularly. They were members of Christ United Methodist church of Scottdale, where George was the oldest living member.
In the late 1950s, they often traveled with Hazel's widowed mother to Canfield, OH to visit with Hazel's brothers Paul, Glenn and Newt. In April 1974, they hosted a family gathering celebrating the 76th birthday of Hazel's mother, preparing a turkey and ham dinner.
George died at the age of 101 on April 15, 2015, at Excela Health Frick Hospital in Mt. Pleasant. Burial was in Dickerson Run Cemetery.
Daughter Dr. Donna Hixon (1949-living) was born in 1949. She wed Tom Dawson in 1999. Tom had been married previously and brought with him two children, Dana Dawson and Carmen Dawson.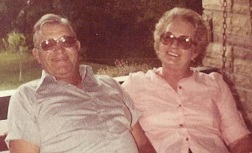 Paul and Carol McKnight, 1980
~ Son Paul W. McKnight ~
Son Paul W. McKnight (1919-1997) was born in 1919.
He was married twice. His first bride was Betty Gail Graft (1920-1952), daughter of William A. and Bertha (White) Graft of Scottdale, Fayette County.
They bore a family of four children -- William Stewart McKnight II, Sandra Karen "Sadie" Engle Brown, Paul Ellsworth McKnight and James Ray McKnight.
The McKnights resided on Summit Drive in Canfield, Mahoning County, OH. There, Paul was employed for 34 years at Republic Steel, retiring as a foreman.
Tragedy rocked this young family when Betty contracted an illness of her brain, of a type doctors were unable to determine. She declined rapidly and was admitted to Youngstown's North Side Hospital. Two weeks later, she died on Jan. 27, 1952 at the age of 31. Burial was in Canfield, with Rev. Wilson, of the local Methodist Church, officiating. An obituary was printed in her hometown newspaper, the Connellsville Daily Courier.
Her untimely passing left Paul alone to care for their four offspring. He kept the family together, with the help of a housekeeper/nanny, and raised the children by himself.
In 1966, Paul wed his second wife, Caroline "Carol" (Toth) Missick (1920-2002). Their union lasted 31 years until separation by death.
They made their home in North Jackson, OH in 1974. He died in 1997, at the age of 78.
Carol survived him by 15 years. She passed away in North Lima, Mahoning County on March 22, 2002, at the age of 82.
Daughter Sandra Karen McKnight (1944-2020) was born on Feb. 28, 1944 in Youngstown, Mahoning County. She was twice wed. Her first spouse was Richard D. Engle Sr. (Sept. 16, 1943-1993). The couple produced three children -- Kimberly S. Weingart, Richard D. Engle Jr. and Tracy L. Engle. Richard earned a living in the construction industry. Heartache cascaded over the family when he passed away in Youngstown at the age of 50 on Dec. 11, 1993. Burial was in Berlin Center West Cemetery. Sandra outlived her husband by more than a quarter of a century. She was a longtime insurance agent for James & Sons Insurance and on the side was an independent beauty consultant with Mary Kay. Very active in her community, Sandra served for more than two decades as a Berlin Township Trustee and was a charter member and president of the Berlin Center Historical Society. Sandie was president of the Mahoning County Township Association and a board director for both the Mahoning County Land Reutilization Corporation and the Alcohol Programs of Mahoning County. She was a nominee for the prestigious Athena Award and a member of Berlin Center United Methodist Church. After Richard's untimely death, she married again to James R. Brown Jr. ( ? -living). He brought sons to the union from an earlier marriage -- Charles R. Brown and Scott A. Brown. Sadly, Sandra died on May 19, 2020. Because of the coronavirus quarantine, the family held a private funeral service at Berlin Center West Cemetery.
Son William Stewart McKnight II married Marilyn. They have resided in Hamilton, OH.
Son Paul Ellsworth McKnight served in the U.S. Marine Corps Reserves in the early 1970s. He was united in matrimony with Virginia. They were the parents of a son, Casey McKnight. They first lived in Marion, OH. He received a bachelor's degree in business administration in 1970 from Ashland College. Circa 1971, he was named a customer representative in the Bowling Green office of Northern Ohio Telephone Company. He was a member of the Canfield United Methodist Church, the Elks Club in Ashland and was a volunteer with Big Brothers Big Sisters in Ashland. Later, he wedded Lani. The couple dwelled in 2020 in Columbus, OH.
Son James Ray McKnight wedded Sherry. The couple lives in Diamond, OH.
~ Son Oliver Newton "Newt" McKnight ~
Son Oliver Newton "Newt" McKnight (1920-1984) was born on Dec. 22, 1920, three days before Christmas.
He served in the military during World War II. A newspaper article said that he had "been in the armed forces since last October, is stationed somewhere in the South Pacific, with the Signal Corps. He attended Dunbar township High School and had been employed by A. Overholt & Company at its Broad Ford Distillery" near Connellsville. He received an honorable discharge in January 1946.
On March 9, 1946, Newt married Lida Meryl Keffer (1923-2012), daughter of Wilbur and Bessie (Newell) Keffer of Connellsville and granddaughter of George Newell of Dawson. They were united in marriage at the Methodist parsonage in Washington, PA, with their former pastor Rev. Leonard Hoover officiating. News of the wedding was published in the Connellsville Daily Courier.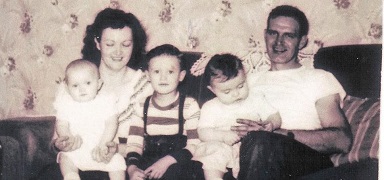 Newt and Lida and their family, 1952
The couple resided in Dawson and had a family, including Oliver Newton McKnight Jr. and twins Thomas Glenn McKnight and Connie Lynn McKnight.
By 1956, the McKnights had relocated to Canfield, Mahoning County, OH, where Newt obtained employment in the Youngstown Sheet and Tube Company. They were members of the Canfield Methodist Church.
In late summer 1956, Newt was badly injured in an accident at work, where he "sustained several fractured ribs, lacerated lung, broken shoulders and back," reported the Daily Courier. He was "reported as 'holding his own' in the South Side Hospital, Youngstown." Newt survived his ordeal and lived for almost another three decades.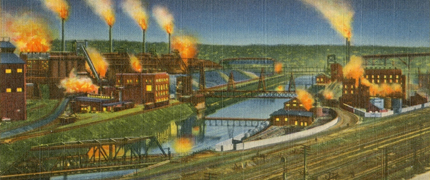 Fiery furnaces of Youngstown Sheet and Tube, at night
Newt passed away in Canfield in November 1984, when he was 64 years of age.
Meryl lived for another 28 years in widowhood. She died on Valentine's Day 2012, in Ohio. Her obituary was published in the Youngstown Vindicator.
Son Oliver Newton McKnight Jr. was born in 1947. He was united in marriage with Tina and resided in Salem, OH.
Daughter Connie Lynn McKnight was born in 1951, a twin with her brother Thomas. She married William Fast and lived in Salem, OH.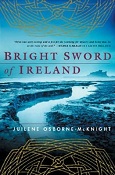 Books by Juilene Osborne-McKnight

Juilene McKnight
Son Thomas Glenn McKnight (1951-living) was born in 1951, a twin with his sister Connie. He wed Juilene Osborne ( ? -living) and they made their home in Philadelphia. Juilene is the author of four critically acclaimed novels: I Am of Irelaunde (2000), Daughter of Ireland (2002), Bright Sword of Ireland (2004) and Song of Ireland (2006). She has worked as a newspaper stringer and as a magazine and newspaper columnist and has been a teacher for more than two decades. She has also trained as a traditional storyteller, or seanchai, in the ancient Irish tradition. She obtained her master of fine arts degree in poetry and creative non-fiction at the sister colleges of Carlow University in Pittsburgh and St. Patrick's Carlow College in Ireland. She completed a master of arts degree in Celtic and Native American Writing at Antioch University, and her bachelor's degree, summa cum laude, from Youngstown State University. Currently, she teaches "Celtic and Native American Myth" and "Culture and Creative Writing" at DeSales University in Bethlehem, PA.
~ Son Glenn Ellsworth McKnight ~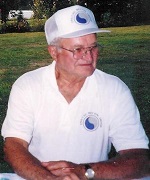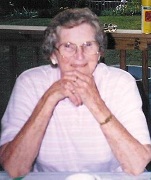 Glenn and Betty Jane, 2002
Son Glenn Ellsworth McKnight (1922-2012) was born on Oct. 3, 1922 in Dawson.
During World War II, a newspaper reported that Glenn, "located somewhere in England, went into the service last December and is with an infantry outfit. A graduate of the Dunbar Township High School with the Class of 1941, he has been employed by Overholt." He was part of the U.S. Army's D-Day assault at Omaha Beach, and later saw action at the Battle of the Bulge. He was wounded and received the Purple Heart medal.
After the war, he returned home. At the age of 24, he married 24-year-old Betty Jane Lardin (1922-2002) on Oct. 16, 1946.
They had two children -- Terry Lynn McKnight and Daniel Lee McKnight.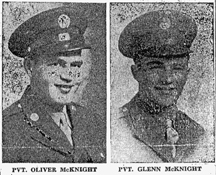 Brothers "Newt" and Glenn
The McKnights relocated to in Canfield, Mahoning County, OH, where Glenn's brother Oliver "Newton" McKnight also resided. Glenn helped to found the Canfield Boys Baseball Club and also "was an avid hunter and fisherman," said the Uniontown Herald Standard.
Sadly, Betty Jane passed away on Aug. 16, 2002.
Glenn survived her by almost a decade. He died in Canfield at the age of 89 on May 11, 2012. Funeral services were held in the Canfield United Methodist Church.
Son Daniel Lee McKnight (1948- ? ) was born in 1948.
Son Terry Lynn McKnight (1950-1994?) was born on March 31, 1950. During the Vietnam War, he served as a captain in the U.S. Air Force. He is believed to have died in Youngstown on April 16, 1994, at the age of 44, with burial in Dean Hill Cemetery. This needs to be confirmed.

Dot Ganoe
~ Daughter Dora "Dot" (McKnight) Dykun Ganoe ~
Daughter Dora "Dot" McKnight (1925- ? ) was born on Sept. 22, 1924 in or near Dawson in Lower Tyrone Township.
She had a daughter, Carol Jean.
Dot married Charles Dykun (1921-1999). They were married on Dec. 4, 1948, in a double wedding ceremony with Dot's brother and his wife, Robert Ernest and Ida Mae (Lewellen) McKnight. She was age 23, and he 27, at the time.
They called Dawson their home. Sadly, Charles died on Jan. 12, 1999, terminating their marriage of 51 years.
Dot married again, to widower Raymond E. Ganoe (1928-2008), son of Laser and Katie (McCann) Ganoe of Point Marion, Fayette County. His first wife, Vivian Marie (Dusenberry) Ganoe, had died in 2001 following 55 years of marriage, and he had three adult children to that first marriage -- Barbara Susan Skinner, Diana Marr and Raymond E. Ganoe Jr.
Said the Connellsville Daily Courier, Raymond "worked in finance for Associates Finance and also for the Pennsylvania Mobile Housing Association. He had last worked as a publication warehouse manager for IBM." He also was a member of the Brownfield Community Center and the Bullskin Township Senior Center.
Dot and Raymond resided in Mount Pleasant (Bullskin Township), Fayette County. Said the Greensburg (PA) Tribune-Review, Dora was "a longtime and faithful member of Bryan United Methodist Church in Dawson but in recent years attended the Christ United Methodist Church in Scottdale. Years ago, she was a Sunday school teacher and a member of the Board of Administrators at Bryan United Methodist Church. She was also an active member of the Regional Family YMCA, the Brownfield Community Center and Senior Citizens. She enjoyed volunteering at Scottdale Manor, line dancing at the Center and listening to country music. Yearly, she assisted with the Christmas calendar mailing for the Ferguson funeral home."
Raymond passed away on Oct. 23, 2008, at the age of 80. Rev. Dave Bell officiated at the funeral, with an obituary printed in the Daily Courier.
Dot survived her second husband by seven years. She eventually was brought into the home of her sister Hazel Hixon in Lower Tyrone. She died in the Hixon home at the age of 91 on Nov. 18, 2015. Interment was in Dickerson Run Cemetery.
Daughter Carol Ann married John McCovish. Their home was in Dawson. They had two children -- Jean Ann McCovish and Jerome McCovish.
~ Son Robert Ernest McKnight ~

Robert McKnight
Son Robert Ernest McKnight was the family's youngest child and was not quite three years old when his father died.
To help earn income for the family struggling to stay together, Bob and his siblings did small jobs, worked on farms, and took care of the family livestock. At the age of 16, he and other family members were employed at Overholt Distillery in nearby West Overton, Westmoreland County.
When he was 17, during World War II, and with his elder brothers Paul, Newt and Glenn already serving in the U.S. Army, Bob decided he wanted to enlist in the Navy. He went to Uniontown to enlist and had to return with his mother's signature the next day. He served from June 1944 to October 1947 as a seaman first class. By his choice, he was assigned to the U.S.S. Pittsburgh when it was commissioned on Oct. 10, 1944.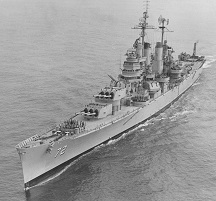 U.S.S. Pittsburgh
After the shakedown cruise to Trinidad, they left Boston in 1945 for duty in the Pacific protecting the aircraft carrier Lexington, whose planes flew in the assault on Iwo Jima. On March 19, 1945, the Japanese bombed the carrier U.S.S. Franklin, which was right beside the Pittsburgh. The Pittsburgh recovered a little more than 30 survivors, but tragically more than 800 were killed. The Pittsburgh towed the Franklin until the next day, when they were repaired enough to move on their own. The Franklin was badly burned, and limped back to Brooklyn for repairs.
Between March 23 and March 27, the Pittsburgh protected carriers in support of the invasion of Okinawa. On June 4, 1945, the ship was hit by a typhoon. With waves higher than 100 feet, and winds at 150 mph, Bob became terribly seasick. During the storm, 108 feet of the ship's bow broke off, and three accompanying destroyers sank. Admiral William F. Halsey was reprimanded for taking the Pittsburgh back into the storm once it had gotten free.
The Pittsburgh sailed to Guam for repairs, docking there June 10, after traveling about 900 miles. It was fitted with a false bow for an escorted trip to Pearl Harbor, and then onto Bremerton , WA, where it docked on July 16. Bob never went to sea after that. His next 25 months, the balance of his naval career, were spent in Bremerton, Seattle and Everett, decommissioning ships.
Bob met his future wife, Ida Mae Lewellen (1929-2011) of Connellsville, the daughter of Richard Herbert and Sarah Ann (Basinger) Lewellen, while on leave in August 1946.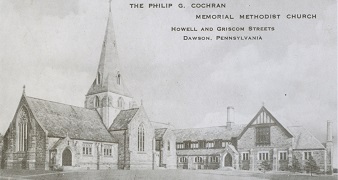 Cochran Memorial Church in Dawson, where the McKnights were united in matrimony.
Odger Wayne Miner archive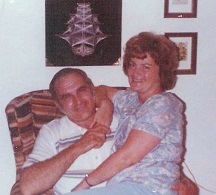 Bob and Ida, 1974
They were married in a double wedding ceremony, Dec. 4, 1948. The wedding was held at Philip Cochran Memorial Church, in Dawson, Fayette County, with Bob's sister Dot also united in marriage with Charles Dykun.
The couple resided in Bullskin Township north of Connellsville and had four children, Vicki Yvonne McKnight, Robert Ernest McKnight Jr. Joseph Allen McKnight and James David McKnight.
Ida's mother, Sarah (Basinger) Lewellen lived with the family and watched their four children most of the time when they worked. She was like their "second mom."
Bob worked construction on bridges and a few buildings before being hired in 1953 by General Motors to load boxcars at its Fisher Body Stamping Plant in Dravosburg, PA. He retired from there in 1987 after 34 years of service. Ida was employed as a glass selector at Anchor Hocking Glass Corp. in South Connellsville, retiring in 1985.
In their spare time, Bob umpired games for Bullskin Little League, where Joe and Dave played, and Ida was a den mother for Bullskin Cub Pack 164. She loved to cook Sunday dinners, and invited everyone there who could come, in an effort to keep the family close. She had several poems published, was an avid gardener and loved to dance while she cooked.
Ida Mae passed away from ovarian cancer on Nov. 3, 2011, after more than a half century of married life.

Fisher Body plant of General Motors near Pittsburgh. From a painting by Howard Fogg for the Pittsburgh & Lake Erie Railroad Co., of the New York Central System.

Robert McKnight,
Honor Guard
As a widower, Bob serves as honor guard for funerals and parades with the American Legion and is the only member of the U.S.S. Pittsburgh Association to attend every reunion for 37 years held all over the country. He also visits the Bullskin Township Senior Citizens and Brownfield Community Center weekly, and frequents many local clubs of which he is a member.
Daughter Vicki Yvonne McKnight (1950-living) was born in 1950. She married Rudolph Shaffer Anderson (1946-2010) in 1969, when she was 19 and he 23. He was the son of Rudolph and Dorothea Anderson. They lived in various places in the Monongahela River Valley over the years, where Rudy worked at Allenport Steel Mill until his retirement. In retirement, they made their home in Martins Ferry, Belmont County, OH. At the age of 64, Rudy passed away on Oct. 3, 2010. Vicki still lives in Charleroi and has worked at Wal Mart quite a few years, a job she enjoys.
Granddaughter Lisa Marie Anderson Lees (1970-2019) was born on Jan. 25, 1970 in North Charleroi. In 1993, she married Robert David Lees ( ? -living). They did not reproduce. Lisa spent her early years in the Elco community. As an adult, she worked on the assembly line of Fourth Street Barbeque Copacking in the town of Speers. Tragically, she lost her life on the night of Aug. 22, 2019 when walking along the Norfolk Southern Railroad lines in Charleroi near Railroad Way and Seventh Street.

A northbound coal train struck and killed her. Her body was found but not immediately identified. The story was headline news in the Washington Observer-Reporter, and the county coroner ruled it an accident. She is one of far too many cousins in the extended family to die in railroad and streetcar accidents over more than 150 years.
Son Robert Ernest McKnight, Jr. (1951-living) was born in 1951. Not long after high school, he joined brother Joe working at UDF Dairy in Pittsburgh. He remained there until it closed and was taken over by Schneider's Dairy, where Bob continues to work. Bob married Jennifer Shipley (1951-1985), who brought two children of her own to the marriage, and whom Bob adopted -- Dennis and Joelle. Bob and Jennifer had a son of their own, Robin. Tragedy ravaged this young family when Jennifer died in 1985, at the untimely age of 34. Bob was left to raise the children on his own. He later married Michele Poklembo (1961-2014), daughter of Andrew R. and Joanne (Havelka) Poklemba. They had two daughters together, Clarissa McKnight and Tiffany Foster. Michelle was a cook for many years at Rego's Restaurant in Charleroi. Bob and Michelle parted ways, and Michele resided in Monessen, where she died on May 29, 2014. Bob married again, to Lois Gutsky (1950- ) in 2004. The couple was in Belle Vernon, PA in 2021.
Grandson Dennis McKnight was born in 1971. In 1989, he wed Cindy Maust (1970-living) and had four children: Chassity McKnight, Dennis McKnight Jr., Alexandria McKnight and Breanna McKnight.
Granddaughter Tiffany McKnight was born in 1992. In 2014, she married Kenneth Foster and lives in Donora, Washington County.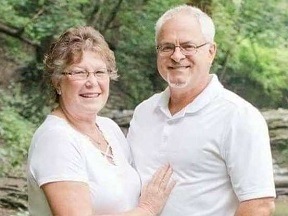 Adele and Joe McKnight
Son Joseph Allen McKnight (1954-living) was born on Nov. 11, 1954. He was a 1972 graduate of Connellsville Area High School, one of more than 40 extended Minerd cousins in that class. Upon graduation, he went to work Joe at UDF Dairy from 1972 to 1974, and then moved to Michigan. At the age of 20, he married 19-year-old Adele Nancy Martin ( 1955- ) on Feb. 15, 1975, in in the midst of a 14 inch snowfall in her hometown of Battle Creek, Calhoun County, MI. At the time, Joe was employed in Battle Creek running a computer operation, but they decided to relocate to his hometown of Connellsville in May 1975. Their union endured for 46 years. The couple went on to produce a close-knight family of two sons -- Toby Allen McKnight and Matthew David McKnight. Joe was able to rejoin the workforce UDF Dairy, this time as a foreman. When Volkswagen of America opened an assembly plant in nearby New Stanton, PA, Joe joined the company as a repairman/assembler specialist in January 1979. He loved the work there and was very disappointed when VW closed its doors in 1985. He returned to the dairy industry in 1988 with Schneider's Dairy as a cooler worker/ truck loader until his retirement on Dec. 31, 2014. Adele worked in the medical field as a health unit clerk at Mt Macrina Nursing Facility, Frick Hospital, and finally, UPMC Shadyside in Pittsburgh, until her February 2015 retirement.
The pair resided lived in South Connellsville for 25 years until buying a one acre tact in Bullskin Township from Joe's parents in 2005, and placing a new double-wide dwelling on it. They were primary caregivers for both of their mothers -- Adele's mother Leona Bowman whom they moved from Florida to Connellsville until she passed away in March 2011, and Joe's mother until her death nine months later. Joe coached both his young sons in baseball, football and basketball, and Adele was a Cub Scout den mother and active in their school functions. Joe was elected treasurer of the National Minerd-Minard-Miner-Minor Reunion in 2019 and served until his death. During that time, he was very active on the family's Facebook page, made contacts with cousins he knew in the community, helped create the 1972 Connellsville High School page on Minerd.com and was deeply engaged intellectually in the concept of the family's widespread interconnections. One of his passions was convening groups of cousins and friends at Bud Murphy's Pizza in Connellsville. During the outbreak of the coronavirus in 2020-2021, the couple chose not to become vaccinated. Then on a vacation to Florida in September 2021, both became ill with Covid-19 and upon their return home went straight to Excela Health Frick Hospital in nearby Mount Pleasant. Not showing signs of the pandemic disease, Joe was released and returned home, only to die in his sleep at age 66 on Oct. 7, 2021. Rev. Joseph Wingrove Jr. led the funeral service. Adele lingered in the hospital for 10 more days, on a respirator, her life ebbing away. She surrendered to death on Oct. 17, 2021, also at the age of 66. Her remains were placed next to her husband's in Mt. Olive Cemetery, with distant cousin Rev. Lee Maley, of the family of Lewis and Martha Ellen (Mayle) Mayle, officiating her service.
Grandson Toby Allen McKnight was born in 1976. He had a son, Blake William McKnight with his girlfriend Lisa Meyers. He married Amanda Burnsworth ( ? - ? ) in 2011, and they had two children of their own -- Mia Mae McKnight and Emma Mae McKnight. Both girls were given the middle name "Mae" in honor of their great-grandmother, Ida Mae (Lewellen) McKnight. Toby worked in the financial field, officiated several sports, mostly wrestling on the high school and college level, and was a personal trainer. He helped coach his son Blake many years in baseball, football and wrestling.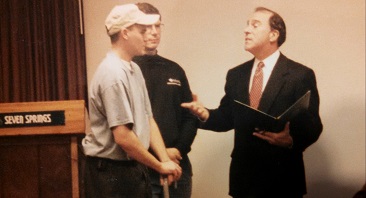 Matt McKnight, with a cane for support, receives a valor award from Congressman Richard Kasunic at Seven Springs Mountain Resort
Grandson Matthew David McKnight was born in 1978. He began volunteering as a fireman at the age of 14 and pursued training as an emergency medical technician (EMT). He became a paramedic and continued that work even while serving as a supervisor for Mercy Hospital in Pittsburgh. He married Shannon Maloy in 2007, but mutually ended their relationship a few years later, with no children. On the fateful day of Oct. 25, 2001, Matt was involved in a nearly fatal accident. On the fateful day of Oct. 25, 2001, he and his mother were carpooling and driving home from work when they saw an overturned pickup truck along the high speed Parkway East (I-376) and stopped to help. Matt had exited his vehicle and was standing in the berm of the eastbound lane when another vehicle, moving at 70 miles per hour, struck him head on. Said the Pittsburgh Post-Gazette, "He flew 118 feet through the air and landed on the pavement." His body was "broken in dozens of places," reported the Post-Gazette, including dislocation of both shoulders, fractured pelvis and chest, and a bone protruding through the skin. He underwent emergency surgery at Mercy Hospital followed by six additional surgeries over the ensuing months. In March 2002, five months after the horrific accident, he attended an emergency medical services conference where he received an award for valor from Congressman Richard Kasunic. In 2008, the incident was memorialized in the pages of the Guinness Book of World Records in the category of "Greatest Distance Thrown in a Car Accident," nominated by the physician who treated him in the emergency room, Dr. Eric Brader. See related stories in the Post-Gazette editions of March 24, 2002 and Dec. 7, 2007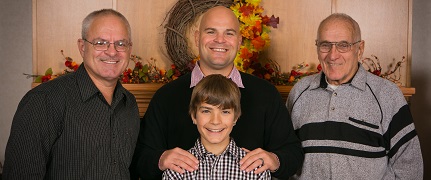 Four generations of McKnights, L-R: Joseph, Toby, Blake and Robert
Son James "David" McKnight (1956-living) was born in 1956. He married Karen Conn (1957-living) in 1972, when he was 16 and she 15. Sadly, their first child Jennifer Lynn died at birth in 1973. The couple produced two more sons -- Jeffrey Allen McKnight and Kevin David McKnight. They moved to the Orange, TX area in 1979, and they and their families remain there to this date. Dave and Karen decided to separate and divorce (year unknown), and both remarried, him to Selena. Neither of their second marriages resulted in any more children. Dave worked for many chemical companies from 1979 to present. He was also heavily involved in coaching his sons and others in various sports. David and Selena resided in 2021 in Laporte, TX.
Grandson Jeffrey Allen McKnight was born in 1976. He was twice married, first to Sloane Craft. They had one son, Tristan McCane McKnight. After a divorce, he married again, in 2005, to Tiffany Lenee Kelley in 2005. They had a daughter, Tyia Lenee McKnight. Jeff works as a cargo inspector.
Grandson Kevin David McKnight was born in 1978. He married Francelia Lucio in 2009. They had one daughter, Carly Gabriela McKnight. Kevin works as an elevator engineer, installing new systems.
Copyright © 2008, 2012, 2015, 2017, 2021 Mark A. Miner