Isabella Jane 'Belle' Menefee
(1863- ? )
Isabella Jane "Belle" Menefee was born in 1863 near Newburg in the Reno District of Preston County, WV, the daughter of John and Ruhama (Hanshaw) Menefee.
She is not believed to have married during her long life.
When the federal censuses were enumerated in 1900 and 1910, Belle was single and resided with her aged, widowed mother in Newburg.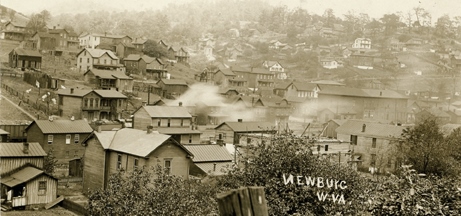 Newburg, West Virginia
After the death of her mother in 1912, Belle hired herself out as a housekeeper. The census of 1920 shows her in the household of 46-year-old widower and railroad engineer John Ford and his 12-year-old daughter Nellie in Newburg.
By 1930, she had moved in with another family, this time in Rowlesburg, Preston County. Her employer was 52-year-old, unmarried merchant Harry Hollis and his widowed mother Eunice M. Hollis.
Belle is known to have traveled from her home in Tunnelton to Cumberland, MD in 1936 for the funeral of her half-brother William Benton Menefee, and was named in a related Cumberland Sunday Times article.
Belle has not been found in the federal census of 1940, and may have been deceased.
More will be reported here when learned.
Copyright © 2009, 2021 Mark A. Miner