Home

Joseph Henry Mills Jr.
(1895-1938)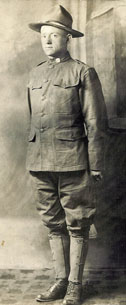 Joseph Henry Mills Jr. was born in 1895 in Fayette County, PA, the son of Joseph Henry and Flora (Minerd) Mills Sr. He was a veteran of World War I.
Joseph married Sylvia "Marie" Gray (1901- ? ). She was a native Pennsylvanian, and her father was a native of England, as was Joseph's. He was age 22, and she 16, at the time of their marriage.
They had two sons -- James "Robert" Mills and Joseph William Mills.
During World War I, Joseph served in the United States Army as a soldier or, in jargon of the day, a "doughboy." A full length photograph of him in uniform is seen at right. (Click to see the list of all known Minerd-Minard-Miner-Minor cousins who served in the U.S. armed forces during World War I.)
In later years, he was a "prominent member" of the local American Legion in Fayette County.
When the federal census was taken in 1930, Joseph and Marie and their family lived on "Brick Road" in the small coal mining patch town of Republic, Redstone Township. His employment is listed as "laborer" in the local "coal mine."
After the war, Joseph and Sylvia resided Republic. During the Millses' years in Republic, the town was a center of unrest in the coal mining organized labor movement. In fact, Joseph's cousin Wilbert "Patsy" Minerd, also of Republic, helped broker the settlement of a coal strike in 1933 by traveling to Washington, DC to personally meet with President Franklin Delano Roosevelt.
Sadly, Joseph in about 1935 became afflicted with cancer of the sigmoid (colon). After two-and-a-half years of enduring the illness, including a colostomy procedure, he passed away at home at the young age of 43, on Feb. 21, 1938. He had suffered from a "lingering illness [of] complications," said the Uniontown Morning Standard, and he was "ill at home for a number of months" before his death. Burial was in Sylvan Heights Cemetery. His sons were teenagers at the time.
The Millses are seen here on the sideboard of their roadster in the 1920s.
~ Son James "Robert" Mills ~
Son James "Robert" Mills was married to Greta Lyons for 56 years.
He served in Northern France in World War II with the 266th Engineers. Later, he worked for Pittsburgh Steel, retiring in 1981.
They resided in Belle Vernon, Fayette County, and eventually relocated to Blossburg, Tioga County, PA.
~ Son Joseph William Mills ~
Seen at right, son Joseph William Mills also lived in Republic. He married Jean Cover, and they had one son.
In late August 1940, Jean received a shower at the home of her mother in law, an event reported in the Uniontown Morning Herald. "Mrs. Mills received many beautiful and useful gifts," said the article. Among those attending were Mrs. Ernest Lewis, Mrs. Charles Lewis, Mrs. Fred Gray, Mrs. Margaret Harshman, Mrs. Joseph Pendergast, Mrs. Beatrice Dunlevy, Mrs. Clark Paull, Mrs. John Cover, Mrs. Roy Sharpnack, Mrs. George Gabler, Mrs. J.C. Cover, Mrs. Rex Cooke, Mrs. Joseph Zoretic, Mrs. James Cover, Mrs. Charles Mitchell, Sr., Mrs. Nick Verbanic, Mrs. Mary Zemz, Mrs. Jesse Wyatt, Mrs. Edith Burkey, Mrs. Edward McCluckey, Mrs. Joseph Wilson, Mrs. John Flanigan, Mrs. Charles Hopkinson, Mrs. Nelle Hopkinson, Mrs. Joseph Tressa, Miss Beryl Gray, Miss Fay Zoretic, Mrs. Joseph Mills Sr., and the honored guest, Mrs. Joseph Mills, Jr.
Joe passed away in 1983.
Copyright © 2001-2002, 2008, 2011 Mark A. Miner