Flora (Minerd) Mills
(1866-1943)

Flora Mills
Flora (Minerd) Mills was born on Oct. 18, 1866 in Dunbar, Fayette County, PA, the daughter of Isaac and Sarah Catherine (Smiley) Minerd.
In 1879-1880, when Flora was about 13, she faced great heartache when her father and sister Martha and one other close relative passed away in the span of a short time. The Uniontown American Standard reported that it was "the third death in this family in a little over a year."
On June 22, 1887, at the age of 20, Flora was united in the bonds of holy matrimony with 21-year-old Joseph Henry Mills Sr. (May 16, 1866-1947). He was an immigrant from Cornwall, England, having made the voyage in 1900, and was the son of Joseph and Elizabeth Ann (Johnson) Mills.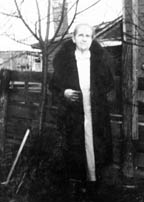 Flora
The Millses produced a family of nine children, of whom only five survived to adulthood -- Arthur W. Mills, Joseph Henry Mills Jr., Helen Beniston Cooper Emerson, Margaret McCluckey and James Alfred Mills.
The other four children who died young were Bessie May (age 2), an unnamed infant, Margaret (6 days) and Clarence (age 18 months).
Joseph earned a living over the years as a coal miner.
Tragedy struck in 1913 when son Arthur (age 21) died at home in the mining patch town of Helen, Fayette County, apparently of a heart attack caused by "malignant endocarditis." He had worked there for six years as a lamp cleaner with the Atlas Coal Company. Flora's brother Thomas also lived in Helen at that time.
The 1930 United States Census shows that Joseph worked as a coal mine foreman in the mining town of Republic, Redstone Township. Their daughter Margaret, age 23 and unmarried, lived in the household that year, and had no occupation.
More heartache came again in 1938, son Joseph H. Mills Jr., a World War I veteran, passed away at Republic after a long illness, leaving a wife and two young sons. Joseph was the only one of the Mills children to have children of his own.
That same year, Flora was mentioned in the Buckhannon (WV) Record newspaper obituary for her brother Charles.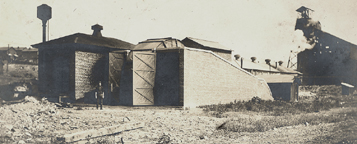 Republic's fan house and coal tipple (far right)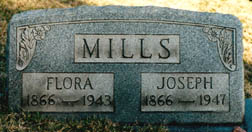 Mt. Auburn Cemetery, Dunbar
Federal census enumeration records for 1940 show that the Millses were residing in an empty nest in Republic, Fayette County. Joseph continued to work that year, at the age of 73, as a coal mine pumper.
Flora suffered a stroke of apoplexy on Nov. 18, 1943. She lingered for six days before succumbing to the angel of death on Nov. 24, 1943, at the age of 76. Son James was the informant for her death certificate.
Joseph Sr. outlived her by four years and remained in Republic.
Burdened with disease of the urinary tract, Joseph was admitted to Brownsville Hospital. He died three days later, at the age of 81, on Feb. 11, 1947.
The couple is in eternal sleep in Mt. Auburn Cemetery, Dunbar.
Copyright © 2000-2001, 2006-2008, 2014, 2020 Mark A. Miner
Great-granddaughter Penny (Mills) Swope

has contributed images for this biography