Andrew 'Edward' Minard
(1878-1938)
Andrew "Edward" Minard was born on July 18, 1878 in Richland, south of Topeka, Shawnee County, KS, the son of Nathan W. and Sarah Jane (Woodruff) Minard.
The historical record gives differing information -- one source says he was born on Aug. 28, 1868 in Cedar, IA, and another that he was born in 1880 in Richland. A third source, his newspaper obituary in the Topeka Daily Capital, says he was born in 1878.
When he was 39 years of age, Edward entered into marriage with 24-year-old Lillian (?) (1896- ? ), a native of Texas. The groom was 16 years older than the bride.
They produced one daughter, Betty Jane Minard.
Edward began working for Karlan Furniture in about 1913, and remained with the company for 25 years, according to the Daily Capital. He may have moonlighted selling insurance. The Minards moved to Little Rock, AR sometime prior to 1920, where Edward was a laborer in a casket factory, presumably for the Karlan company. By 1930, they had migrated again, back to Topeka.

Topeka's Kansas Avenue, looking North from Eighth Street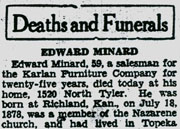 Topeka Daily Capital, 1938

Lillian was a saleswoman in drapery goods.

They lived at 1520 North Tyler Street in Topeka, and were members of the Nazarene Church.

Edward passed away at age 59 of heart trouble on June 6, 1938. His newspaper obituary was published in the Daily Capital, which noted that he "had lived in Topeka most of his life." He reputedly was laid to rest in Mount Hope Cemetery.

Lillian is thought to have passed away in Topeka, but her final fate remains unknown for now.



~ Daughter Betty Jane Minard ~

Daughter Betty Jane Minard (1925- ? ) was born in about 1925 in Kansas.

Her paper trail seems to be lost for now.

Copyright © 2001-2003, 2009-2010, 2015, 2022 Mark A. Miner