Charles Henry Minard
(1879-1938)
Charles Henry Minard was born on Nov. 26, 1879 near Uniontown, Fayette County, PA, the son of William H. and Ollie (Stull) Minerd. He was a "lifelong resident" of North Union Township and a "highly respected citizen" who spelled his last name with the "a" instead of the "e."
The federal census of 1880 shows that at age eight months, Charles and his older brother George H. Minard resided in the home of their uncle, Robert Hixenbaugh, and next-door to their parents near Uniontown.
When Charles was five, in 1884, his father was tragically killed in an explosion at the Youngstown (PA) works of the Youngstown Coke Co. In a rare legal move for the times, Charles' widowed mother successfully sued the company and received more than $500 in damages to support herself and her children.
Charles married Thursea M. Guesman (1886-1922), the daughter of Joseph and Virginia "Jennie" (Benson) Guesman of West Virginia.
They were the parents of one daughter, Nellie Cavanaugh.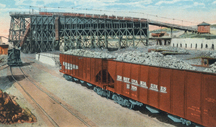 Lemont Furnace coal mine
Following his father's dangerous field of work, Charles was a longtime coal miner for the H.C. Frick Coke Co. He was a member of Lemont Local 7278 of the United Mine Workers of America. The Lemont Mine is seen here in a rare postcard view.
Charles registered for the World War I military draft in 1918, and stated his occupation as track layer for the Frick coke company.
Circa 1921, the Minards resided at R.D. 2, Coolspring, a coal mine patch town near Uniontown. Thursea was a member of the First Methodist Protestant Church of Uniontown.
Thursea was stricken with pulmonary tuberculosis in the fall of 1922. Sadly, on Oct. 9, 1922, at the age of 36, she died "due to a complication of diseases," as reported by the Uniontown Morning Herald. She left "a host of friends to mourn their loss." She was buried in Park Place Cemetery in Uniontown. Funeral arrangements were handled by the Edward E. Minerd Funeral Home. Bill Guesman of Uniontown gave vital content for her death certificate.
When the federal census was taken in 1930, Charles resided with his married daughter and son in law, Nellie V. and Raymond W. Cavanaugh in Uniontown. Age 50 at the time, Charles' occupation was listed as track layer in a coal mine. Raymond's employment was given as a truck driver for a gasoline company.
Later in life, Charles was unemployed resided at the home of daughter Nellie on Johnson Avenue in North Union. When he began to display mental instability, he was sent to Dixmont Hospital for the Insane north of Pittsburgh. On Oct. 2, 1938, at the age of 58, he took a piece of cloth, twisted it into a rope, and hung himself. In reporting his death, the Connellsville Daily Courier kindly called the cause "an illness of complications." He also was buried at Park Place Cemetery, and his brother George provided information for the Pennsylvania certificate of death.


~ Daughter Nellie (Minard) Cavanaugh ~
Daughter Nellie Minard (1906-1995) was born on Feb. 21, 1906 in North Union Township.
She married Raymond W. Cavanaugh (1904- ? ). The couple eloped to Cumberland, Allegany County, MD and were wed on Aug. 30, 1924, when Nellie was age 18 and Raymond 20. Rev. H.L. Schinke, of the United Brethren Church, performed the ceremony.
They togethr bore one son, Charles W. Cavanaugh.
The Cavanaughs lived at 38 Johnson Avenue in Uniontown. Raymond was employed by the Fayette Gas and Oil Company.
Nellie was a member of Calvary United Methodist Church of Uniontown, the Women's Auxiliary of the Veterans of Foreign Wars (VFW) and the Elks Auxiliary. In 1949, the Cavanaughs celebrated their 25th wedding anniversary, and were pictured in a related article in the Uniontown Morning Herald. A surprise party was held in their honor, and "a delightful lunch was served buffet style on the lawn of the Cavanaugh home," said the Herald. Among the attendees were Mrs. A.e. Hawkins, Mrs. James Cupp, Mrs. J.V. Guess, Mrs. Olive Loomis, Elizabeth Ainsley, Mr. and Mrs. George Doyle of Orlando, FL, Mr. and Mrs. James Barkley, Mr. and Mrs. Frank Biggs, Mr. and Mrs. Gus Seller, Mr. and Mrs. Clarence Luckey, Mr. and Mrs. Carl Bielstein, Mr. and Mrs. Paul Ainsley, Mr. and Mrs. Alfred Ainsley and son Bob, Mr. and Mrs. Earl Evans, Mr. and Mrs. James Phillips, Mr. and Mrs. R.B. Crossland and daughter Augusta Rae, Mr. and Mrs. William Capossere and son Ronnie, Mr. and Mrs. Roy Decker, Stanley Skoris, Leroy McDowell, and Mr. and Mrs. Charles Cavanaugh and son Billy.
Son Charles W. Cavanaugh ( ? - ? )
Copyright © 2002, 2005, 2008, 2010, 2022 Mark A. Miner