George Howard Minard
(1877-1955)
George Howard Minard was born on July 8 (or 18), 1877 near Uniontown, Fayette County, PA, the son of William H. and Ollie (Stull) Minerd. He was a longtime coal miner who spelled his last name with the "a."
The federal census of 1880 shows that at age two years, George and his younger brother Charles resided next-door to their parents in the home of their uncle, Robert Hixenbaugh, near Uniontown.
When George was seven, in 1884, his father was tragically killed in an explosion at the Youngstown (PA) works of the Youngstown Coke Co. In a rare legal move for the times, George's widowed mother successfully sued the company and received more than $500 in damages to support herself and her children.
On Aug. 17, 1896, when he was age 17, George married 16-year-old Anna Weimer (1878-1947), a native of Mt. Pleasant, Westmoreland County, PA, and the daughter of George and Hannah Weimer. At the time, he worked at Mt. Braddock, and she was residing at the nearby coal mine patch town of Oliver.
The Minards had four children -- Wyland "Wiley" E. Minerd, Olive H. Crawford, Nettie R. Rossomme and Evelyn M. Augustine.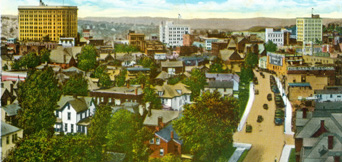 Uniontown skyline, circa 1920s
Following his father's dangerous field of work, George was a coal miner for US Steel Corporation. He is thought to be the same "George Minerd" who worked in 1904 at the Stewart Mine in Fayette County. On July 1, 1904, at age 27, he was injured at Stewart when he was "badly bruised about body," according to that year's Report of the Bureau of Mines of Pennsylvania. In 1910, he was a "lamp cleaner," according to the US Census, and in 1931 was a "lampman," per the Uniontown City Directory. George and his son Wyland worked together at the Percy plant of the H.C. Frick Coke Company in the fall of 1912.
George was a member of the Calvary Methodist Church in Uniontown (founded by his father's first cousin, Rev. David E. Minerd). They lived at the coal mine patch towns of Youngstown, Percy, and later at 419 West Main Street, Uniontown.
Heartache struck the family on Oct. 31, 1912, when 18-year-old son Wiley was accidentally shot and killed while celebrating Halloween. In a major story, the Uniontown Daily News Standard reported that Wiley and his friends:

...had been at a prayer meeting at the Percy church early in the evening and planned to celebrate Halloween later.... It is claimed that two of the young men ... had revolvers. Suddenly a revolver shot rang out and young Miner [sic] fell to the ground crying out that he was shot.... According to the story told later to the county detective, [the friend] intended to fire off his revolver to frighten the girls. He pointed it down to the ground, but stepped backward into a small ditch which caused him to raise his hand as he was pulling the trigger. The bullet entered young Miner's body and inflicted a fatal wound. In the general excitement the young people did not realize how the accident had occurred.... The deceased young man was an active worker in the Percy church, also in the Christian Endeavor Society and the bible class in Sunday school.
A coroner's inquest at Lemont on Nov. 6, 1912 found that Wiley had been shot in the abdomen by Dennis Matthews but the jury ruled that "the shooting was incidental." Wiley was buried at Park Place Cemetery in Uniontown. Some 34 years later, in October 1946, after his parents purchased a plot of graves at Uniontown's Sylvan Heights Cemetery, Wiley's remains were relocated there.
In 1921, George was an organizer of the Minerd-Minard reunion, held on August 13 at Ohiopyle, Fayette County. In an advance story, the Uniontown Morning Herald reported that "Members of the family are located in Fayette and Somerset counties" and that George's cousin Lawson Minerd was president of the reunion association. Two days after the reunion, the Morning Herald noted: "Members of the Minerd family from all over Fayette County were at Ohiopyle Saturday for the annual reunion. George Minerd of Lemont was a member of the committee in charge. The day was spent in sports and in talking over old times. A big dinner and supper were served."
When the federal census was taken in 1930, George and Anna and their youngest daughter Evelyn lived in South Uniontown. George's occupation was listed as coal mine laborer.
Sadly, on June 2, 1947, Annie passed away of "a lingering illness," and was buried at Sylvan Heights Cemetery in Uniontown.
George survived her by eight years. In mid-August 1949, living at 419 West National Pike, he suffered "a gunshot wound of the lower jaw," reported the Morning Herald. He was admitted to the Uniontown Hospital and his "condition was reported good."
Then in the fall of 1955, he resided in the Weimer Nursing Home, and died there of nephritis on Nov. 8, 1955. He was buried beside his wife and son at Sylvan Heights.
~ Daughter Olive (Minard) Crawford ~
Daughter Olive Minard ( ? -1978) married Ira D. Crawford ( ? - ? ) in Cumberland, Allegany County, MD on Aug. 2, 1913. They were considered "widely known residents of this area," said the Uniontown Morning Herald.
They resided in Shady Grove, near Uniontown, and had two children -- Rasely M. Crawford and Evelyn "June" Lyle.
Ira was a longtime employee of the West Penn Power Company.
In August 1930, Olive and her sisters Nettie Rossomme and Evelyn Augustine and children attended the annual Minerd Reunion, held at Shady Grove Park in Uniontown. They gave their names to distant cousin Laura Jane (Minerd) Williams, who later wrote a lengthy account of the event for her local newspaper back home, the Huntingdon (PA) Daily News.
The Crawfords celebrated their golden wedding anniversary on Aug. 2, 1963 with a party at the home of Olive's sister and brother in law, Evelyn and Ray Augustine. The event was publicized in the Morning Herald.
Olive passed away in December 1978.
Son Rasely M. Crawford (1914-1972) was born on April 27, 1914 at Shady Grove. At the age of 25, on April 22, 1939, he married Miriam Vard of Harrisburg, Dauphin County, PA. They had one son, Rasely "Bard" Crawford. During World War II, Rasely served as a private first class in the South Pacific Theatre, as an agent with the Criminal Investigation Department of the Army. At the same time, Miriam was employed by the Hagan Dairy in Uniontown. After his honorable discharge from the military, Rasely and his family moved to Altoona, PA. Circa 1963-1968, they lived in Fort Myers, FL, where Rasely was operator of the Corbin Garden Center. Rasely died at the age of 58 on June 29, 1972.
Daughter June Crawford married Richard Lyle. They made their home in Dayton, OH.
~ Daughter Nettie (Minard) Rossomme ~
Daughter Nettie Minard ( ? - ? ) married George Rossomme ( ? - ? ), the son of French immigrants Alex and Ella J. Rossomme. They lived in Smock, Fayette County, and had three children -- George E. Rossomme, Olive Jeanne Rossomme and Alex Rossomme.
Son George Jr. served as a staff sergeant with the U.S. Army during World War II, with service in the South Pacific Theatre. His photograph appeared in the Uniontown Morning Herald for being awarded the Air Medal "for completing 47 combat missions against the enemy... [as] an aerial gunner with the famed Grim Reapers, a Boston A-20 attack unit of the Fifth Air Force." Upon his arrival home for a 21-day leave in April 1945, reported the Morning Herald, a buffet supper celebrations were organized in his honor within two days at the homes of his aunt and uncle, Evelyn and Ray Augustine, in Uniontown, and Olive and Ira Crawford of Shady Grove. "Table appointments were attractive in orchid and yellow [at the Augustine home]. Out-of-town guests were present from Morgantown, W.Va., Fairchance and Connellsville, and places were arranged for 25."
Circa 1947-1958, the Rossommes lived in Brownsville, Fayette County.
Over the years, Nettie served as an officer of the American Legion Auxiliary in Uniontown, the Menallen Township Young Republicans and the Fayette County Salon of the Eight and Forty. Her name and photograph frequently appeared in the Morning Herald in connection with Legion activities.
Son George E. Rossomme may have died at the age of 74, in Birmingham, AL, on Dec. 2, 1996.
~ Daughter Evelyn (Minard) Augustine ~
Daughter Evelyn (1906- ? ) was born on March 7, 1906 in North Union, Fayette County. Her birth year also has been given as 1910.
She married Raymond Augustine ( ? - ? ) but had no children.
They lived at 419 West Main Street in Uniontown.
Ray was a member of the A.J. Allen Class of Calvary Methodist Church in Uniontown, and often was pictured in the local newspaper in connection with class projects.
Copyright © 2002, 2008, 2009, 2013 Mark A. Miner