William McKinley Minard
(1896-1974)
William McKinley "Billy" Minard was born in 1896 in Barbour County, WV, the son of William and Elvira (Male) Minerd.
William had blue eyes and brown hair. He married Mary M. Norris (1902-1971), the daughter of Alexander and Rose (Mayle) Norris, on June 18, 1918. He was age 22 at the time of marriage, and she was 16. That year, along with his brother Tillison, William was employed by the Humphreys Coal Company of Philippi.
Also in 1918, he registered for the military draft, as did his brothers and cousins, stating his race as "Negro."
The Minards resided in Philippi during their married lives, where William labored as a coal miner, and they belonged to the Methodist Church. They did not reproduce.
Mary passed away on Jan. 16, 1971 at the age of 68, and was laid to rest in the Norris Cemetery north of Philippi, beside the grave of William's mother.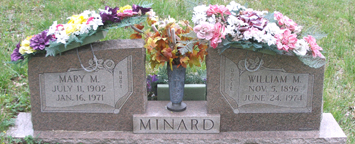 William and Mary's graves at Norris Cemetery near Philippi
William outlived Mary by about three and a half years. In late 1973, he moved to Canton, Stark County, OH, to reside with a niece, Mary Katherine Cline, and nearby his sisters Hulda Mayle and Virgie Mayle. William died in a Canton hospital at the age of 77 on June 24, 1974. His remains were returned to Philippi for burial beside his wife, after a service led by Rev. Winfield Mayle.
A beautiful monument stands at their grave today, apparently put into place by their niece, and is brightly decorated with colorful floral arrangements. Note that their grave marker is inscribed as "Uncle" and "Aunt."
Copyright © 2004-2008, 2020 Mark A. Miner