Anna (Miner) Neely
(1917-2001)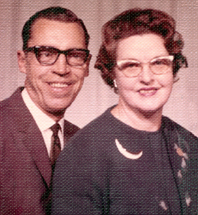 Anna Arminta (Miner) Neely was born in 1917 in Washington, PA, the youngest of seven children of Harry O. and Armena (Cain) Miner. She was a talented singer and seamstress whose deep love of her family has been a great inspiration in the national research and reunion efforts in our family. To her many nieces and nephews, she was a beloved aunt.
When Anna was just a year and a half of age, her father died of a stroke suffered at a Sunday School picnic. Thus all she ever really knew of her father were stories told by her mother, brothers and sisters. She is said to have been "a beautiful girl, with a kind heart. Everyone loved her."
At the age of three, in the winter months of 1920-1921, Anna traveled by railroad with her eldest sister Grace to Upland, IN, to visit their bedfast and recently widowed grandmother, Mary Louise (Johnston) Miner. Anna later recalled seeing the snows on the ground as they rode on the train.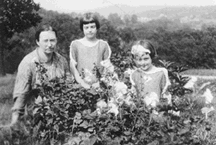 Anna was closest in age to her sister Jessie. Their mother often would take them for Sunday outings to the Washington Cemetery for a picnic at their father's grave, seen here, which was marked with plantings of flowers. When Anna was 17, in 1934, her mother remarried, to Benjamin Franklin Marshall.
Anna graduated from Washington High School in about 1935. Three years later, on June 11, 1938, she married Harold "Bud" Neely (1912-1984), by the hand of Rev. Henry C. Rogers. They went on to have two children, Sheryl Andrews Salakas and Richard Neely. Sheryl recalled that "As a mother, she was gentle, yet firm."
The son of Harold and Clella (Crook) Neely, Bud was a native of Washington. He and Anna soonafter moved to Clairton, in the Monongahela Valley of Pittsburgh, where he was an accountant for the Clairton Works of U.S. Steel Corp. He rose to become "supervising accountant," a position he held 32 years, until his retirement in 1965.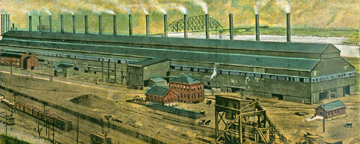 The booming Clairton Works of United States Steel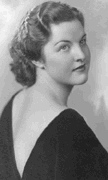 Anna learned how to sew in high school, and was an excellent seamstress. She produced many outfits for herself and her children, and neckties for her husband. Recalls daughter Sheryl, "They were all very professional. I was so proud of the things she made me -- they looked much better than the clothing one bought in stores. She really loved doing it."
Anna was a stay-at-home housewife until the children were grown. After Bud retired, she went to work for the federal government as a "health surveyor" to earn some extra spending money. The part-time job involved traveling and interviewing people in their homes throughout Western Pennsylvania, and it lasted 17 years, until she retired in 1982.
With a sweet voice, Anna always enjoyed singing in church choirs, and sang at the First Presbyterian Church in Clairton for many years. After retirement, she sang with an AARP group called Yankee Doodle Dandies, singing and dancing and putting on shows for groups in the Pittsburgh area.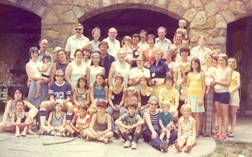 In 1975, at a Miner reunion in Washington Park, seen here, Anna and her sister Jessie told their grand-nephew Mark A. Miner stories of the clan's history. During another reunion in 1977, with years of experience interviewing families for the government, Anna suggested that he try researching old US censuses. This produced immediate results at the Carnegie Library of Pittsburgh with the discovery of an 1850 census showing Anna's grandfather as a boy. Mark continued asking questions to Anna, Jessie and their brother Edward for many years, delving deeper into the lives and personalities of old-time relatives he feared would be forgotten. This has led directly to the national Minerd-Miner-Minor research and reunion, and to the creation of this website.
After a long battle with cancer, Bud died on Dec. 21, 1984, at the age of 72. He was laid to rest at Jefferson Memorial Park near Pittsburgh.
Anna outlived him for 17 years, though for the last eight of those years her mind deteriorated with Alzheimer's Disease. She passed away on Feb. 5, 2001, at the age of 83, the last of her generation, and was buried beside her husband.
Anna's grandson, Mark Andrews, maintains a website for RPT Software, devoted to donation management technology.
This page is in loving tribute to Anna by an ever-grateful grand-nephew.
Copyright © 2001, 2007-2008, 2010 Mark A. Miner