Andrew Jackson Miner
(1846-1921)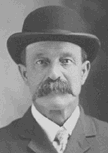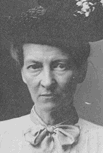 Andrew and Mary Louise
Andrew Jackson Miner was born in May 1846, at Hexebarger near Kingwood, Somerset County, PA, the son of Henry and Polly (Younkin) Minerd.
He never knew his exact birthdate because, it's said, his childhood home burned down and destroyed the family Bible and everything else except the shirts on their backs.
Andrew was part of a truly immense family. On his father's side of the family, he had 51 first cousins, while on his mother's side he had 52. Because his parents were related to each other on the Younkin side, he shared strands of Younkin DNA with every single one of his 103 cousins.
As a boy, during the decade of the 1850s, Andrew moved with his father and disabled, epileptic mother to near Beeler Station, Marshall County, WV. They are shown there in the federal census of 1860. Within a few years, they crossed back into Pennsylvania to near West Finley Township, Washington County, PA.
When Andrew was age 22, he was admitted to membership of the Enon Baptist Church in West Finley. This occurred on Jan. 13, 1868, at a meeting held by "Bro. M. Tilton," pastor of the church. Andrew's then-unmarried sisters Catherine and Susan likewise had been admitted to membership of this church three years earlier, in 1865. These records were published circa 1990 by the church's Historical Committee in the booklet entitled History & Biographical Record of the Enon Baptist Church.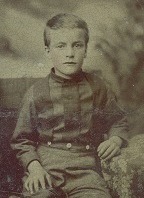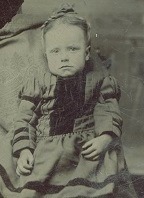 Above, tintypes of 3 of the Miners' 4 children, L-R: Will, Harry, Emma. Below: Jacktown and its fairgrounds near Wind Ridge, circa 1908

On May 27, 1875, at Prosperity, Washington County, PA, Andrew married Mary Louise Johnston (1853-1921), the daughter of William "Harrison" and Elizabeth (Owen) Johnston of Jacktown, also known as Wind Ridge, Greene County. At the time, Andrew was age 29 and Mary Louise 22. The only known record of this marriage is in handwritten notes made many years later by Monalea (Ullom) Miner, wife of their grandson Odger Miner.
The Miners together produced a family of four children, born between 1876 and 1888 -- William Allen Miner, Harry Orlan Miner, Ward C. Miner and Emily Elizabeth "Emma" White.
The rural village of Jacktown was the hub of a prosperous agricultural community. One of the highlights of living there in the years following the Civil War was the annual Jacktown Fair. Formed in October 1866 by the Richhill Agricultural, Horticultural and Mechanical Society, the annual event quickly became what some have called a "cherished institution" in the region. It was held on land at one end of town, near where one George Ryerson had once conducted an Indian trading post. The fair included a horse trader's alley and horse racing along a quarter-mile track in the center of the grounds, at the top of the hill. "In many ways," said a history of the event, "the Jacktown Fair is unique." The Fair continues today after more than 150 years.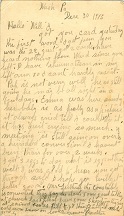 Mary Louise's 1913 card to her son. Enlarge>>>
Andrew worked as a farm laborer in the Waynesburg, PA area. He and Mary Louise and their children lived as tenants on various farms in such rural places as Nineveh, Aleppo and New Freeport, on the outskirts of Waynesburg, Greene County, PA.
In 1888, the Miners moved to the mountainous Rock Camp area near Hundred, Wetzel County, WV. While in Hundred, they were neighbors of James C. and Margaret Ellen (White) Cain, whose daughters Armena and Osta would marry the Miners' sons Harry and Will.
Hundred is seen here in a rare postcard view. (Click here to see other old colorized postcards of Hundred from the early 1900s.) Andrew's niece Ida Ellen (Farabee) Taylor and her family also resided in the Hundred area over the years.
At one time they are believed to have lived along Route 69 between Hundred and Garrison, PA. By 1898, they moved again to Chartiers Township, Washington County, PA, where he was a tenant laborer on the farm of Alexander Gaston. In mid-October 1900, when Andrew was age 54 and Mary Louise 47, they moved to a small house on Broad Street in the county seat of Washington. The Oct. 6, 1900 gossip columns of the Canonsburg Daily Notes reported that "A.J. Miner of North Strabane has purchased property in West Washington, and will move to it in two or three weeks," and the following week's newspaper said that "A.J. Miner will move to Washington Tuesday."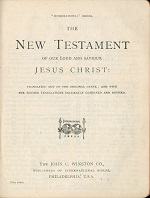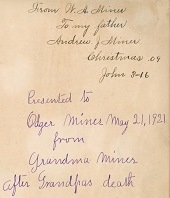 Title page and inscription in Bible
In 1903, their son Ward, a photographer plagued with lung problems, moved to Wyoming and later migrated to Louisville, CO, near Denver, where the air was cleaner for breathing. He never recovered, and died there in 1914.
Circa 1908, upon the death of the husband of his niece Lizzie (Miner) Lindley, Andrew and his brother in law Stephen W. Johnston both signed affidavits, stating that they had known Lizzie since she was a little girl, and that he had never married anyone other than her late husband. That year, Andrew and George O. Jones also witnessed an affidavit signed by B.F. Reeves in the case.
Andrew received a New Testament as a Christmas gift in 1909 from his son Will. It was inscribed on the flyleaf: "From W.A. Miner to my father, Andrew J. Miner, Christmas .09. John 3-16." The Bible had been published in Philadelphia by the John C. Winston Company and was considered part of its "International Series."
Mary sent a penny postcard in 1913 to son Will, living in Pomona, CA, describing her rheumatism, church activities and the price of food. She wrote: "Pap is not verry well ... he is still going ... he may be allright in a few days." She also said her daughter Emma had visited the previous weekend and that Emma's baby was "pretty as a picture.... It always cried till I couldn't see it." She added: "I hope you will get better soon." Click here to see an image of the entire card.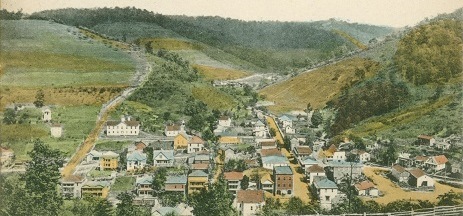 Hilly Hundred, West Virginia, where the Miners lived in the late 1880s and early 1890s. Below: with grandsons Kenneth and Thurman White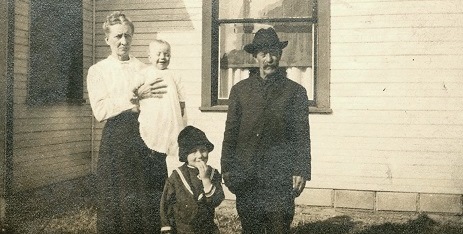 He and Mary once traveled back to Kingwood to visit brother Ephraim, and the two couples had a studio portrait taken together, seen here. It's said they had a grand time traveling to and from the studio, laughing and joking, though it's not apparent by the expressions on their faces. Andrew and Mary are at bottom and right, with Ephraim and Rosetta at top and left. [This image was the Minerd.com "Photo of the Month" in October 2013.]
In August 1913, Andrew was among 125 who attended the first annual Minerd-Miner Reunion at Ohiopyle, Fayette County PA, with his sister Nancy Farabee and brother Ephraim and his wife Rosetta.
After enduring the deaths of adult sons Ward (in 1914) and Harry (1919), Andrew and Mary Louise aged and were unable to tend to themselves. Son Will settled their affairs and moved them to the home of their daughter Emma and husband Lester Allen White in Upland, IN, where Lester was studying for the ministry.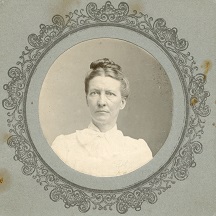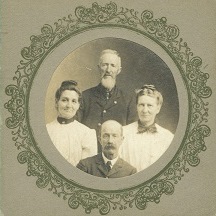 Left: Mary. Right: Andrew & Mary (bottom right) with his brother Ephraim & wife Rosetta (upper left).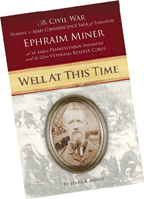 Book about Andrew's brother
A story told by a grandson is that while living in Upland, Andrew craved chewing tobacco. Though a loving daughter, Emma was the wife of a seminarian, and had to keep up appearances. So she turned him down. Andrew protested, saying: "But it pleases my mouth so…"
Their stay was short. Andrew had a stroke in August 1920 and died on Jan. 3, 1921. The Washington Observer reported that he had been "a successful farmer and stock raiser,... [and] a member of the West Washington Methodist Episcopal church." Mary then gave her husband's Bible to grandson Odger on his 16th birthday, inscribing it: "Presented to Odger Miner May 21, 1921 from Grandma Miner after Grandpas death."
Mary died in Upland on Christmas Eve 1921. As with her husband, her remains were sent back to Washington via railroad, and her funeral was held in the home of widowed daughter in law Armena Miner.
A grandson once recalled that "For two straight years we had a Christmas tree in one corner of the parlor and a coffin in the other."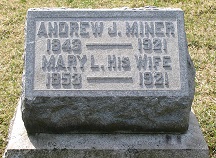 Washington Cemetery
They are buried together in the sacred soil of the old Miner family plot in Washington Cemetery, in which five generations of the family sleep for all time.
Andrew and Mary are mentioned on several pages of a lavishly illustrated book about his brother Ephraim who was a Civil War veteran -- entitled Well At This Time: the Civil War Diaries and Army Convalescence Saga of Farmboy Ephraim Miner. The book is authored by the founder of this website, and Andrew and Mary's great-great grandson. [More]
~ For Further Reading ~
"150 Years On, Jacktown Fair Endures" - Pittsburgh Post-Gazette, July 14, 2015.
Copyright © 2000, 2002-2006, 2014, 2017, 2020-2021 Mark A. Miner
Andrew J. Miner tintype courtesy Tammy (Morris) Strickhorn