Charles Miner
(-1873-)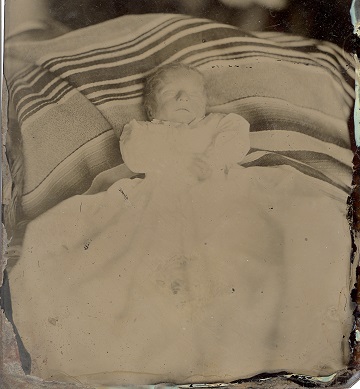 Charles Miner was born in 1873 in Tontogany, near Bowling Green, Wood County, OH, the son of Jacob and Louise (Finkenbiner) Miner.
Sadly, Charles died as an infant in November of that year, when only a few months old. His grief-stricken parents arranged to have this photograph tintype taken of him in death, laid gently on a blanket.
This post-mortem portrait was preserved by the family, and passed down in the generations, so that he would not be forgotten. The tintype measures 4.75 inches wide by 6.875 inches high.
Copyright © 2005, 2022 Mark A. Miner