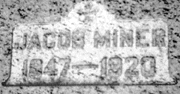 Union Hill Cemetery

Jacob Miner was born under the name "Minerd" on May 18, 1847 in Washington Township, Wood County, OH, the son of Samuel and Susanna (Hueston) Minerd.

He built many bridges in his native Wood County, and was a neighbor of the parents and brother of General George Armstrong Custer. He dropped the "d" from the family name at some point in time.
On July 2, 1868, when he was 21 years of age, Jacob married 19-year-old Louisa Finkenbiner (1849-1940), daughter of David and Susan (Snyder) Finkenbiner.
Louisa Miner

They had seven children – Edith Keeler, Charles Miner, Jay C. Miner, Jennie Goodger, Susan Bemis, Hugh Valentine Miner and Edna Asmus. Sadly, son Charles died as an infant in November 1873 -- to see his bio, complete with a photograph of him in death, click here.

Jacob was a jack of all trades -- a bridge builder and stonework contractor as well as a farmer and a butcher. The Index to Commissioners Journal of Wood County lists many contracts that Jacob and his brother in law, William J. Burditt, received over the years.

The two men built simple-span structures over local creeks as well as large man-made ditches that drained surface water from the flat farm fields. These included bridges in the towns or townships of Tontogany, Freedom, Pemberville, Milton, Weston, Bloom, Jackson and Washington. The Index covers the years 1895 to 1901.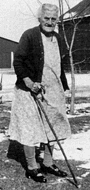 Louisa Miner

In fact, in the year 1892, Jacob was the second highest-paid bridge contractor in Wood County as paid from the County Bridge Fund, and reported in the Wood County Sentinel.

He also generated income as a stone mason.


Jacob was a member of the local school board. In 1886-1887, he and others voted for the "innovation" of acquiring "modern school furniture," according to Beers' 1897 Commemorative Historical and Biographical Record of Wood County.

He and Louisa resided next to his parents north of the village of Tontogany in Wood County. In 1871, for the sum of $1,200, Jacob and William J. Burditt jointly purchased a 20-acre farm belonging to Jacob's father. This farm appears in the 1871 landowner map of Wood County, and was next to the farm of Emanuel H. Custer and his son Nevin J. Custer. (Emanuel was the father, and Nevin the brother, of General Custer.) In fact, Jacob's sister Rebecca is thought to have been a sweetheart of another Custer brother, Civil War hero Thomas, who also was killed at the Battle of Little Big Horn. Jacob's farm also is depicted Griffing Gordon's 1886 Atlas of Wood County, Ohio,

Map of Minerd/Custer farms, Tontogany

Jacob spent much time with his mentally ill brother Alpheus and probably kept him out of much trouble. Later, when there was a court case involving Alpheus, and enemies of the family tried to prove him insane, Jacob explained why his testimony was radically different than that of friends and neighbors: "I was with him a great deal, and I may have not noticed what others notice in him. I may have been so accustomed to him as not to notice what others swear to."

There may have been friction between Jacob and his brother in law, William L. Jewell, after Jewell was named the legal guardian of Alpheus. In fact, Jacob once said that Jewell's "reputation is bad. He is regarded as a trickster and so spoken of."

In the 1890s, Jacob's widowed father came to live in their household, and may have remained there until his death in 1904.

East Main Street in Tontogany -- note the "Lumber and Coal Office" sign on the building at right

Obituary, 1940

Stricken with influenza and bronchitis, Jacob died at the age of 72 on March 4, 1920, in the township of his birth. He was buried in the family plot at Union Hill Cemetery. Unfortunately, the local newspaper, the Daily Sentinel Tribune, did not carry an obituary.

Louisa outlived her husband by two decades, and resided with her son Hugh as well as "with her daughters in Haskins and vicinity."

She passed away at age 90 in Bowling Green on June 16, 1940, from the effects of a broken hip. Her death occurred just two days after the birth of a great-grandson in the same hospital. The local newspaper said she had been "affectionately known to citizens as 'Grandma Miner'."



Copyright © 2001-2003, 2006, 2010, 2022 Mark A. Miner