Charles Miner
(1864-1935)
Charles Miner was born on Feb. 2, 1863 or 1864, in or near Lee County, IA, the son of Nathaniel and Susan (Abbott) Miner.
He grew up in and around the family farm near West Point, Pleasant Ridge Township, Lee County.
On March 15, 1883, at the age of 20, Charles married Clara Etta Stoner ( ? - ? ). She was the daughter of John and Malinda (Lyle) Stoner, former Ohioans who were pioneers of Iowa, settling first in Henry County and then moving to Lee County in about 1875.
The Miners are said to have had a large family and to have resided in Fort Madison, Lee County.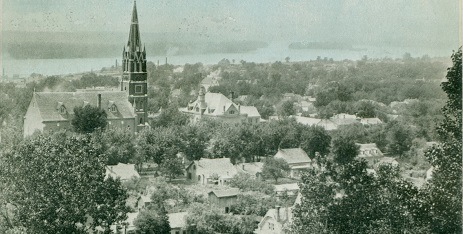 Bird's-eye view of Fort Madison, with the Mississippi River in the background
Among their offspring were Sherman E. Miner, Grace Myrtle Miner and Nella Ethel Miner
Clara and Charles are mentioned in a biographical profile of her brother Reuben C. Stoner in the 1905 book, Biographical Review of Lee County, Iowa.
Clara died sometime prior to 1894, but the details are not yet known. Research suggests that she may be the same "Clara E. Miner" (1865-1887) who is buried in Bethany Cemetery in Lowell, Henry County, IA, but this needs to be confirmed. [Find-a-Grave]
In about 1894, Charles married again to Alice Sarah (Enslow) McColloch (June 10, 1863-1934), daughter of Elias H. Enslow, and who was two years older than her groom. They did not reproduce
The census of Fort Madison in 1900 shows Charles and Alice residing together, with Charles' brother John Miner (age 47) and presumed niece Grace Miner (15) in the household. Charles earned a living that year as a teamster.
Alice Sarah passed away in 1934, terminating their marriage which had endured for 41 years.
Charles died on Jan. 3, 1935.
~ Son Sherman E. Miner ~
Son Sherman E. Miner (1888-1960) was born in 1888.
He was of medium build, with brown hair and brown eyes.
On Feb. 17, 1909, in Lee County, he married Rose Barbara Rings (1888-1974), daughter of Henry and Anna (Handrich) Rings.
They had three known children -- Kenneth Miner, Willis Miner and Raymond Miner.
The census of 1910 shows them living in Marion Township, Lee County, with Sherman having no occupation. They remained in Marion Township for at least a decade, and are shown there on the 1920 census, with Sherman marked as a farmer.
By 1930, they had moved within the county to Franklin Township. The Miners remained on a farm in Franklin as shown in the 1940 census enumeration. In 1940, son Raymond and three-year-old grandson Kennet, born in Wyoming, were in the household.
Sherman died in December 1960. He rests for all time in Hillcrest Memorial Park in Fort Madison.
Rose survived her spouse by 14 years. She passed away in February 1974. Her death generated a one-line notice in the Des Moines Tribune.
Son Kenneth Miner (1912-1967) was born in about 1912 in Lee County, IA. He died in March 1967, possibly in an automobile accident on U.S. Route 61, about a mile north of Montrose, IA. Interment was in Hillcrest Memorial Park.
Son Willis Miner (1914- ? ) was born in about 1914 in Lee County, IA.
Son Raymond Miner (1920- ? ) was born in about 1920 in Lee County, IA. In 1940, single at the age of 20, he lived at home with his parents in Franklin Township, Lee County. He was married and had a son, David Miner. He was a jeweler and sold keepsake and cardinal diamonds as well as Elgin, Bulova and Hamilton wristwatches, with his business located at 810 Avenue G. He also was active with the Fort Madison Jaycees and in 1952 was elected treasurer, with a group photograph published in the Fort Madison Evening Democrat.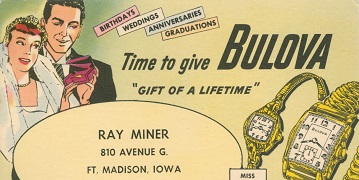 Advertising postcard for Ray Miner's jewelry business
Copyright © 2000, 2005, 2017, 2020 Mark A. Miner