Nathaniel 'Nathan' Miner
(1819-1908)
Nathaniel "Nathan" Miner was born on Dec. 15, 1819 in Perry County, OH, near Zanesville, the son of Frederick and Elizabeth (Sechman) Miner Sr.
He and his wife were pioneer settlers of Iowa.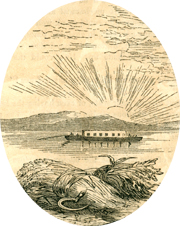 Ohio River flatboat heading west
Ballou's Pictorial, 1856

According to the Fort Madison Weekly, when Nathan was age 25, he "came to Iowa in the year 1844, coming down the Ohio river and up the Mississippi as far as Keokuk on a flatboat, then traveled from Keokuk to Burlington with oxen."

Shortly after arriving, Nathan met his future wife, Susan Abbott (Oct. 18, 1827-1901). They were married on Sept. 20, 1846, in the Abbott home in Burlington, Des Moines County, IA, when Nathan was age 27 and Susan 19. The couple was eight years apart in age.

Susan was born in Muskingum County, OH, the daughter of Hayes Abbott. Said her obituary in the Fort Madison Weekly Democrat, "She moved to Iowa with her parents in 1842, settling near Burlington." She was said to be "a loving wife and mother and kind neighbor…."

The Miners together produced a brood of 10 children -- Laura Jane Troxel, Clara Tucker, Elizabeth Davis, John Miner, Lorenzo Miner, Minerva Canaday, Charles Miner, Sarah "Birdie" Pickard, Florence Harriett [Treva] Cline Craig and William H. Miner.

When the federal census was taken in 1870, the family lived in Middletown, Des Moines County, IA. By that time, nine of their children had been born.

Nathan apparently was close with his nephew, Henry Bush, son of Nathan's sister Elizabeth (Miner) Bush. In the winter of 1877-1878, Henry came from Winfield, KS to work on Nathan's farm, before moving on to Greenfield, IN. In turn, in 1908, after receiving the news of Nathan's death, Henry Bush and his wife traveled from Missouri to Iowa to attend the funeral.

Nathan is not to be confused with a distant cousin, Nathan Minder, son of Johannes "John" Minder, who also settled in Fort Madison in about 1850.

Front Street looking west, Fort Madison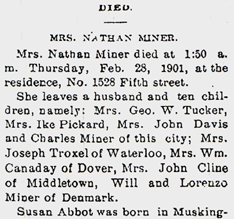 Obituary, 1901
In 1881, Nathan and Susan moved to a farm near West Point, Pleasant Ridge Township, Lee County, "where he lived till all his children, with the exception of one, were married and had homes of their own…. In the spring of 1898, he and his good wife and son moved to Fort Madison and retired from active life."
They made their home at 1528 Fifth Street in Fort Madison, for the rest of their years.
A rare old postcard image of Fort Madison seen here probably was taken a half-century after Nathan arrived. Note the river at far left, the railroad engine belching smoke on tracks adjacent to the river, and then, across Front Street, the town buildings at far right.
On March 27, 1895, the Miners hosted the wedding of their daughter Florence to John M. Cline, by the hand of Rev. A.R. Joy, pastor of the Congregational Church in Denmark, IA.
Susan died on Feb. 26, 1901 at Fort Madison. She was 74 years of age.
Nathan outlived her by six years. He passed away on April 17, 1908, at the age of 89. He and Susan are buried at the Atlee Cemetery (formerly known as Elmwood Cemetery) in Fort Madison.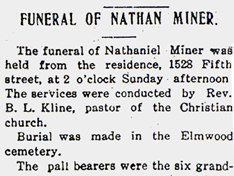 Obituary, 1908

Nathan's newspaper obituary said "He will be remembered by many of the old citizens of Des Moines and Lee county, as he was regarded by all as being one of the most highly respected and honorable citizens."

Pallbearers at Nathan's funeral all were grandsons -- Charles C. Tucker, John Tucker, Nate Tucker, Millard Troxel, Sherman Miner and Ralph Stoner. The funeral was conducted by Rev. B.L. Kline of the local Christian Church.

Son in law George Tucker is profiled in the book, Biographical Review of Lee County, Iowa.

The town of Fort Madison grew and prospered during the 20th century. It reached national fame in 2000 when profiled as "thriving" in the July 10 issue of Time Magazine. Fort Madison was praised for its ability to "keep a sense of place" and "hold on to something special" despite the national trend for towns to be "ringed by cake-box superstores with aircraft-carrier parking lots and terrific discounts on six-packs of socks."

Copyright © 2000, 2002, 2007, 2009, 2017, 2022 Mark A. Miner