Home

Clarissa Emma (Miner) Barnard
(1869-1943)
Clarissa Emma (Miner) Barnard was born in about 1869 in or near Southington, Trumbull County, OH, the daughter of John and Elizabeth Miner.
On Nov. 2, 1893, when she was 24 years of age, Clarissa married 20-year-old Hiram Judson "Judd" Barnard (1872-1950), son of Harry H. Barnard. Disciples of Christ minister Rev. H.L. Dray officiated. The groom was four years younger than the bride.
The pair bore an only son, Murlin Paul Barnard.
When the federal census enumeration was made in 1910, the Barnards dwelled in Denmark, Ashtabula County, OH. Judson earned a living as a thresher, working for other farmers.
Then during the decade of the 1910s, they relocated across the stateline to Linesville, Crawford County, PA. There, Judson and his son operated a machine shop and garage.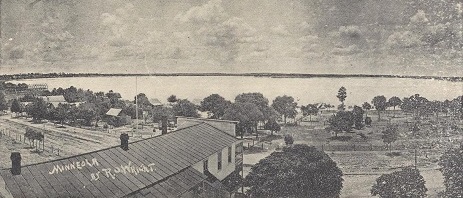 Minneola, Florida, to where the Barnards relocated in the 1920s
The U.S. Census of 1930 shows that Barnards had relocated to Florida and were living in Minneola, Lake County. He continued his work as manager of a garage, and that year, his mechanic Allen Lander boarded in their home. Their widowed daughter-in-law followed in 1934.
Sadly, Clarissa died in 1943. Her remains were laid to rest in Minneola Cemetery.
Judson remained in Minneola, sharing a residence with his daughter-in-law and granddaughter.
Sadly, at the age of 76, and after a lengthy illness, Judson died at home on Aug. 25, 1950. He was survived by three grandchildren. Funeral services were led by Rev. William H. Stephens, in the family church, with burial following in Minneola. An obituary was printed in the Orlando Sentinel, with a short death notice appearing in the Miami Herald.
~ Son Murlin Paul Barnard ~
Murlin Paul Barnard (1895-1934) was born on Aug. 1, 1894 in Cortland, Trumbull County, OH.
He was united in matrimony with May Irene Furgeson (1896-1978).
Together, the couple produced four known offspring, Kenneth Paul Barnard, Rupert Judson Barnard, Murlin Dale "Murril" Barnard, Evalene Nielsen, Marilyn Rose Kersey and Clarissa Joyce Barnard.
The 1920 U.S. Census shows the Barnards residing in the home of Merlin's parents in Linesville, Crawford County, PA, where Merlin and his father jointly ran a machine shop and garage.

The Pymatuning Reservoir at Linesville, PA, a landmark where crowds gather to watch and feed ducks walking on fish at the spillway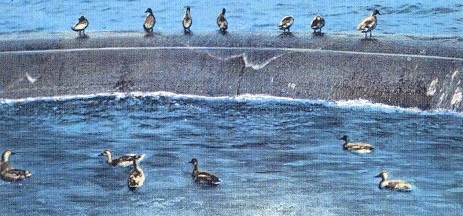 The Barnards appear to have spent winter months in Florida. Sadness gripped the family when one-month-old son Murlin died in Osceola County, FL in Jan. 1923. The baby's tender remains were placed into eternal repose in Mount Peace Cemetery in St. Cloud, FL.
Young Murlin's death was the first in a trio of heartbreaks which snuffed out the sons' lives. In 1931, teenage son Kenneth was killed in a motorcycle accident, and the following year son Rupert was spirited away after an acute inner ear infection.
Having contracted pneumonia, Murlin was admitted to Spencer Hospital in Meadville. There, at the age of 39, he died on April 6, 1934. Burial was in Linesville Cemetery.
The widowed May outlived her sons and spouse by decades. When her in-laws moved to Florida, she and her daughters did too, and they shared a home together in 1940-1950. She held a membership in the Christian and Missionary Alliance Church.
May remained in Minneola for the balance of her life. She died at the age of 82 on Jan. 29, 1978. An obituary was published in the Orlando Sentinel, saying that she was survived by eight grandchildren, seven great-grandchildren and daughters Evalene Nielsen of Escondido, CA; Marilyn Kersey of Lakeland, FL; and Clarissa Evans of Orlando.
Son Kenneth Paul Barnard (1916-1931) was born on May 14, 1916 in Crawford County. On the tragic day of Aug. 31, 1931, the 15-year-old Kenneth was fatally injured when his motorcycle collided head-on with an automobile on Route 77 in Shermansville, PA. Suffering from a fractured skull and massive internal injuries, he was rushed to Spencer Hospital in Meadville, where he died shortly afterward. His remains were laid to rest in Linesville. The Warren (PA) Times Mirror reported that "Highway Patrol officers who investigated found that young Barnard had no license to drive a motorcycle, that the motorcycle was one he had borrowed, and that he was driving the machine at a high rate of speed without lights." The news also was printed in newspapers across the state in a summary of traffic fatalities.
Son Rupert Judson Barnard (1918-1932) was born on Jan. 8, 1918 in Pennsylvania. He was a member of the Boy Scouts troop of Linesville. In early September 1932, he was diagnosed with an acute inner ear infection of the mastoid bone known as "otitis media." He suffered for several weeks and developed an abscess of the brain. Death carried him away at age 14 on Oct. 2, 1932.
Daughter Evalene Barnard (1920-2001) was born on May 13, 1920 in Linesville. She married Robert Louis Nielsen ( ? -2008). Their marriage endured the ups and downs of a remarkable 59 years. Together they bore two offspring -- Robert Nielsen and Janet Conway. Circa 1942, the couple established a residencein Escondido, CA, a suburb of San Diego and remained for good. Evalene was employed as office manager by the Escondido Union School District and retired in 1983.They belonged to the Emmanuel Faith Community Church, where Evalene volunteered as a Sunday School secretary and deacon. Sadly,, at the age of 81, she died in Palomar Medical Center on Sept. 24, 2001. Her obituary was printed in the North County Times of Oceanside, CA, which noted that her survivors included nine grandchildren and three great-grandchildren. Her pastor Rev. Richard Williams led the memorial service at the family church, with inurnment at Oak Hill Memorial Park. Robert is believed to have survived for another seven years and to have passed into eternity on Aug. 4, 2008. His death notice appeared in the San Diego Union.
Grandson Robert Nielsen was joined in matrimony on June 21, 1969 with Penny. They have resided in Escondido, CA and are the parents of Christine Nielsen, Tiimothy Nielsen and Daniel Nielsen. Robert has been employed as fleet manager for the County Water Authority, while Penny, a vocalist, has been a voice teacher for schoolchildren. In July 1994, they marked their silver wedding anniversary and were pictured in the Escondido Times-Advocate.
Granddaughter Janet Mae Nielsen ( ? - ? ) was a 1962 graduate of Escondido High School. She went on to receive her bachelor's degree in 1968 from San Diego State College. Circa 1969, she was employed as a teacher in the Rose School of the Escondido Union School District. Janet was united in wedlock on July 5, 1969 with fellow educator Milton Taylor Conway ( ? - ? ) of Oceanside, CA. Their wedding was held at Emmanuel Faith Community Church of Escondido, by the hand of Rev. Coy T. Maret, and announced in the Escondido Times-Advocate. Milton was a 1961 alumnus of Phoenix West High School and a 1966 graduate of Northern Arizona University. He also taught at Rose School at the time of marriage and is known to have directed plays at the school. The Conways were in Escondido, CA in 2001.
Daughter Marilyn Rose Barnard (1930-2020) was born on April 30, 1930 in Linesville. She moved with her mother and sisters to Florida circa 1934 and grew up in Minneola, Osceola County. She was a 1948 alumna of Clermont-Minneola High School, graduating as valedictorian. On April 17, 1948, Marilyn was united in matrimony with James E. Kersey Sr. (Dec. 24, 1927-1997). Two sons produced by the couple were James Kersey Jr. and David "Michael" Kersey. The family settled in Lakeland, FL Marilyn was employed for two decades by General Telephone Company (GTE) and, upon retirement, generated income as a realtor with Coldwell Banker. She served in 1983-1984 as president of the Coordinating Council of Women's Organizations and was honored in 1981 and 1986 by the Lakeland Business and Professional Women's Club. Sadly, James died on Nov. 18, 1997. Marilyn outlived him by 22-plus years. At the age of 89, she passed away on Jan. 25, 2020. She was survived by five grandchildren and a dozen great-grandchildren. Burial was at Oak Hill Cemetery in Lakeland. Inscribed on the face of their grave marker is the prayer, "Precious Lord take our hands."
Grandson James E. "Jim" Kersey Jr. ( ? - ? ) has been married twice. His first marriage, to Karen H. ( ? - ? ), ended in divorce in 1973. He later wed Linda ( ? - ? )/
Grandson David Michael "Mike" Kersey ( ? - ? ) was a graduate of Tampa Technical College. In young manhood he was employed by General Telephone Company (GTE). Michael has been twice-wed. His first bride was Valorie Esperanza Prieto ( ? - ? ), daughter of Angel A. and Nancy C. Prieto Jr. of Tampa. They were brought together in marital union on Jan. 26, 1974 at Sacred Heart Catholic Church, with the marriage announced in the Tampa Tribune. Valorie was a Hillsborough High School graduate and employed at the time of marriage by Wackenhut Corporation. Then on Aug. 9, 1980, he married Cynthia "Kay" Joseph ( ? - ? ), daughter of W. Harold Smith. The nuptials were held at the Lakeland Moose Lodge.
Daughter Clarissa Joyce "Chris" Barnard (1932- ? ) was born in about 1932 in Pennsylvania. She relocated to Florida with her widowed mother and dwelled in Minneola, Lake County, FL. At the age of about 18, on June 16, 1950, she entered into marriage with Thomas Franklin Evans (May 10, 1927-2009), a native of Detroit and the son of Lewis David and Sylvia Ellen (Anderson) Evans. Their wedding was held in Minneola. The couple stayed together for a remarkable 59 years. Their four sons were Ronald Evans, Kenneth Evans, Mark Evans and Steve Evans. Thomas had served in the Merchant Marine and then in the U.S. Army during World War II. The couple established their dwelling in the Orlando area and remained for more than half a century. Trained as an electrician, Thomas was a 50-year member of the International Brotherhood of Electrical Workers. At some point he founded State Electric Company. He held memberships in the IBEW's local union executive board and apprenticeship committee, the board of the National Electrical Contractors Association and the City of Orlando Board of Examiners of Electricians. Clarissa and Thomas belonged to the Westwood Church, where he was an elder and missions church builder in Mexico and Nicaragua and a supporter of Lifetime World Outreach Missions. Sadly, at the age of 81, Thomas died on March 27, 2009. Services were held in the family church, followed by burial in Woodlawn Memorial Park. He was pictured in his obituary in the Orlando Sentinel.
Grandson Ronald Evans wed Rita Fae and moved to Hickory Creek, TX.
Grandson Kenneth Evans made his residence in 2009 in Leesburg, FL.
Grandson Mark Evans was joined in wedlock with Erin. They have dwelled in Orlando.
Grandson Steve Evans put down roots in Winter Garden, FL.
Copyright © 2003-2005, 2007-2009,, 2022 Mark A. Miner