Home

John Miner was born in 1833 near Champion, Trumbull County, OH, one of 13 children of Joseph and Elizabeth (Forney) Miner.
Little is known of the details of John's life. He apparently learned carpentry from his father, and at age 17 was working at the trade.
In about 1866, John was united in matrimony with Elizabeth "Betsy" (?) (1835-1889). She was a native of Ohio, as were her parents, but her maiden name is not yet known.
The pair bred at least six children -- Simon S. Miner, Lucinda Hurd, Samuel "Albert" Miner, Clarissa "Carrie" Barnard, Theodore E. Miner, Calvin Miner and Horace Greeley Miner.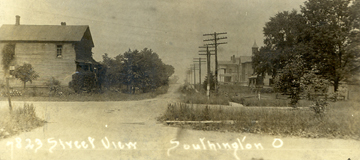 Quiet crossroads in Southington during the early 1900s
When the federal census of Champion Twp. was taken in 1870, John was employed as a carpenter. By the time of the 1880 census of nearby Southington, Trumbull County, John was working there as a farmer. Each of their eldest four daughters and sons attended school, as likely did the rest of their children.

Western Reserve Chronicle, 1889
Sadly, Elizabeth passed away at age 54 in Southington, Trumbull County, in early December 1889. The Western Reserve Chronicle, published in Warren, OH, said that "Funeral services were held at the Disciple church, Sabbath last."
Circa 1895, the widowed John was residing in Niles, and was working as a carpenter. He was mentioned in his late father's estate papers as a surviving heir.
John's fate seems to be lost to history, but will be published here when learned.
Copyright © 2003-2005, 2007-2009, 2020 Mark A. Miner
Minerd.com expresses appreciation to Christine (Roberts) Phelps for sharing her extensive research about this family for this webpage.