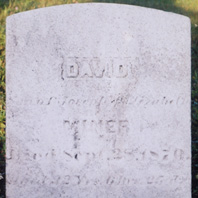 David's grave marker
David Miner was born on March 3, 1838 near Champion, Trumbull County, OH, one of 13 children of Joseph and Elizabeth (Forney) Miner.
When the federal census of 1870 was taken in July of that year, 32-year-old David was unmarried and residing in the home of his parents. He was employed as a house painter.
Nothing else is known about his life – rather, our record of his existence pertains completely to his untimely death.
David passed away at age 32 on Sept. 28, 1870. Grief-stricken, his father advertised in a local newspaper that:
The undersigned, father of David Miner, … hereby gives notice that he will settle all claims against the estate of said dec'd, and collect all debts that may be due said estate. Persons knowing themselves in any way indebted are requested to call on JOSEPH MINER.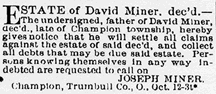 Warren newspaper, 1870
He was laid to rest in the family plot at the German & Reformed Lutheran Cemetery east of Southington, Trumbull County.
His sister Lucy Kincaid and mother Elizabeth later would be buried directly beside him.
David's grave marker was barely legible when photographed in August 2003. It's possible the lettering would be much clearer to read if cast in shadow by the midday sunshine.
Copyright © 2003, 2012, 2020 Mark A. Miner