Lucy (Miner) Kincaid
(1846-1873)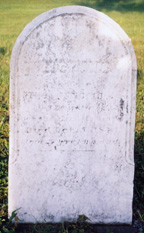 Lucy's grave marker
Lucy Ann (Miner) Kincaid was born on July 27, 1846 near Champion, Trumbull County, OH, one of 13 children of Joseph and Elizabeth (Forney) Miner.
As a young woman, Lucy was renowned for her work as a seamstress. In mid-September 1872, at the annual fair of the the Trumbull County Agricultural Society, she won top honors in the category of "chair tidy," apparently a type of coverlet. Her father captured awards that same year for "best breeding sow" and "large breed shoats." They were mentioned in a corresponding article in the Western Reserve Chronicle newspaper.
On Dec. 18, 1872, at the age of 26, Lucy married 29-year-old Thomas Kincaid Jr. (1843- ? ), also spelled "Kincade." He was a Champion neighbor and an Ohio native, and the son of Thomas and Laura H. Kincaid Sr. Jefferson Palm, a local justice of the peace, performed the ceremony. Thomas Jr.'s father was an immigrant from Ireland.
Thomas Jr. was listed as a "soldier" residing in his parents' household just two years prior to the wedding, in 1870. That year, he lived just a few households away from his future bride. Whether he served in the Civil War or not is being researched.
In April 1873, Lucy gave birth to their daughter Caroline Louise Kincaid.
Sadly, Lucy passed away later that year on Dec. 5, 1873, at the tender age of 27 years, four months and nine days. The cause of death is not known. She and Thomas had only been married less than a year, and her demise left him alone to raise their infant daughter.
Lucy was laid to rest beside her brother David in the family plot at the Lutheran & German Reformed Cemetery in Southington. Her grave marker was intricately carved with her vital dates, as well as the names of her husband and parents. Later, her mother would be buried next to her as well. When Lucy's marker was photographed by the founder of this website in August 2003, some 130 years later, it was badly faded, and barely legible. The lettering might be visible if the midday sunshine would strike it at just the right angle.

Map showing 2 farms of "Thos. Kincade" (red dots), totaling 120.75 acres due west of the Trumbull County Infirmary Farm in Champion Township, from L.H. Everts' 1874 Atlas of Trumbull County, Ohio. This likely was the farm of Thomas' parents and where he went back to reside after Lucy's death, and where he lived with his second wife Mary circa 1880.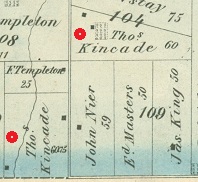 Detail of the Kincade farms in
Champion, from the 1874 Atlas
Their motherless daughter Caroline "Carrie" was taken into the home of Lucy's parents in Champion. She is shown in the household in the 1880 census, with her uncle Cornelius Miner and aunt Ellen Miner [Eliza Ella Guessman] living there too. Residing next-door was Carrie's distant cousin, Eliza Miner Mathany and her husband James.
After six years as a widower Thomas Jr. wed again, to Mary A. Brubaker (1846- ? ). Their marriage ceremony took place on July 20, 1879, with justice of the peace W.H. McMurray officiating.
When the federal census was taken in 1880, Thomas Jr. and Mary made their home with Thomas' parents in Champion. Thomas Sr. was a farmer that year, while Thomas Jr. is marked as a laborer.
By 1900, the Kincaids had relocated into a residence in the City of Warren. Thomas, age 37, was employed as a teamster. The census-taker recorded that they had no children. Thomas's 59-year-old widowed mother lived under their roof as well.
Thomas and Mary have not yet been located on the federal census of 1910.
Their fates are lost to history for now.
Copyright © 2003-2004, 2009, 2012-2013, 2020 Mark A. Miner