Dora (Miner) Dawkins
(1871-1957)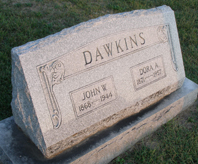 Keens Chapel Cemetery
Dora (Miner) Dawkins was born in 1871 in or near Omega, Marion County, IL, the daughter of Chance and Martha (Jones) Miner.
In about 1893, when Dora was age 22, she married John Wiley Dawkins (1868-1944), the son of Jonathan and Elizabeth (McKindry) Dawkins. There is no known record as to the precise place or date of the marriage, as extensive records of the Marion County Genealogical Society -- covering Marion, Clay, Fayette, Effingham, Richland and Wayne Counties -- are silent. John's father was a native of Kentucky, and his mother of Missouri, and they migrated to Illinois, where John was born. His name also has been spelled "Dockings" in family papers.
John had been married once before, in October 1890, to Etta F. Smith (1873- ? ), daughter of James N. and Manerva Smith. It is not known when or why the marriage ended.
Dora and John bore three known children -- Eugine Myrton Dawkins, Noel John Dawkins and Martha Belle Hollinshead.
When the federal census was taken in 1910, 1920 and 1930, Dora and John resided on their own farm in LaClede Township, Fayette County, IL. By 1930, their nest was empty, and they lived by themselves.
In the late 1910s, Dora's widowed mother came to live in their home. Dora provided nursing and care during her mother's last illness. Among the medicines Dora purchased to treat her mother were bottles of camphor, castor oil and cough medicine, as well as peppermint.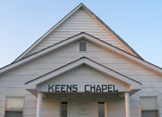 Keens Chapel
When her mother passed away in LaClede in February 1920, Dora was reimbursed $75 from the estate for her expenses. John helped settle debts of the estate.
The Shadow of Death visited the family over the years, and Dora and John suffered the deaths of their sons. Eugene died on March 17, 1917, at the age of 18, and Noel passed away at the age of 38, in Shelbyville, IL, on April 24, 1941. Both are buried at Keen's Chapel Cemetery.
Sadly, John passed away on June 23, 1944, at the age of 75. Details are not known, but will be reported here when learned. He was laid to rest at the Keen's Chapel in the family plot with their sons and Dora's mother.
Dora outlived her husband by 13 years. Her home in the mid-1950s was in Farina, Fayette County. In September 1954, she made news in the gossip columns of the Kinmundy (IL) Express when she and her daughter Martha and son in law Raymond Hollinshead attended a Sunday noon basket dinner at the home of the Harry Thompsons.
She died in 1957, and rests for eternity beside her husband.
In October 2007, the founder of this website along with researcher Eugene Podraza visited the Dawkins grave to pay their respects.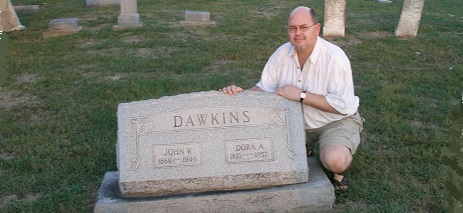 The founder of this website at the Dawkins grave, Keens Chapel, 2007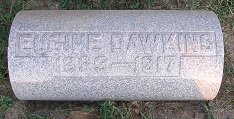 Keens Chapel Cemetery
~ Son Eugine Myrton Dawkins ~
Son Eugine Myrton Dawkins (1899-1917) was born in 1899.
He grew up on his parents' farm in LaClede, Fayette County, IL.
He succumbed to death in 1917, when he was about 18 years old.
He sleeps for all time in Keen's Chapel Cemetery.
~ Son Noel John Dawkins ~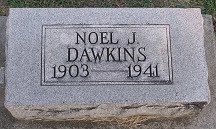 Keens Chapel Cemetery
Son Noel John Dawkins (1903-1941) was born in 1903.
At the age of about 22, in 1925, Noel married Myrtle Mitchell ( ? - ? ) of LaClede. News of their marriage license was printed in the Decatur Herald and Review.
The couple unfortunately divorced. His residence circa 1935 was in Salem, Marion County, IL.
He moved back into his parents' homeplace in LaClede, Fayette County. There, in 1940, he earned income providing farm labor for a nursery.
Noel secured a position during the early 1940s as an automobile salesman in Mattoon, Coles County.
But tragedy intervened to cut his life short. While driving on Route 128 one day south of Cowden, Shelby County, IL, Noel was involved in an automobile accident, with the vehicle failing to make a curve. A story in the Decatur Herald reported that Noel was rendered paralyzed from the waist down, his spine badly damaged. Fellow Mattoon auto salesman Robert Reed was slightly injured and a 22-year-old woman was killed. Noel was rushed to a hospital in Shelbyville, where plans were made to move him to St. Louis for specialty treatment. However, he passed away soonafter on April 24, 1941. Interment of the remains was in Keens Chapel Cemetery.
Myrtle's fate is not yet known.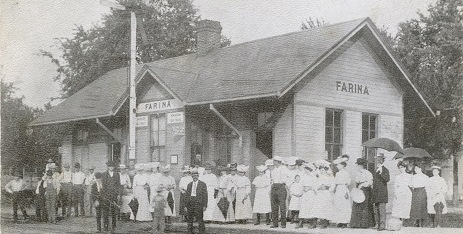 Illinois Central Railroad passenger station in Farina -
A.L. Wade, publisher
~ Daughter Martha Belle (Dawkins) Hollinshead ~
Daughter Martha Belle Dawkins (1907-2006) was born in 1907.
When she was 16 years of age, on April 27, 1924, she married 21-year-old Raymond E. Hollinshead Sr. (1902-1983). The wedding took place in Marion County. Raymond was the son of Grant and Nellie Blanch Hollinshead of Marion County.
They produced one known son, Raymond E. Hollinshead Jr.
Federal census enumeration records for 1930 show the couple as farmers, making a home in LaClede, Fayette County, IL. Eventually they relocated into the town of Farina.
The family was among many to attend the Meyers family reunion in Farina Park in September 1958 as reported in the Kinmundy (IL) Express.
As his health ebbed, Raymond was admitted to St. Anthony Memorial Hospital in Effingham, Effingham County, IL. There, he passed away on Nov. 21, 1983 in Farina at the age of 80. Burial was in Farina Cemetery. The Decatur Herald and Review published an obituary.
Martha outlived her husband by 23 years. She died at the age of 99 on Feb. 3, 2006 in Farina.
Son Raymond E. Hollinshead Jr. (1925- ? ) was born in about 1925. He wedded Imogene Rogers ( ? - ? ), daughter of Edgar and Ora (McIntosh) Rogers. They are known to have borne six children, among them David Hollinshead, Joe Alan Hollinshead, Dana Underwood, Linda Hollinshead-Ingram, Dreama Robinson and Alan Hollinshead. Circa 2012, Imogene dwelled in Salem, IL.
Grandson David Hollinshead ( ? - ? ) married Kathleen "Kathy" Mettendorf ( ? - ? ), daughter of Louis and Agnes Mettendorf and stepdaughter of Ray Buening of Teutopolis, IL. They were the parents of six children, among the known names Cindy Einhorn, Rachel Dalton Verdeyen, Jeremy Dalton and Kodie Maray Hollinshead. They dwelled in Teutopolis in 1997. Unspeakable grief swept over their world when 19-year-old son Kodie, a student at Lake Land College, was killed in an all-terrain vehicle accident in Effingham, IL on Oct. 23, 2016. Rev. Van Brooks presided over the funeral service, with burial in Woodlawn Cemetery.
Grandson Joe Alan Hollinshead (1948-2012) was born on Nov. 21, 1948 in Farina, IL. He married Brenda Morgan ( ? - ? ). She brought two offspring to the union -- Sara Clark and Mike Morgan. Joe served during the Vietnam War in the U.S. Army. Later, he was employed as a recruiter and in communications in Italy. He moved on to work as a Sangamon County correctional officer and was a member of the Army National Guard. The couple divorced. Joe made his home in later years in Springfield, IL. He belonged to the Sullivan Lutheran Church and Veterans of Foreign Wars and was an avid motorcyclist. Sadly, at the age of 63, he passed into eternity while at home on Aug. 2, 2012. His remains were placed into honorable repose in Camp Butler National Cemetery. The family asked in an obituary that any memorial donations be made to the American Heart Association.
Copyright © 2002, 2007, 2020 Mark A. Miner
Minerd.com thanks Harold Boyles, president of the Marion County Genealogical Society, for his gracious and extensive research assistance at the Bryan-Bennett Library in Salem, Marion County, IL.