Dora (Miner) Dawkins
(1871-1957)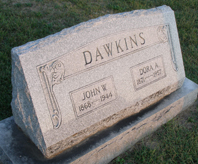 Keens Chapel Cemetery
Dora (Miner) Dawkins was born in 1871 in or near Omega, Marion County, IL, the daughter of Chance and Martha (Jones) Miner.
In about 1893, when Dora was age 22, she married John Wiley Dawkins (1868-1944), the son of Jonathan and Elizabeth (McKindry) Dawkins. There is no known record as to the precise place or date of the marriage, as extensive records of the Marion County Genealogical Society -- covering Marion, Clay, Fayette, Effingham, Richland and Wayne Counties -- are silent. John's father was a native of Kentucky, and his mother of Missouri, and they migrated to Illinois, where John was born. His name also has been spelled "Dockings" in family papers.
John had been married once before, in October 1890, to Etta F. Smith (1873- ? ), daughter of James N. and Manerva Smith. It is not known when or why the marriage ended.
Dora and John had at least four children -- Eugene Myrton Dawkins, John Newton Dawkins, Noel J. Dawkins and Martha Belle Hollinshead.
When the federal census was taken in 1910, 1920 and 1930, Dora and John resided on their own farm in LaClede Township, Fayette County, IL. By 1930, their nest was empty, and they lived by themselves.
In the late 1910s, Dora's widowed mother came to live in their home. Dora provided nursing and care during her mother's last illness. Among the medicines Dora purchased to treat her mother were bottles of camphor, castor oil and cough medicine, as well as peppermint.
When her mother passed away in LaClede in February 1920, Dora was reimbursed $75 from the estate for her expenses. John helped settle debts of the estate.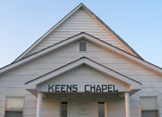 Keens Chapel
The Shadow of Death visited the family over the years, and Dora and John suffered the deaths of their sons. Eugene died on March 17, 1917, at the age of 18, and Noel passed away at the age of 38, in Shelbyville, IL, on April 24, 1941. Both are buried at Keen's Chapel Cemetery.
Sadly, John passed away on June 23, 1944, at the age of 75. Details are not known, but will be reported here when learned. He was laid to rest at the Keen's Chapel in the family plot with their sons and Dora's mother.
Dora outlived her husband by 13 years. She died in 1957, and rests for eternity beside her husband.
~ Son John Newton Dawkins ~
Son John Newton Dawkins (1907- ? ) was born in 1907. He is lost to history for now, but will be reported here when learned.
~ Daughter Martha Belle (Dawkins) Hollinshead ~
Daughter Martha Belle Dawkins (1907-2006) was born in 1907.
She married Raymond E. Hollinshead (1902-1983). The wedding took place on April 27, 1924 in Marion County.
Raymond passed away on Nov. 21, 1983 in Farina at the age of 81.
Martha outlived her husband by 23 years. She died at the age of 99 on Feb. 3, 2006 in Farina.
~ More Info ~
In October 2007, the founder of this website along with researcher Eugene Podraza visited the Dawkins grave to pay their respects.
We wish to thank Harold Boyles, president of the Marion County Genealogical Society, for his gracious and extensive research assistance at the Society's facility in the Bryan-Bennett Library in Salem, Marion County.
Copyright © 2002, 2007 Mark A. Miner