Chauncey 'Chance' Minor
(1840-1913)

Chance Minor
Chauncey F. "Chance" Miner (or "Minor") was born on March 1, 1840 in Hexebarger near Kingwood, Turkeyfoot Township, Somerset County, PA, the son of Henry and Polly (Younkin) Minerd.
He was a veteran of the Civil War, and an early settler of Central Illinois.
As a boy, Chance raced horses with his brother Ephraim in the undulating fields of their parents' farm and the adjacent farms of their uncles. His skill with horses no doubt later led him to join a cavalry unit during the war.
When Chance was a teenager, he relocated with his parents to Beeler Station, Marshall County, WV. They must have moved frequently across the state border, to and from Greene County, PA. In fact, on several documents written later in life, Chance said he had been born in Greene County, while on other papers he correctly stated his birthplace as Somerset County. The federal census of 1850 confirms that he originally resided near Kingwood.
A few months after the Civil War broke out, Chance went to Wheeling, WV and enlisted in the Army. The decision was opposed by Chance's father, perhaps violently, but Chance joined anyway. He was assigned to Company B, 1st West Virginia Cavalry, commanded by Harvey B. Farabee. (Harvey was a relative of Chance's brother in law, Spencer Farabee.) Also serving in the regiment was cousin Daniel H. Younken, also of Greene County.
From September 1862 until his discharge, Chance was detached from his regiment and served as a mounted orderly at Military Governor's Headquarters at Alexandria, VA, for Brig. Gen. J.P. Slough. Thus he missed out serving with the 1st West Virginia Cavalry when it fought gloriously at Gettysburg in July 1863.
Chance stood 5 feet 8 inches tall, with blue eyes and dark hair. He weighed 130 lbs. Said Thomas Burroughs, a private with the 1st Vermont Volunteers, who served with Chance on Gen. Slough's staff: "I knew him to have been a very healthy & vigorous looking young man…"
In May 1864, while on duty in Alexandria, Chance visited brother Ephraim at a convalescent hospital near Washington, DC. (Ephraim was recovering from wartime injuries suffered with the 142nd Pennsylvania Infantry.) In his diary, Ephraim wrote: "My brother came to see me to day. He is well."
While in Alexandria in November 1864, Chance suffered from diarrhea and was treated by a hospital physician. The illness would plague him the rest of his life. As a 46-year-old, he said "My stomach and bowels bloat and are very sore at times." He was discharged from the regiment the following month, at Wheeling, WV, on Sept. 22, 1864. In all, Chance had served in the Army for three years and 45 days. His name is published in the regiment's roster in the Annual Report of the Adjutant General of the State of West Virginia for calendar year 1864.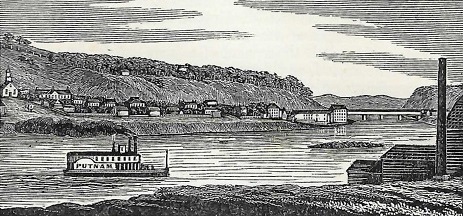 Putnam and Zanesville, as Chance would have seen it.
After the war ended, he headed to Ohio. In his words, "on account of my father's objection to my enlistment I did not return home but came west..." Chance went first to Cincinnati, OH on Sept. 26, 1864. While in Cincinnati, he "worked in the gass works" and was treated for his diarrhea by Dr. Biglow. Recalled Chance, "I boarded at a private boarding house on 5th St." He then moved east to Zanesville, Muskingum County, OH, in March 1865, where he labored on the farm of J. Parkinson. In Zanesville, he was seen by Dr. Forker, "who lived a cross the river Muskingum in Putnam. In December 1865, Chance then relocated to Dresden, Muskingum County. But he did not remain there long.
By 1866, Chance decided to make a significant relocation to the flat farm fields of Central Illinois. He moved to Omega, Marion County, IL, where he met Martha Jane Jones (1848-1920). The following winter, on Feb. 10, 1867, Chance and Martha were united in matrimony. Justice of the peace Joel Lewis performed the ceremony at Omega. She was the daughter of John and Cynthia (Wantlaugh) Jones.
Chance and Martha were 13 years apart in age, and she would have been just 14 at the time of their wedding, while he would have been 27. She could neither read nor write. Both of Martha's parents were born in Tennessee, and had migrated to Illinois, where she was born.
The Miners went on to produce four children together -- Dora A. Dawkins (also spelled Dockings), John Franklin Miner, Carrie "Myrtle" Wilkinson Wilson Marckley and Chester O. Miner.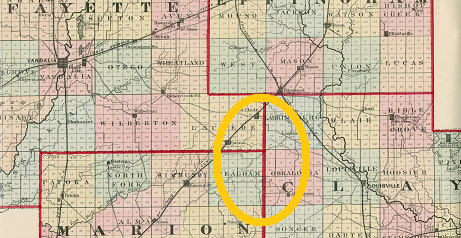 Chance and Martha appear to have resided in the tri-county intersection of Clay, Fayette and Marion Counties, IL.
Atlas of Illinois, Warner & Beers Publishers, 1874.
Chance was a farmer and day laborer. He is known to have worked with his neighbor, W.H. Eagan, who lived about a mile away. From the time of marriage until about 1900, they resided at Omega. When the federal census was taken in June 1880, Chance and Martha and their three children Dora, John and Carrie were enumerated in the home. Living next door were John D. and Rhoda Jones -- perhaps they were Martha's parents or other kinfolk.
In 1900 and 1910 the Miners lived in the village of Xenia, Clay County, IL, but later in 1910 were in LaClede, Fayette County, IL. Chance apparently never purchased his own farm, as a 2007 search of the courthouses of Marion, Clay and Fayette Counties showed no land deeds in his name.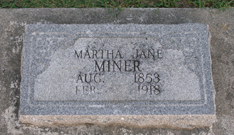 Martha's grave, Keen's Chapel
While Chance lacked basic reading and writing skills, it is interesting that the letter "F." became his middle initial as an adult. At the time, an unrelated "Charles F. Miner" from the state of Vermont was residing nearby, of the English family of Miner-Minor, and was amassing a more substantial estate of land holdings. Did our Chance somehow desire to be confused with this man, as they both would have gone by the name "C.F. Miner"?
At some point in time, Chance dislocated his shoulder and broke his collar bone in an unspecified accident. In 1888, he wrote that "I am a mere wreck of my former self. I am scarcely able to do any manual labor of any kind for sometime…" As well, a surgeon who examined Chance in 1902 noticed a "Scar over right inner eyebrow & one edge of hair on forehead near center." He also had a "mashed finger nail on 2nd finger right hand."
Chance applied for and received a federal government pension for his wartime bowel illnesses. In 1888, Chance wrote: "I was urged by my friends to apply for Pension years before I did; but as long as I could make a living I would not apply, but my condition growing worse from year to year I concluded to make my application." Chance kept his funds in The State Bank of Farina, IL.
A local landmark that Chance and Martha and their children would have known well was a two-acre pond just north of Omega. Today, the pond has been expanded into a lake and state park, surrounded by 18 miles of shoreline, and is known as the Stephen A. Forbes State Park.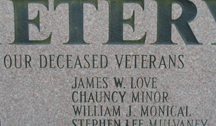 Chance named on a veteran's memorial
in the cemetery where he's buried
In about 1890, Chance suffered a small stroke. In the words of his physician, "there is partial loss of muscular power of his entire left side… Walks with a dragging or halting gait and has to use a cane." Yet, in an interesting twist, the Salem (IL) Republican reported, in its "Omega" gossip columns, that in November 1895, Chance and "Wood Lovell will engage in a broad sword contest on horse back, the winner to take all the gate receipts." Just a few days later, the newspaper printed a statement by Chance that "his trotting mare, Jule, will lower the records this winter." But the event never took place, with Lovell and Chance concluding "the crowd too small and also the rec't to give an exhibition."
He also made news in June 1897 when the Republican noted that he and "S.W. Lovell, of Omega townshipo, were on our streets last Friday." In August of that same year, he renewed his subscription to the Republican, and in January 1898 "passed through our land this first of last week on the way to the county capital."
Not unlike his father, Chance seems to have had strong political views. The Republican stated in April 1895 that "If you don't want to hear democracy abused, don't name it before Chance Miner." A short gossip snippet in the Marion County Democrat in June 1896 reported that "If the election were to come off now Chance Miner would vote the populist ticket."
By 1910, Chance's health had deteriorated further, and he suffered from vertigo and dizziness.
Heartache rocked the family on Jan. 7, 1905, when their married son John died at the age of 30 in Marion County. His untimely passing left a widow with two children.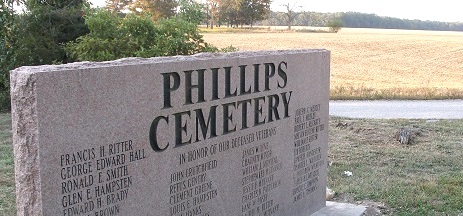 Chance is named on this "Deceased Veterans" memorial in rural Phillips Cemetery near Omega, Illinois
Chance died at Xenia, Songer Township, Clay County on Jan. 3, 1913 of Bright's Disease, and is buried at Phillips Cemetery. No stone marks his grave today, but at some point a war memorial was erected honoring all the military veterans who rest in this quiet, rural cemetery. Chance's name is prominently featured on the stone. The small graveyard is probably a mile or so from the boundary of the Forbes State Park.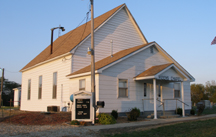 Keen's Chapel
After his death, Martha petitioned the government to receive her husband's benefits. She began receiving his pension checks in January 1913, at a rate of $12 per month.
In her last years, Martha resided in or near the home of daughter Dora Dawkins in LaClede, Fayette County, IL. Martha passed away of the effects of a strangulated bowel on Feb. 26, 1920, at the age of 71. She is buried at Keen's Chapel Cemetery in neighboring Clay County, IL.
Keen's Chapel still stands today in a quiet, rural setting, and is seen at right.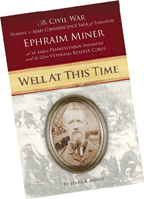 Book naming/picturing Chance
In 1935, when widespread research was being done by Chance's Younkin cousins coast to coast, to determine how everyone fit into the massive clan, and to organize a national home-coming reunion, Chance was mentioned in a letter authored by Charles Arthur Younkin. Click to see this letter, dated Feb. 19, 1935.
In August 1978, the future founder of this website visited with Chance's niece, Minnie (Miner) Gary, who was residing near the farm where Chance was born some 130 years earlier. When asked about "Chonn-sey," the niece politely but firmly replied, "His name was Chann-sey."
In October 2007, researchers Mark A. Miner and Eugene F. Podraza visited Omega and environs to research Chance and Martha and bring more of their story to light.
Chance is pictured and mentioned several times in a lavishly illustrated, 2011 book about his brother Ephraim -- entitled Well At This Time: the Civil War Diaries and Army Convalescence Saga of Farmboy Ephraim Miner. The book, authored by the founder of this website, is seen here. [More]
Copyright © 2000, 2002, 2006-2007, 2014-2015, 2017 Mark A. Miner