Edith (Miner) Keeler
(1872-1921)
Edith Viola (Miner) Keeler was born on March 27, 1872 near Tontogany, Wood County, OH, the daughter of Jacob and Louise (Finkenbeiner) Miner. She was considered "a valued and esteemed neighbor and citizen" of Haskins, Wood County for more than a quarter-century.
On her 19th birthday, on March 27, 1891, Edith married Gurdon Keeler (1869-1946), a native of Haskins, and the son of Clark M. and Anna (Bemis) Keeler. They had four children – Hazel I. Young, Earl Keeler and Gertrude Houser Peterson, and one unknown child who died young.

According to an article in the Bowling Green Daily Sentinel Tribune:
The couple lived for two years at Waterville, then moved to Tontogany where they resided for one year, from where they removed to Haskins, where they had lived since. The husband is a licensed engineer of this town. Mrs. Keeler was a member of the L.O.T.M. order of Haskins. Although not active in social, civic or church affairs she had acquired a large circle of warm friends. She was a home loving character and most contented when caring for her children and home.
The federal census of 1900 shows the Keelers in Haskins, having been married for nine years. That year, Gurdon was employed as a pumper, likely with the railroad.
In 1920, the census shows them residing in Haskins, Middleton Township, Wood County, with Gurdon laboring as a foreman on the "stone road."
By 1930, still making their home in Haskins, Gerdon's occupation was "engineer" in a "school house." That year, 25-year-old son Earl, and 17-year-old daughter Gertrude, were living under their roof.
Sadly, at age 49, on Feb. 13, 1921, Edith died of "intestinal tuberculosis, with which she had been ill since last August." She was buried at Union Hill Cemetery.
Gurdon outlived Edith by a quarter century and resided for part of that time in Haskins. When he was age 56, in 1926, he married again, to Sarah (?) (1869- ? ), a native of Scotland who had come to the United States just three years earlier, in 1923. The marriage only lasted about seven years. Sarah suffered from hardening of the arteries and senile psychosis, and died in the Toledo State Hospital at the age of 65 on Nov. 5, 1933. Burial was at Union Hill in Tontogany.
In his 70s, he was admitted to Speck's Convalescent Home, his health complicated with heart disease and cirrhosis of the liver. Gurdon was a patient there "for some time" prior to his death. He passed away at age 77 on Nov. 18, 1946.

~ Daughter Gertrude (Keeler) Houser Peterson ~
Daughter Gertrude Keeler (1902- ? ) was born in 1902.
Gertrude was first married to a man named (?) Houser.
Circa 1968, when she was 64, Gertrude was married to a second husband, Carl Pedersen ( ? - ? ).
Gertrude and Carl resided in Pinellas Park, Pinellas County, FL. Nothing further is known of their lives.

~ Daughter Hazel (Keeler) Young ~
Daughter Hazel Keeler (1892-1972) was born in 1892.
She married Clark Young (1892-1984). They were longtime owners of a movie theatre in Bowling Green, named "Cla-Zel," using part of both their first names. (The theatre was in existence, and said to be the "oldest continuously operating, first-run, single-screen moviehouse in Ohio." It also was considered to be a "study in acoustics and ambience.")
A newspaper once said that Clark "came to Bowling Green in January 1916, taking over the little Lyric Theatre showing 1 and 2 reel silent movies, accompanied by a player piano. He built the Clazel Theatre in 1926 and operated the Bowling Green Theatres until 1940."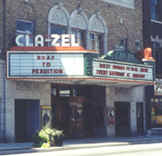 Later in life, Clark moved to Miami, though he spent his summers on Lake Champlain at Bridgeport, VT. At age 86, Clark remained "very active … and drives his own car, mows his lawn and makes minor repairs to his winter home in Miami, Fla., even though he suffered from a severe fall two years ago from which he has not fully recovered."
The Youngs' daughter, Shirley Jo Williams, was an elementary school teacher for several years at Ridge Street Elementary in Bowling Green and in McClure, OH.
The Cla-Zel Theatre is seen at left, circa 2002. Sadly, it closed in 2005.
~ Son Earl Clinton Keeler ~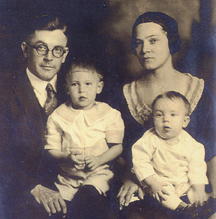 Son Earl Clinton Keeler (1894- ? ) was born in 1894. He married Hazel Groll ( ? - ? ), whose family established Groll Furniture Company.
The Keelers are seen here with their elder two children. They had six children in all -- Edith Milner, Grace Davis Adham, Hazel Mezo, Eugene E. Keeler, Harry C. Keeler and Earlton W. Keeler.
As a young man, Earl had light blue eyes and light brown hair. He served in France with the US Army during World War I, and on his military draft registration card listed that he was a book keeper working for a company in Haskins. Later, he worked for the Grand Trunk Railroad, moving to Port Huron, St. Clair County, MI in about 1934, and retiring in 1960. He was a member of an early union, the Brotherhood of Railway Clerks, Lodge No. 211.
Son Harry Keeler was vice president of Michigan National Bank circa 1968.
Daughter Edith Keeler ( ? -1994) married Harold C. Milner and resided in Port Huron and later Detroit, MI, where they raised their family of three children. She passed away on May 9, 1994.
Copyright © 2002-2003, 2009, 2012 Mark A. Miner