Edna (Miner) Asmus
(1886-1988)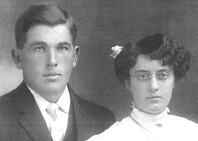 Dick and Edna Asmus

Edna "Essie" (Miner) Asmus was born on June 3, 1886 near Tontogany, Wood County, OH, the daughter of Jacob and Louise (Finkenbeiner) Miner. She lived to reach the age of 102 years.
On March 26, 1913, in Perrysburg, Wood County, when she was age 27, Essie married Frederick C. "Dick" Asmus ( ? - ? ).
They became the parents of three children -- Arlyn Frederick Asmus, Dorothy Eileen Stotz and Norma Jean Heilmann.
Essie was a homemaker and served in "every church group, club and community organization in town," said the Monroe (MI) Evening News. She belonged to the Ladies Aid Society of St. Paul's Lutheran Church of Haskins, Wood County, was a charter member of the Middleton Township Grange, Haskins Garden Club and was part of the extension, the farm bureau and several garden, Bunco and pinochle club activities.
Dick passed away before Essie did, but the details are not known.

Bird's-eye view of Haskins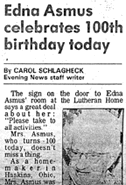 1986 news story

As she aged, Essie resided with her married daughter Dorothy. Then, in about 1980, at age 94, she moved to a nursing home in Monroe, MI.

When she reached her 100th birthday, Essie was profiled in the Evening News. The story went on to say that her back yard was full of flowers and that her favorite flower was the carnation. She enjoyed sewing and crocheting, and baking cherry pies and making homemade chicken noodle soup.

At the age of 102, Essie passed away in Monroe in December 1988.

~ Son Arlyn Asmus ~

Son Arlyn Asmus ( ? - ? ) was born in (?).

He was a member of the Tontogany Village Council and a trustee of Washington Township, Wood County. He earned a living as a farmer and a plumber-pipefitter for Sanford Plumbing of Perrysburg, and was a board member of the Tontogany Farmers Elevator.

~ Daughter Norma Jean (Asmus) Heilmann ~

Daughter Norma Jean Asmus ( ? - ? ) was born in (?).

She wed Paul W. Heilmann ( ? - ? ).

Sadly, she died at age 43 of multiple sclerosis.

~ Daughter Dorothy (Asmus) Stotz ~

Daughter Dorothy Asmus ( ? - ? ) was born in (?).

She was joined in wedlock with Army veteran Herbert Stotz ( ? - ? ).

She was a graduate of the Toledo Hospital of Nursing

Herbert labored as a farmer.

Copyright © 2002, 2006, 2010 Mark A. Miner