Treva 'Florence' (Miner) Cline
(1867- ? )
Treva "Florence" (Miner) Cline was born on March 4, 1867 in Iowa, the daughter of Nathaniel and Susan (Abbott) Miner.
She grew up in and around the family farm near West Point, Pleasant Ridge Township, Lee County, IA.
Florence married John M. Cline (Oct. 1849- ? ). She was 18 years younger than her husband.
They did not reproduce.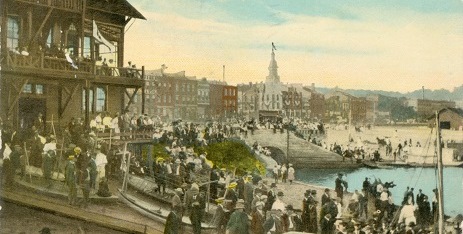 Burlington's crowded levee on the mighty Mississippi River

, 1912
The United States Census of 1900 lists the Clines as farmers in Augusta Township, Des Moines County. In 1901, they lived at Middletown, Des Moines County, and by 1908, they had moved to Burlington, Des Moines County.
When the federal census enumeration was made in 1910, the couple continued to farm in Augusta Township.
Their fates are unknown.
Copyright © 2000, 2005, 2020 Mark A. Miner