Florence Harriett 'Flora' (Miner) Cline Craig
(1867- 1929)
Florence Harriett "Flora" (Miner) Cline Craig -- also known as "Treva" -- was born on March 4, 1867 in Burlington, IA, the daughter of Nathaniel and Susan (Abbott) Miner.
She grew up in and around the family farm near West Point, Pleasant Ridge Township, Lee County, IA.
When she was 28 years of age, on March 27, 1895, Florence was united in the bonds of matrimony with her first spouse, 45-year-old John M. Cline (Oct. 1849- ? ), also spelled "Kline," and the son of Wilson S. and Mary (Brown) Cline of Augusta Township, Des Moines County. The wedding was held in the residence of Florence's parents in Lee County, by the hand of Rev. A.R. Joy, pastor of the Congregational Church in Denmark, IA.
Florence was 18 years younger than her husband. They did not reproduce.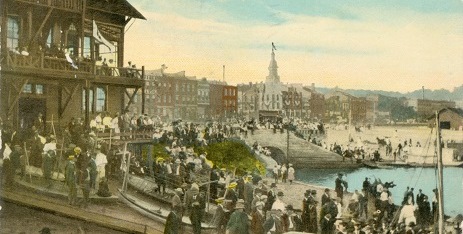 Burlington's crowded levee on the mighty Mississippi River

, 1912
The United States Census of 1900 lists the Clines as farmers in Augusta Township, Des Moines County. In 1901, they lived at Middletown, Des Moines County, and by 1908, they had moved within the county to Burlington.
When the federal census enumeration was made in 1910, the couple were back on a farm in Augusta Township.
Sadly, John is believed to have died during the decade of the 1910s.
On Jan. 6, 1920, now 51 years in age, Florence wed a second time to 65-year-old farmer John Jackson Craig (Dec. 25, 1855-1939), a native of Grove City, PA. Federal census enumeration records for that year show the newlyweds making a home on West Avenue in Burlington, with neither one having an occupation, and him likely retired. They lived at 1909 West Avenue in 1929.
For the last month of her life, Florence suffered from "endocarditis" -- inflammation of the heart's inner lining. She then was stricken by an embolism and died at the age of 61 on March 12, 1929. Her remains were placed into eternal repose in the Aspen Grove Vault in Burlington.
John outlived his wife by a decade and entered again into marriage with Mary/Marie ( ? - ? ). The pair dwelled in Burlington at 1601 South Central Avenue.
Sadly, John was diagnosed with cancer of the right lung. He also suffered from kidney failure. At the age of 85, he lapsed into a coma. Death swept him away on March 30, 1939. A notation on his official Iowa death certificate shows that he had been a Burlington resident for 15 years. Burial was in Long Creek Cemetery, Des Moines County.
Copyright © 2000, 2005, 2020, 2022 Mark A. Miner