John Franklin Miner
(1874-1905)
John Franklin Miner was born in January 1874, presumably in Omega, Marion County, IL, the son of Chance and Martha (Jones) Miner.
In 1889, when he was 15, John signed his name as a witness for an affidavit that his mother had made in his father's Civil War pension case. The family was living in Omega at the time.
John's town of residence in 1898 was Kinmundy, Marion County.
At the age of 24, on March 15, 1899, John married 19-year-old Josephine Etta "Josie" Roberts (June 10, 1880-1926), a resident of Omega Township, Marion County, and the daughter of Eli and Lucy Jane (Green) Roberts. The wedding took place at the office of justice of the peace S.J. Wagner, and was witnessed by H.L. Roberts and Sarah J. Wagner.
The Miners bore these known offspring -- Florence "Flossie" Rankin, John E. Miner (possibly also known as Myron Miner?), Clayton Miner, Nita Miner and Linzie Miner. The family was plunged into grief when daughter Nita died on April 30, 1903, at the age of one, and Myron (date unknown) at age two.
He is believed to be the same "John Miner" whose name appeared in the Omega gossip columns of the Salem (IL) Republican in May 1895, which reported that he and R.J. Millican "are cropping together this summer," and in the Salem (IL) Herald-Advocate in July 1896, which stated that he "drives a new buggy."
When the federal census was taken in 1900, the Miners were living with Josie's widowed father in Omega Township, where they labored as farmers. John and Josie's two young children had been born by that time.
Heartache rocked the young family on Jan. 7, 1905, when John died at the age of 30 in Marion County. The cause is not known. His untimely death left Josie a widow at age 25 with four young children to feed and clothe.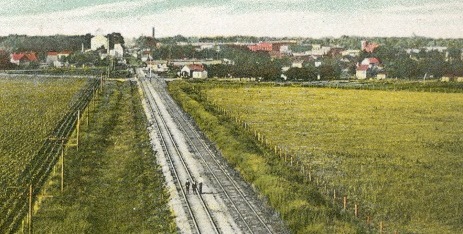 Gibson City, IL, where Josie and her 2nd husband lived ca. 1910-1920
Josie spent just under two years as a widow. Then three days before Christmas 1906, in a ceremony held in Paxton, Ford County, IL, the 26-year-old wedded a second time to William Silas Nasers (1869-1960). He was a Kentucky native and the son of a French immigrant father.
The second marriage led to one daughter, Beulah G. (Nasers) Evans, born in 1907 in Gibson City, Ford County.
The 1910 and 1920 United States Census show the family in Gibson City, with William earning a living in 1910 as a laborer performing odd jobs and in 1920 as a farm laborer.
Sadly, Josie died at home in Gibson on Feb. 15, 1926, at the age of only 45 years, 9 months and 5 days. In an obituary, the Gibson City Courier reported that six days before death, "she made her peace with God and confessed the Lord Jesus as her Saviour at her home, surrounded by her family, and was received into membership with the United Brethren church of this city." Funeral services were held in her new church, led by Rev. Harvey M. Klinger. The funeral sermon was based on the scripture verses John 14: 1-2: "Let not your heart be troubled; in my Father's house are many mansions; I go to prepare abiding places for you." Vocal music was provided by a quartet consisting of Hazel Potts, Gertrude Klinger, Carroll Walker and Carroll Klopfenstein. Added the Courier: "Mrs. Nasers had been a patient sufferer from a lingering illness for the past two years. God in his mercy released her from her sufferings and called her spirit home to rest. She will be greatly missed in the home from which she has departed." Her remains were lowered into eternal repose in Gibson City's Drummer Township Cemetery. Death records show she had dwelled in the community for 19 years.
~ Daughter Florence Mae "Flossie" (Miner) Rankin ~
Daughter Florence Mae "Flossie" Miner (1899-1980) was born on March 28, 1899 in Marion or Ford County, IL. She was only age six when her father died.
She was joined in holy wedlock with Franz Harry Rankin (Oct. 23, 1890-1978), with the wedding taking place in Chicago on April 20, 1915.
The children from this union were Lloyd Edward Rankin and Florence M. Hewerdine.
The couple's home in 1926 was in Gibson City, Ford County, IL and in 1935 in nearby Harpster. Census records for 1940 show the Rankins in Bellflower, McLean County, IL.
Circa 1970, when named in the Gibson City Courier obituary of her half-sister Beulah Evans, Flossie was residing in the village of Mahomet in Champaign County, IL.
Franz succumbed to death at age 88 on Nov. 20, 1978.
On March 15, 1980, when she was 80 years of age, Flossie died in or near Champaign, Champaign County. Burial was in Grandview Memorial Gardens.
Son Lloyd Edward Rankin (1916-1981) -- sometimes known as "Floyd" -- was born on Jan. 31, 1916. He died in Lowell, Lake County, IL on Sept. 9, 1981.
Daughter Florence M. Rankin (1921-1996) was born on March 21, 1921 in Gibson City, Ford County, IL. In 1938, she married Glade Carroll Hewerdine (1919-2009), son of William and Nancy Jane (Jeffries) Hewerdine. They dwelled in Rantoul, IL. She passed away at age 75, on Oct. 23, 1996, in Champaign. Her remains are in repose in Grandview Memorial Gardens in Champaign. Glade lived as a widower for a baker's dozen years. As a patient at Heartland Healthcare Center in Champaign, he died on Oct. 29, 2009. Rev. Steve Brady led the funeral service.
~ Son John E. Miner ~
Son John E. Miner (1900- ? ) was born in April 1900 in Marion County. Was he also known as Myron Miner, who died at the age of two?
~ Son Clayton Miner ~
Son Clayton Miner (1900-1980) was born on April 24, 1900 in Marion County, IL. Was he a twin with his brother John?
Clayton grew up in Gibson City, Ford County, IL.
On Sept. 24, 1925, when he was 25 years old, Clayton was united in holy wedlock with Elsie J. Brill (1908-1986), daughter of James Brill. The wedding was held in the parsonage of the United Brethren Church in Elsie's hometown of Danville, Vermilion County, IL, officiated by Rev. George L. McClanathan. In a story about the event, the Gibson City Courier reported that "The young people were attended by Mr. and Mrs. Raymond Parker of this city and they will make their home with Mr. and Mrs. Parker for the present.... The Courier joins with their friends in extending congratulations and best wishes."
The pair resided in Kankakee, Kankakee County, IL in 1926; Gibson City/Harpster, IL in 1928-1934; and Foosland, Champaign County, IL circa 1934. While in Gibson City in 1934, they were tenant farmers on the Rube Suter property, and in 1935 on the P.R. Anderson farm.
They bore two known daughters, Doris Kabica and Janet Louise Miner.
A story in the Courier in December 1935 noted that the Miners had spent Thanksgiving at the home of Elsie's parents in Lansing, IL. It also reported that they were going to move to Lansing, where Clayton had become newly employed in a locomotive shop. Two years later, in 1937, they dwelled in Calumet City, Cook County, IL, south of Chicago.
Grief cascaded over the family when daughter Janet became seriously ill at the age of eight in late 1942. She was admitted to Chicago's Billings Memorial Hospital, where she was gathered away by the Angel of Death after seven weeks of suffering on Nov. 16, 1942. Burial of her remains was in Elmwood Cemetery in Hammond, Lake County, IN, officiated by Rev. Robert Lillie.
The Miners dwelled in Lansing, IL in 1970.
Clayton passed away on May 27, 1980 in Lafayette, Tippecanoe County, IN. Interment was in Elmwood Cemetery.
Elsie lived for another six years after her husband's death. She succumbed in 1986.
Daughter Doris Miner ( ? - ? ) was born in (?). On May 11, 1946, she was united in matrimony with Joe Kabica ( ? - ? ). Their wedding was held in Hammond, IN. Among those known to have attended was Mrs. Orville Stauffer, who traveled from her home in Gibson City. The news was reported in the Gibson City Courier.
~ Son Linzie B. Miner ~
Son Linzie B. Miner (1905-1954) -- sometimes spelled "Lindsey" -- was born on Jan. 7, 1905 in Omega, Marion County, IL. His father died when Lindsey was in infancy.
At the age of five, Linzie lived with his mother and stepfather in Gibson City, Ford County, IL.
While occasionally noted in childhood with the stepfather's surname of Nasers, Linzie appears to have kept the Miner name. When he was 16, using Miner, he remained in the Nasers household near Gibson and provided farm labor.
Linzie's home in 1926 was Gibson City and in 1930 in nearby Harpster.
In 1926, he married Anna Hudson (Dec. 16, 1905-1981), a native of Somerset, KY. The wedding was held in Bloomington, IL.
They were the parents of three children, among them Robert Lee Miner, Glenn Dale Miner and Mrs. Wallace Harris.
Sadly, Linzie passed away in Gibson City on Nov. 16, 1954. Burial was in Drummer Township Cemetery.
After Linzie's death, Anna and her son Robert shared an apartment in Gibson City.
Anna's final years were spent in Fort Valley, GA. She became a patient in Peach County Hospital in Fort Valley and died there age the age of 78 on Aug. 6, 1981. Her remains were transported back to Gibson City for burial, with an obituary printed in the Gibson City Courier. Her survivors were counted as 19 grandchildren and five great-grandchildren.
Daughter (?) Miner married Wallace Harris. They lived in Bessemer, MI in 1957 and had three children. In the immediate postwar years after the Korean War ended, Wallace served in the U.S. Army and circa August 1957 was treated in an Army hospital in Norristown, PA.
Son Robert Lee Miner (1928-1992) was born on June 3, 1928. he served in the U.S. Army during the Korean War. There is no evidence to suggest that he married. As an adult, he lived in Gibson City. He and his mother rented a property from Myrtle Fosnaugh in 1959, and in January 1960 he acquired an apartment building on Main Street. He made a home in Champaign in 1981. Sadly, at the age of 63, Robert was carried away by the Angel of Death on Feb. 20, 1992. His is at rest in Drummer Township Cemetery.
Son Glen Dale Miner ( ? - ? ) -- also spelled "Glendale" -- was born in (?). He was sued by the People of the State of Illinois circa 1967 for "deceptive practices." He lived in Decatur, IL in 1981.
~ Josie's Daughter Beulah (Nasers) Evans ~
Josie's daughter from the second marriage, Beulah (Nasers) Evans (1907-1970) was born on Sept. 14, 1907 in Gibson City.
On Feb. 24, 1927, in nuptials held in Paxton, IL, she married Foster Evans Sr. ( ? - ? ).
The couple resided for 42 years in Saybrook, McLean County, IL.
They produced four sons -- Foster Evans Jr., Leonard Evans, Kenneth Evans and Donald Evans.
In her late 50s, Beulah began to suffer a serious illness which lasted for five years. Toward the end, she was admitted to Gibson Community Hospital. She passed away there at the age of 62 on April 1, 1970. Rev. R.M. Luedde preached the funeral sermon, with burial following in Riverside Cemetery. An obituary in the Gibson City Courier noted that she was survived by 15 grandchildren and two great-grandchildren.
Son Foster Evans Jr. lived in Gibson City in 1970.
Son Leonard Evans resided in Saybrook, IL.
Son Kenneth Evans
Son Donald Evans
Copyright © 2002, 2007, 2014, 2017, 2020 Mark A. Miner
We are grateful to Harold Boyles, president of the Marion County Genealogical Society, for his research assistance at the Bryan-Bennett Library in Salem, Marion County, IL -- and to Emily Wischer for material posted on her Ancestry.com page.