Martha (Miner) Conner
(1881-1956)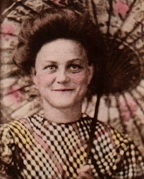 Martha (Miner) Conner
Martha "Mattie" (Miner) Conner (1881-1956) was born on May 18, 1881 in Ohio, the daughter of Joseph and Mary Jane (Courtney) Miner.
As a young teenager, Martha earned an income as a trick horse rider for a rodeo. That's where she met her future husband, who was a rodeo clown.
She married Charles Conner (1864- ? ), a native Ohioian who was born in April 1864. They were wed in 1897, when Martha was age 16. There was a 17-year-age difference between wife and husband, and he had been married once before.
Martha and Charles had three daughters -- Fairy Lillie Harger, Goldie M. Gerry Petrie and Olive Lyke.
When the federal census was enumerated in 1900, the Conners lived in Franklin Township, Shelby County, OH. Living next door were her remarried mother Mary Vinings, 15-year-old married sister Lillie Sheets, and brothers William M. Miner and Charles Harrison Miner. Charles Conner's occupation that year was listed as "juke" -- an outdated term which is being investigated.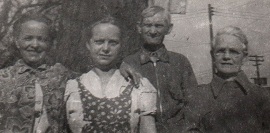 L-R: Goldie, Fairy, Charles and Martha
The Conners relocated to Melrose, Brown Township, Paulding County, OH during the decade of the 1900s. Their home in 1910 was on Park Street, which Charles used as a base for his work as a traveling junk salesman.
In about 1912, the Conners moved again, to Kalamazoo, Kalamazoo County, MI, where two of Martha's brothers had migrated a year or two earlier. There, Charles ran a grocery store on East Michigan Avenue.
Their homes in Kalamazoo were on Lincoln Avenue (1920), East Michigan Avenue (1930) and 1122 Engleman Avenue (1956).
The census of 1920 shows Charles (age 55) as the "keeper" of a grocery store. Also living under his roof were single daughter Fairy (age 21), married daughter Goldie Czary (20) and boarders J. Albert "Ab" Harger and Fred Petro (or Petrie). Harger's nephew later became the Conners' son in law.

Kalamazoo Gazette, 1956
By 1930, the family now lived on East Michigan Avenue, with Charles continuing his work as "proprietor" of a grocery store, and daughters Fairy and Goldie, both in their 30s, working there as clerks. Fred Petro (or Petrie) remained as a lodger, as he had 10 years earlier. Residing next door were Martha's nephews Leon and Joseph Miner, sons of William M. Miner.
Martha suffered from instestinal obstruction and perforation for a number of years. She passed away from their effects on July 17, 1956, at the age of 74, at Borgess Hospital in Kalamazoo. Her funeral was held in the Truesdale Chapel, led by Rev. Don L. Warmouth. Interment followed in Riverside Cemetery. Her obituary was published in the Kalamazoo Gazette.
~ Daughter Fairy Lillie (Conner) Harger ~
Daughter Fairy Lillie Conner (1898- ? ) was born in March 1898.
She wed Orville Harger, nephew of J. Albert "Ab" Harger (1882- ? ), who in 1920 boarded in her parents' home in Kalamazoo.
In 1920, Albert was a laborer in a local paper company. Circa 1956, her home was in Kalamazoo.
~ Daughter Goldie May (Conner) Gerry Petrie ~
Daughter Goldie May Conner (1899- ? ) was born in June 1899 in Shelby County, OH.
On Sept. 27, 1915, at the age of 16, she wed 19-year-old Warren Greenleaf Gerry (or "Czary), son of Fred and Katie (Hill) Gerry. Rev. F.E. George officiated, with Leslie White and Fairy Conner serving as witnesses. Warren was tall and slender, with grey eyes and dark hair. He was a papermaker in Kalamazoo, as were many in the family. The marriage ended within a few years. In 1917, Warren registered for the military draft during World War I, and disclosed his residence as Kalamazoo, and his employer as Standard Paper Company.
He later moved to Chicago. Records show that Warren remarried that same year, on Feb. 9, 1920, to Ruth Goodrich in St. Joseph, Berrien County, MI. In 1920, Goldie lived in her father's household in Kalamazoo, along with her sister Fairy (age 21) and boarders Albert Harger and Fred Petro (or Petrie).
She eventually married Fred Petrie, said to have taken place on his death bed.
Goldie resided with her mother in the mid-1950s at 1122 Engleman Avenue.
~ Daughter Olive ( Conner) Lyke ~
Daughter Olive Conner (1921- ? ) was born in 1921 in Kalamazoo.
She wed (?) Lyke.
They moved to Southern California, and lived in Gardena, Los Angeles County in 1956.
Copyright © 2011-2012, 2017 Mark A. Miner