Home

Joseph Miner was born in 1841 in Unity Township near East Palestine, Columbiana County, OH, one of 15 children of Jacob and Julianna (Forney) Minor. As an adult, he stood five feet, eight inches tall, with a fair complexion, dark hair and blue eyes, and weighed 148 lbs.
As a young man, he relocated to western Ohio, where he lived in Van Wert, Van Wert County.

Joseph's signature
During the Civil War, in May 1862, Joseph enlisted in the Union Army and was assigned to the 52nd Ohio Infantry, Company A. The company was commanded by Capt. Israel D. Clark and was based at Camp Dennion, near Cincinnati.
About a month into his service, the regiment marched into Kentucky in pursuit of Confederate General John Hunt Morgan, whose "Morgan's Raiders" were notoriously leading raiding parties into Indiana and Ohio. While on this mission, in Georgetown, KY, Joseph was stricken with a "disease" in his kidney. He later swore that while in Kentucky, he "became sick due to fatigue and exposure on forced Marches" where he was "taken with fever which threw him in Epileptic Fits."
As there "was no room at hospital," he wrote, he was "treated by hospital Surg at the quarters. His health did not improve, and he accompanied the 52nd Ohio back to Camp Dennison, OH, arriving about Aug. 1, 1862. He remained there for about three weeks, but on Aug. 20, when others received their pay but he did not, he was sent home on a furlough.
After arriving home in Van Wert, Joseph was sick for nine weeks with typhoid fever and was treated by Dr. Longsworth. After that, he never went back to the Army. He later told others that he "was never able to return, hence never recd any regular discharge." Whether or not he officially was considered absent without official leave (AWOL) is unknown. His name appears nowhere in Dan. McCook's Regiment, 52nd O.V.I.: A History of the Regiment, authored by Nixon B. Stewart (Alliance, Ohio: 1900).

Camp Dennison, Ohio during the Civil War
The following year, when he was age 22, Joseph married Mary Jane Courtney (1846-1918), the 17-year-old daughter of Samuel and Elizabeth B. Courtney. The marriage took place in Van Wert County, OH on Aug. 24, 1863, with Mary Jane's father giving his consent to the marriage, and signing his name with an "X."
They had 12 children, of whom eight are known, born over a 26-year span between 1864 and 1890 -- Mary "Elizabeth" Wilkins Moore, Simon Henry Miner, Margaret Catherine "Maggie" White Ramsell, Sarah Josephine Moore, William M. Miner, Martha Conner, Lillian Day "Lillie" Sheaks Little and Charles Harrison "Harry" Miner. Family oral history says that two of the other daughters were Fairy Miner and Myrtle Miner, who may have died young, but in whose honor nieces were named many years later.
Records show that in the fall of 1866, living in or near Sidney, Shelby County, OH, Joseph received medical treatment from Dr. Munger. Then in June 1868, now in Jerry City, Wood County, OH, he was under the medical care of Dr. Bryan for nine months.
When the federal census was taken in 1870, the Miners made their home in Houston, Turtle Creek Township in Shelby County, OH, where Joseph worked as a farm laborer. Mary Jane's 49-year-old widowed mother lived under their roof that year, as did one-year-old Frances J. Fawn, connection not yet known.
By 1875, at the birth of their daughter Sarah Josephine, they were in Wood County, OH. There, Joseph ran afoul of the law when he stole a neighbor's farm produce. Said the Tiffin (OH) Tribune, edition of Feb. 28, 1878, in its "Wood County" section:
Wm. Russell, of Bloom, caught two men in the act of carrying off a couple of bags of corn that did not belong to them, one night last week. He ran after them and on catching up to them recognized one of them as Joseph Miner, and thought the other was Jacob Eretbinner, a young man who has served on year in the Penitentiary. They were arrested and taken before 'Squire Brown, and Miner was bound over the the Common Please Court, but there not being sufficient evidence against Bretbinner, he was discharged.
The incident must have forced them to leave Wood County quickly because later in 1878, they dwelled in Hardin County, OH, at the time their son William was born. The 1880 census shows that the family had moved to a farm in Rush Creek Township, Logan County, OH. That year, their 16-year-old married daughter Elizabeth Wilkins lived with them as did their three younger children.
Daughter Lillie was born in 1882 in Sidney, Shelby County, OH. The family was in Hardin County in the mid-1880s and in the spring of 1887 re- settled in Melrose, Putnam County, OH. By 1889, they had moved to near Hartsburg (Hartzburg), Putnam County, where in 1890 when Joseph was counted in a special census of Civil War veterans and in 1891 were there at the birth of their youngest child, Charles. Through these moves, Joseph continued his longtime line of work as a carpenter.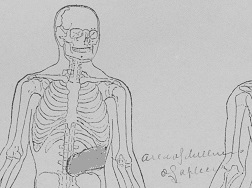 Shaded area of this actual surgeon's sketch
of Joseph's "area of dullness of spleen," 1887
Three days after Christmas 1886, claiming to have never recovered from his wartime kidney ailment, Joseph applied for a military pension for his sufferings and engaged the services of an attorney to provide all the written proof that was needed. [Invalid App. #592.420] He swore in an affidavit that it caused pain including in his urination, and that he was disabled by one-half. He underwent a physical examination in April 1887, and a military surgeon found that his spleen was enlarged by a half. But his application was rejected. On Oct. 15, 1887, U.S. Pension Commissioner John Black sent Joseph a letter, stating "Referring to your above entitled pension claim, you are informed that the report from the records on file in the office of the Adjustant General, U.S. Army, fail to show your service in Co. 'A,' 52d Ohio Vol. Infty, either under the name of Joseph Miner, or Joseph Mince. No further action, therefor can be taken in said claim..."
Frustrated with the rejection, Joseph wrote back to Black. He stated that he had left Hardin County and moved to Paulding, and that "if i cant git it sune i will half to call for help from the County and i dont lik it." Joseph again wrote to Black in June 1887, saying "I can't get no sadesfaction from my attorney cince i woodnet pay him eny more money. i have paid him part of his fease not abel to labor very much undr mi ealments. pleas inform me of claim + how to get attorney releaset." Joseph then contracted with Patrick O'Farrell of Washington, DC to serve as his agent in securing the pension, agreeing to pay him $25 for his services.
His wife's relative, Theodore Courtney of Hardin County, was a witness to one or more of the affidavits that Joseph submitted to support the pension application.
In a letter dated July 20, 1889 to his attorney O'Farrell, on letterhead of the Robert B. Littrick real estate and loan agency in Oakwood, OH, Joseph asked him to justify whether to proceed any further, since he didn't "wish to spend time + money on the case." He admitted to the lawyer that while he thought he had been officially mustered "but some of the other comrades says he was not."
But the pension was never approved.
Joseph died of la grippe -- influenza -- on March 30, 1894 in Monroe Township, Putnam County, apparently at or near their home. Public records listed his age as 61 years, 10 months and two days, but actually he was closer to 53.
~ The Rumbaugh Manslaughter ~
The mid-to-late 1890s were especially difficult for widow Mary Jane and her children. An article in a November 1895 edition of the Kenton Republican, reprinted in the Lima News, said "The Miner family bear a bad reputation among those who know them." It culminated in a murder in the fall of 1895 that landed her and sons Simon (age 25) and William (17) in jail, and her name in news headlines for months.
At the time of the incident, the family made its home in Lafayette, Hardin County, near the Allen County border. Neighbor William Rumbaugh apparently had lent a stove to the Miners. But when he said he would come to reclaim it, and take it away, the Miners prepared for a fight. Mary Jane told her neighbor Jane Hamilton, in a visit with neighbors of the name Bryant, that she would "kill" Rumbaugh. When he appeared at their home in early November 1895, a deadly fight ensued. Simon told Rumbaugh that he wasn't going to get the stove, and that they would kill him. Son William pulled a revolver from his coat and said, "We intend to kill you and now is as good a time as any other." Neighbor William Stell took the gun away from William, but in the scuffle that ensued, Mary Jane was knocked to the ground. Simon jumped on Rumbaugh, and beat him senseless, inflicting a fatal brain hemorrhage. Said the Republican, "After Rumbaugh had received his death blow at the hands of Simon Miner, the mother and other son [William] sprang upon his almost lifeless body and beat him with clubs and a hoe handle." Daughter Lillie screamed, "Don't kill him, mother!" and Mary Jane replied, "Yes, I will kill the ---."
Simon then escaped and was at large for several weeks. Mary Jane and William were arrested, and refused to tell authorities where Simon might be hiding out. They also claimed that he did the killing, not they, and that once he was captured, said the Kenton Democrat, "the name of being a murderer will be entirely erased against them from the books of justice."
While behind bars, Mary Jane received a letter from her married daughter Sarah Josephine Moore, saying that Simon had been to her home. Sarah also wrote that Simon said he "was going to California, and would never be taken alive," said the Kenton News, in a story republished in the Lima Times Democrat. "Whether this is a ruse or not of the murder is a question."
Simon finally was captured and taken to prison in Kenton, the county seat of Hardin County. The case went to trial in February 1896. A jury found Simon and Mary Jane guilty of manslaughter and sentenced them to 10 years of hard labor in the state penitentiary in Ohio. (Son William was acquitted.) In departing the courthouse, reported the Lima Times Democrat, Mary Jane told a sheriff that "I'm glad I am going to leave Hardin county as I have had enough of the place.... She wept bitter tears and said indeed was the parting as one by one she kissed her children good bye and caressed her sister."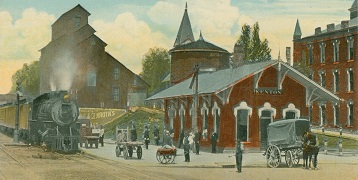 Railroad station in Kenton, Ohio
At the time, Mary Jane's youngest son Harrison was nearing his sixth birthday. A month after the trial ended, he and 7-year-old Dora Brice were found at the courthouse in Lima. The Lima Times Democrat called them "two little waifs" and said they were begging for money so they could travel to an aunt's home in Dupont, Putnam County. "The little boy was probably 6 or 7 years old and was a very bright little fellow. He said his name was Harrison Miner and that his father was dead and that his mother was in the pen, but could not tell for what crime. They were in a sorrowful condition."
While in prison, her appearance was described in writing by Ohio officials -- grey eyes, brown hair and common complexion. "Forehead high + round: Brows heavy, slightly arched apart: Ears large + stand out: Nose medium + straight: Chin large + square: well built: heavy cut scar inside right forearm: small scar inside right hand." She was noted as "temperate" in habits and that in her education, she could "Read + Write a little."
Mary Jane quickly appealed her case. On April 25, 1896, after two months in prison, she was granted a new trial by the circuit court. Her conviction was overturned, and instead of murder, she was found guilty of the lesser count of assault and battery, with her sentence reduced to three months in jail.
~ Mary Jane's Marriage to Robert Vining ~
About two years after her jail sentence was reduced, Mary Jane married again. Her second husband was Robert Vining ( ? - ? ). They tied the knot on March 16, 1898 in Putnam County, OH, with Rev. J.E. Smith officiating.
Two years later, the census shows her heading a household in Shelby County, with married daughter Lillie Sheets in the dwelling, and another married daughter Martha Conner living next-door. She told the census taker that she was the mother of a dozen children, with eight of them still alive.
The whereabouts of Robert Vining in 1900 are unknown, as is his fate.
When the federal census was taken in 1910, the 64-year-old Mary lived with her married son and daughter in law, William and Eliza (Smith) Miner in Kalamazoo, Kalamazoo County, MI. While the census taker misspelled her name as "Cummings" and marked that her current marriage was in its 12th year.
Mary Jane passed away just two weeks shy of her 72nd birthday, in the town of Palmer, Putnam County on Oct. 27, 1918. The cause was bronchio-pneumonia. She is buried in Kalida, Putnam County. Her son in law Jessie Moore was in the informant on her official Ohio death certificate.
Copyright © 2011-2013, 2016-2017 Mark A. Miner