Susan (Miner) Bemis
(1879-1964)
Susan (Miner) Bemis was born on Sept. 29, 1879 near Tontogany, Wood County, OH, the daughter of Jacob and Louise (Finkenbeiner) Miner. She went by the nickname 'Susie' most of her life.
Susie married Fred H. Bemis (1877-1958).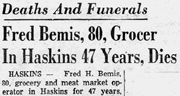 Obituary, 1958

They were the parents of two children – Myrtle Emery and Arden D. "Dood" Bemis.

The Bemis family resided in Haskins, Wood County, for many years. They were members of the First Federated Church of Haskins.

For nearly a half-century, Fred operated the Bemis Grocery store, a well-known produce and meat establishment in Haskins. He retired in 1958.

Seen here is a rare old photographic postcard of Findlay Street in Haskins. Note the posts supporting a square-shaped structure in the middle of the street -- believed to be a pumping area for well water. Horse hitching posts are directly in front of the store building with the awning.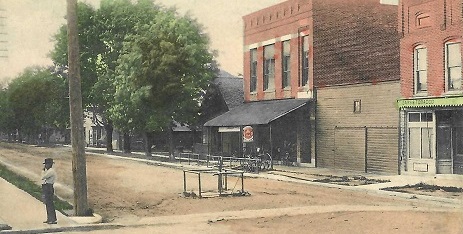 Findlay Street in Haskins, OH
Fred passed away at home at the age of 80 on April 27, 1958. He was buried at Fort Meigs Cemetery.
Susie outlived Fred by six years. When she was age 82, Susie became seriously ill.
After three years of suffering, she died on Aug. 13, 1964, at age 85. Her obituary was carried in the Bowling Green Daily Sentinel Tribune. At her death, she had three grandchildren and three great-grandchildren.

Arden Bemis

~ Son Arden Deloy "Dood" Bemis ~
Son Arden Deloy "Dood" Bemis (1916-1998) was born on Dec. 13, 1916.
He married Faith D. Ballard (1920-2014).
They resided with their daughters Cindy and Sharon in Sylvania, Lucas County, OH, a suburb of Toledo.
Dood was "a projectionist working at many of the theaters in the Toledo area, retiring from Franklin Park Cinemas in 1984," said a local newspaper.
Faith earned income and supported herself through her work at Elder Beerman. She retired in 2004.
He passed away at the age of 81 on March 18, 1998, at Flower Hospital in Sylvania, and was laid to rest in Toledo Memorial Park Cemetery. At the time of his passing, Dood and Faith were survived by four grandchildren and one great-grandchild.
Faith outlived her husband by 16 years. Toward the end, she was admitted to Genesis Health Care in Toledo's Point Place. Death swept her away into eternity at the age of 94 on March 24, 2014. Pastor Nathan W. Wolfe led the funeral service. An obituary was published in the Toledo Blade.
Daughter Cindy Jerrell ( ? - ? ) was born in (?). She wed Richard Osterhout ( ? - ? ). Two known children are Yuri Osterhout and Kara Osterhout..
Daughter Sharon Sue Jerrell ( ? - ? ) was born in (?). She entered into marriage with (?) Jones ( ? - ? ). Sharon taught third grade in the Sylvania School System in Ohio and the Mt. Pleasant School District in South Carolina, one of hundreds of cousins to have worked in the field of public education over the years. Sadly, she was deceased by 2014.


~ Daughter Myrtle (Bemis) Emery ~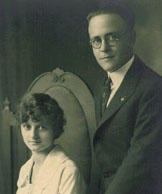 Myrtle and Sam Emery

Daughter Myrtle Bemis (1897-1994) was born in 1897.

She was united in matrimony with Samuel B. Emery (1892-1955).

The couple's one son was Jerrell Bemis Emery.

Said a newspaper, Myrtle "was a graduate of Bowling Green Normal School. An elementary school teacher, she worked in the Haskins and Toledo systems for over 35 years."

Sam passed away on March 31, 1955, at the age of 63. He was buried at Fort Meigs Cemetery.

As a widow, Myrtle moved to Doylestown, near Philadelphia, to be nearer to her son Jerrell. In Doylestown, she was a member of the Central Bucks Senior Citizens Association and St. Paul's Lutheran Church.

Myrtle passed away on Nov. 16, 1994, at the age of 97.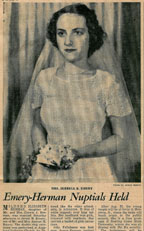 Midge's wedding photo

Son Jerrell Bemis Emery (1929-1993) was born on Aug. 14, 1929. He married Mildred Elizabeth "Midge" Herman (Feb. 13, 1929-2012) in a wedding held on Aug. 11, 1951. Her parents were Corcin J. and Ruth (Fausz) Herman. A Toledo native, and a graduate of Bowling Green State University, Midge was a talented cellist and pianist. She taught music in the Monclova, OH public school system near Toledo. They later moved to Zionsville, Boone County, IN, remaining there for 17 years, with her teaching in Indianapolis. Jerrell received his doctorate degree from Purdue University in 1960, and for more than three decades was a senior research scientist with Johnson & Johnson, first in Indiana and later in Pennsylvania. During that time, he published more than 30 scientific papers and obtained 18 patents in the field of veterinary virology. Among other awards, he won the Philip B. Hoffman Award for outstanding achievement in research and development. In 1970, Jerrell and Midge moved to Chalfont, Bucks County, a suburb of Philadelphia, PA. Midge is known to have undertaken graduate studies in music therapy at Comb's College of Music in Philadelphia.

Obituary, 1993

Following retirement from J&J in 1985, Jerrell taught microbiology at Holy Family College in Philadelphia. In their new life in Southeastern Pennsylvania, Jerrell taught Sunday School and sang in the choir at St. Paul's Lutheran Church in Doylestown, and was a Cub Scout leader. He passed away at the age of 64 at Fox Chase Cancer Center in Philadelphia in 1994, and was laid to rest at the Doylestown Cemetery. Following Jerrell's passing, Midge remained in Chalfont. Death enveloped her at the age of 83, on Nov. 23, 2012, in Lehigh Valley Hospital in Allentown, Lehigh County, PA.



Copyright © 2002-2004, 2007, 2010, 2022 Mark A. Miner