William H. Miner
(1870-1957)
William H. Miner was born on Aug. 22, 1870 or 1871, the 10th and last child of Nathaniel and Susan (Abbott) Miner.
William was raised in Iowa, and in 1871, at the age of 11, would have moved with his parents and siblings to a farm near West Point, Pleasant Ridge Twp., Lee County, IA.
On Dec. 28, 1892, when he was age 22, William married 18-year-old Dora Brewer (1874- ? ). She was the only child of farmers William H. and Welthy Brewer of Lee County. The Mount Pleasant (IA) News once said that the father "never used tobacco or liquor" and that he was "rejected for service in the Civil war because he was rather frail."
The federal census of 1900 shows William and Dora making their home with her parents on a farm in Denmark, Lee County. At that time, they had been married for seven years, but had no children.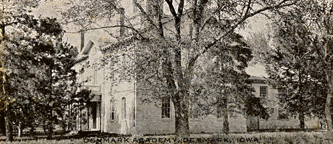 The Denmark Academy, a local landmark, circa 1907
In 1910 and 1920, they lived by themselves in Denmark, and were childless. Circa 1920, William also was laboring as a house painter.
By 1930, William was engaged in fruit farming in Denmark, with Dora's widowed, 82-year-old father William Brewer living under their roof. The father remained there for several decades. At the age of 102, he died there on Feb. 6, 1950.
Sadly, Dora did not live as long as had her father. She passed away at the age of 79 in late Jan. 1954. A brief death notice was printed in the Des Moines Tribune.
William died on July 23, 1957, at the age of 87. He is buried at Denmark.
Dora's fate is unknown.
Copyright © 2000, 2007, 2017, 2020 Mark A. Miner