Andrew Minerd
(1867-1919)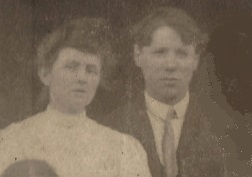 Andrew and (possibly) Anna Minerd
Andrew Minerd was born in 1867 in Fayette County, PA, the son of John V.S. and Elizabeth (Livingston) Minerd. He is one of many of our cousins known to have been killed at work in a coal, coke or steel-related accident.
On Nov. 27, 1896, at Uniontown, Fayette County, Andrew married Anna Venetta Kissinger (1872-1959). He was age 29, and she 24, at the time of their wedding. Born on Nov. 21, 1873, of unknown parents, she was a native of Dunbar, Fayette County.
Their four children were Hershall Minerd, Venetta Pearl McLaughlin Sawyer and two who died as infants.
The combination of heartache and abuse was the story of the marriage. The Uniontown Daily News Standard of Feb. 9, 1903 reported that one of their infant daughters had died of whooping cough during an "epidemic of sickness [that] prevails about town among children."
The Minerds lived at Dunbar, Connellsville and Vanderbilt, Fayette County, and at McKeesport, Allegheny County, near Pittsburgh.
Sadly, the marriage was rocky from the start. Later, in her divorce papers, Anna accused Andrew of excessive drinking, abusive behavior, vile language and abandonment. On four different occasions, she said, she had him arrested. Once, said the Pittsburgh Press, "he had kicked the lamp over, allowed the oil to run over the floor and attempted to burn down the house where they lived. She testified that during the past two years [he] had only given her $32."
Andrew attended his father's funeral in Foxtown, Westmoreland County in February 1907 and is pictured in a large family photograph taken that day. Anna is believed to be standing beside him.
But in November 1907, she finally left their home in McKeesport, and went to Glenwood, near Pittsburgh, likely to be with her son Hershel. Andrew then countered by moving to Strickler, Westmoreland County, PA. Their divorce was granted by the Allegheny County Common Pleas Court in 1909, and Andrew was ordered to compensate his wife and two children $2 each week.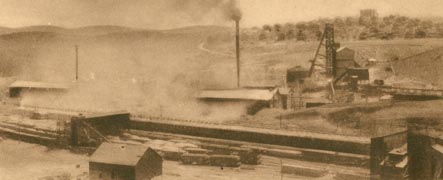 Allison works near Brownsville, where Andrew was killed in 1919
A year later, Andrew was living with his sister Minnie McKnight and her son Robert McKnight in Uniontown. It's thought that Andrew and his nephew worked together in the mines.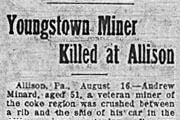 Uniontown Daily News Standard
Circa 1918, Anna resided at 427 Elizabeth Street in Pittsburgh.
In 1919, Andrew was employed in the coal mine at Allison, near Brownsville, Fayette County.
Tragedy struck on Aug. 15, 1919, when Andrew was killed at the Allison Mine. The Uniontown Daily News Standard reported that Andrew, "a veteran miner of the coke region was crushed between a rib and the side of his car in the Allison mines. ... while enroute to the pit at the close of his working day. [He] was instantly killed. The car jumped the track, it is said."
Anna outlived her first husband by four decades. She later married William Collins ( ? - ? ). His fate is not yet known.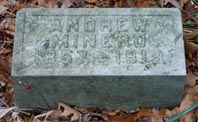 When the federal census was taken in 1930, Anna and her son Hershell made their home together in Bullskin Township, north of Connellsville. Just four doors away were Hershell's cousins Mariah (Minerd) Whetzel and Larmer Arthur Minerd.
She was a member of the First Methodist Church of Pittsburgh and a member of the Hazelwood Chapter of the Eastern Star. Her postal address in 1959 was 118 South Cottage Avenue in Connellsville. For the last two years of her life, she suffered from heart disease which led to her demise.
Anna died in Connellsville on Dec. 13, 1959, at the age of 87, and is buried at Allegheny County Memorial Park in Allison Park, PA. She rests in an unmarked grave beside her son Hershal and daughter Venetta Sawyer.
Copyright © 2000-2001, 2008, 2010. 2016 Mark A. Miner