Minnie (Minerd) McKnight
(1869-1946)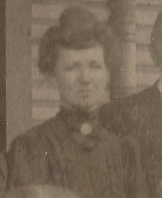 Minnie McKnight
Minnie (Minerd) McKnight was born on Oct. 7, 1869 in or near Connellsville, Fayette County, PA, the daughter of John V.S. and Elizabeth (Livingston) Minerd.
On Nov. 30, 1886, at the age of 17, Minnie married 23-year-old Jasper Oliver "Ol" McKnight (1863- ? ) at Scottdale, Westmoreland County, PA. He was the son of John and Elizabeth McKnight, and also has been shown in records as "James." Because Minnie was so young, her parents had to sign a consent form. They united themselves in marriage. A copy of their marriage license and consent form is on microfilm today at the Westmoreland County Courthouse in Greensburg.
Their four children were Maud Murray (or Murry), Robert McKnight, Charles Minerd McKnight and Earl Trout McKnight.
Ol was a longtime coal miner and at the time of marriage a resident of Albright, Preston County, WV.
They lived first in West Virginia, where their eldest daughter was born in 1888. Sometime afterward, by 1900, they relocated to near Uniontown, Fayette County. In 1906, Minnie made her home in Southwest, Westmoreland County.
Ol died sometime before 1910, and probably before 1906, said to have been a victim of the deadly diphtheria. No record of his passing has been found in Pennsylvania's death records, which began to be kept in 1906.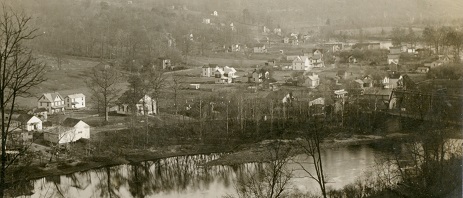 Bird's eye view of Albright, WV
In 1910, Minnie boarded with her son Robert, who was a laborer in a Uniontown coal mine, and her brother Andrew Minerd also resided in the household. That same year, son in law Lloyd Murry worked as a driver in coal mines. In 1915, at the time her son Robert was married, she lived in Herbert, Fayette County. By 1920, Maud was living with her married daughter Maud Murry in Luzerne Township, Fayette County.
Widowed Minnie lived for several years at Fredericktown, Washington County, PA. Later in life, she came to Hunker, Westmoreland County, to reside near her sister Bertha (Minerd) Van Dyke. In November 1927, she resided at Brownsville, Fayette County, and visited her brother William Henry Minerd in Uniontown, a social event published in the Uniontown Morning Herald. In 1929, her home was in LaBelle, Fayette County, described by one newspaper as a "coal mining patch on an inside bend of the Monongahela River" in Luzerne Township.
On Aug. 25, 1929, Minnie's adult son and daughter, Earl McKnight and Maud Murray, celebrated their joint birthday with a party at Maud's home near LaBelle. A large crowd of family attended, and the event was reported in the Uniontown Morning Herald. In addition to Minnie herself, the celebrants were:
J.H. Hawer, Mr. and Mrs. Calvin Hawer and their children Lucette Belle, Wilde and Babe of Greensburg; Mr. and Mrs. Don Coughanour and children Don, Walter, Ruth and George; Mr. and Mrs. John Trout and children John, Irene and Clifford of New Stanton; Mrs. S.A. VanDyke and daughter Kathryn; Mr. and Mrs. John Daugherty and children Betty, Rae, Floyd and Nellie; Mr. and Mrs. John Breegle and children Sam, Doris and Mary Lou; Mrs. Emma Trout; Mollie Trout; Mr. and Mrs. Vernon VanDyke and children Betty Jane, Clara Mae, Sam and Vernon; Mr. and Mrs. William Minerd; Mr. and Mrs. Percy Minerd and daughter Lela; Seth Minerd and daughter Donna Jean; Mrs. Ivan Dean and children Billie and Lois; Mrs. Nell Kerr; Miss Lela Fern Minerd; Miss Pattie Jane Elder; Bernie Henry of Uniontown; Mr. and Mrs. John Clair and daughter Edythe; Mr. and Mrs. Earl McKnight and children June, Fern and Donald; Mr. and Mrs. Lloyd Murray and daughters Leona and Charlotte; Edward Clair and Ray Gossett of LaBelle; John Breegle Sr. of Foxtown and James Minerd of Republic.
In January 1946, at the age of 76 and while residing at Hunker, Minnie was horribly burned in a freak accident. She received "extensive second degree burns on the body and wrist, received while getting ready for bed at her home," reported the Connellsville Daily Courier. "Mrs. McKnight's clothing ignited from a coal stove in her bed room."
She was rushed to the Westmoreland Hospital in Greensburg, where she died 15 days later, on Feb. 10, 1946. Following her funeral at the Youngwood Christian & Missionary Alliance Church, her remains were laid to eternal rest in the Stone Church Cemetery near her parents and siblings. No stone is known to mark her grave.
~ Daughter Maud (McKnight) Murry ~
Daughter Maud McKnight (1888- ? ) was born on Aug. 25, 1888 in Kingwood, Preston County, WV. She and her family migrated to Westmoreland and Fayette Counties when she was a girl.
On Oct. 10, 1906, at the age of 18, Maud married 24-year-old Lloyd Murray (or "Murry") (1882- ? ), a native of Bridgeport, near Mount Pleasant, Fayette County. Justice of the peace J.Q. Fruxall officiated. At the time of marriage, Maud resided in the community of Southwest, Westmoreland, and her mother signed consent to the wedding as Maud was legally underage.
They lived for a time at Republic and LaBelle, Fayette County, communities built around coal mining operations.
Their children were Harold Murry, Leona Murry and Charlotte Murry.
When the 1930 federal census was taken, the Murrys resided in Luzerne Township, Fayette County, where Lloyd worked as a fire boss in a coal mine. That year, Maud's widowed mother lived under their roof.
Later, Maud is said to moved to the state of Indiana, where she eventually died. Nothing more is known.
Circa 1930, Leona worked as a saleslady in a mercantile store.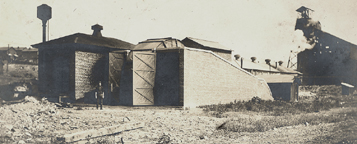 Republic's fan house and coal tipple (far right)
~ Son Robert McKnight ~
Son Robert McKnight (1890- ? ) was born in 1890 in Dunbar, Fayette County.
He was a long coal mine laborer. Circa 1910, he lived in Luzerne Township, Fayette County, with his widowed mother, uncle Andrew Minerd and younger brothers Charles and Earl in the household.
On July 27, 1915, at the age of 25, Robert wed to 18-year-old Nora Meckling (1897- ? ), a native of Mt. Braddock near Uniontown, and the daughter of James D. and Ida (Engle) Meckling. They united themselves in holy matrimony, with Jessie B. House and H.R. Tilterington serving as witnesses. The couple requested that Fayette County officials not publish the news of the marriage license in local newspapers. At the time, Robert resided in Brownsville and was employed in the coal mining industry.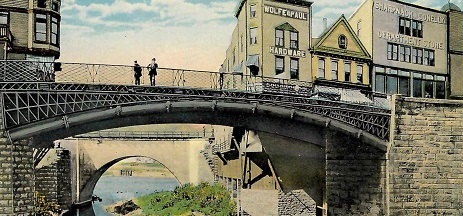 Landmark in Brownsville, the oldest cast iron bridge in the country
The couple had one son, Robert Charles McKnight, born in 1916.
The marriage was troubled, and did not last. By 1920, Robert had returned to his mother's household at the Maxwell Coal Works in Luzerne Township, Fayette County.
In 1930, Robert and son Robert Jr. were listed together in the federal census, living in Luzerne Township, Fayette County. Robert gave his marital status as "widowed" and said that he was a driver in a local coal mine.
In January 1946, at age 57, Robert was admitted to the Fayette County Home, a residential facility for the poor and indigent. A year later, he was seriously injured when struck by a moving vehicle on Main Street in Uniontown on Jan. 13, 1947. The Uniontown Morning Herald said he was rushed to Uniontown Hospital where he "was in shock and suffering from contusions of the head, a possible fractured skull and possibly other injuries, as yet undetermined.... The accident occurred only a few feet from where another inmate of the Home was struck and instantly killed less than a month ago."
Nora married again, to Albert Kimmell ( ? -1965). They are believed to have had more children of their own, among them Norbert Kimmell, Mary Castor, Alberta Fisher and Audrey Help. The Uniontown Morning Herald said that she was a resident of Uniontown for 60 years and a member of the Central Christian Church. Sadly, Albert died in 1965. She spent her final years residing at Atlas Crossing near Uniontown. She died on March 2, 1971, with burial in Sylvan Heights Cemetery. The Morning Herald reported that she was survived by 12 grandchildren and 34 great-grandchildren.
Son Robert McKnight (1916- ? ) was born in 1916 and may also have been known as "Charles." He made his home in Baltimore, MD circa 1947-1971.
~ Son Charles Minerd McKnight ~
Son Charles Minerd McKnight (1896-1949) was born on Aug. 15, 1896 in Uniontown. He apparently never married or reproduced.

Obituary in the Daily Courier
As a young man, he had blue eyes and red hair. During World War I, when he registered for the military draft, he was employed by W. Harry Brown at the Alicia Mine in Westmoreland County, PA.
By the late 1940s, Charles made his way to California, where he found employment with Anaconda Copper Company. He labored at the firm's mine in Darwin, Inyo County at the age of 53.
Tragedy struck on June 10, 1949, when he was fatally injured at work, and died. A brief obituary was published in one of his hometown newspapers, the Connellsville Daily Courier. He is one of far too many cousins to lose his life in the workplace in the minerals and steelmaking industries.
~ Son Earl Trout McKnight ~
Son Earl Trout McKnight (1900-1971) was born on Aug. 25, 1900, on his sister Maud's 12th birthday. For years, they celebrated the anniversary date together.
Earl married Kathryn (?) (1903-1986) in about 1920, when he was age 20, and she a mere 16.
Their three children were LeJune Morgan, Fern McKnight and Donald McKnight.
Earl was a longtime coal laborer who was a wireman in a coal mine in Luzerne Township, Fayette County, and later lived in the Waynesburg, Greene County, PA, area. Said the Washington Observer-Reporter, Earl "resided for a number of years at Fredericktown, where he was employed in the Clyde Mine. [He] was affiliated with the Methodist Church."
Earl was an early union organizer and president of the United Mine Workers of America, Fredericktown Local 688, District 5, in the Brownsville and Hiller areas, as reported in the Uniontown Morning Herald (Dec. 17, 1941 and July 22, 1943).
Kathryn at one point was invited to the White House to have lunch with First Lady Eleanor Roosevelt. Details of this need to be found.
Earl and Kathryn divorced circa 1945-1946. Kathryn hen moved with her daughter Ferne to Hastings, Barry County, MI, to join married daughter Ferne Morgan.
In his final years, Earl made his home at 192 South Richhill Street in Waynesburg. He died at Greene County Memorial Hospital on Dec. 20, 1971, "after an illness of several weeks," said the Observer-Reporter.
Kathryn died in Hastings on Thanksgiving Day 1986.
Daughter LeJune McKnight (1924-1990) married James I. Morgan, having met in Baltimore, MD during World War II. They made their home in Hastings, and had children. June died at the age of 66 on June 1, 1990.
Daughter Lois Ferne McKnight (1926-2004) resided in Hastings. She died on Aug. 23, 2004.
Son Donald McKnight (1928- ? ) made his residence in Glen Burnie, MD and later in Pasadena, a suburb of Baltimore.
Copyright © 2000, 2005, 2007-2008, 2010, 2012, 2016, 2018 Mark A. Miner
Charles M. McKnight obituary courtesy of Ancestry.com.