Cyrene (Minard) Cooper
(1876-1938)

Cyrene Cooper

Icirena ("Cyrene" or "Sarina") (Minard) Cooper was born on Jan. 25, 1876 in Barbour County, WV, the daughter of William and Margaret (Male) Minerd. She also was known as Sarina, Cy, Eyrene and Irene.
When Cyrene was a very young girl, her parents separated and then divorced. She and her siblings were divided among relatives, and she and her sister Emily went to live with their maternal grandparents, Reese and Delilah Mayle, near Grafton, Taylor County, WV.
The girls are shown in the Mayle household in the 1880 census, when Emily was age nine, and Cyrene age four.
Cyrene married farmer Elwood Cooper (1871-1962), a native of Deer Park, and the son of Jack and Nancy (Kisner) Cooper. Their wedding took place on Dec. 22, 1892 at the home of "John E. Male" -- most likely the residence of Cyrene's sister and brother in law Rachel and John "Ellsworth" Mayle. Cyrene was age 16 at the time, and Elwood was 21, with a five-year difference in their ages.
The Coopers had no children during their 46 years of marriage.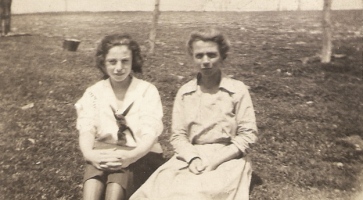 Cyrene, at right, with friend Audrey Lewis in 1922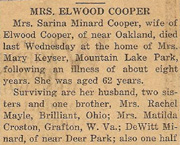 Obituary, 1938

On June 25, 1895, Cyrene and Elwood, and Charles W. and Victoria Hetrick, jointly sold a 74-acre tract of land in Garrett County, MD, for a token $1 purchase price, to Nancy Jane Cooper, widow of Jackson Cooper, of Garrett County. The tract contained chestnut and white oak along with other stands of natural vegetation, and was part of Military Lots #1082, 1084 and 1085.

By August 1907, after Nancy had remarried to James Frank Male (spelled "Mayhl"), the deed to this transaction was deemed to be "defective" "in conveying all of the land that was intended to be conveyed ... by a mistake and error of the scribener who drew said deed one or lines were inadvertently left out in the description ... and other lines were defective in course and distance..." The Coopers and Hetricks again had a deed prepared to correct the errors, and so that Nancy could then sell the property to Lucretia A. Miller, wife of John E. Miller.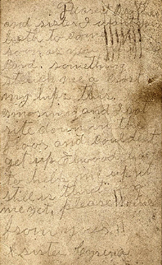 Postcard to Cyrene, 1903

The censuses of 1900, 1910, 1920 and 1930 show Cyrene and Elwood living in Garrett County. The 1930 census listing indicates that their residence was along Swallow Falls Road. Elwood's occupation over those many decades was as a farmer.

In September 1903, the Coopers received a letter from Ross C. Male of Cecil, WV, with family news, including word that Cyrene's grandfather (Reese Mayle) and step-grandmother (Rose [Knave] Mayle) had died within a few days of each other. The letter read: "Grandpa and Rosa are both dead, Rosa died last Friday at 2 o'clock, and Grandpa died today [Aug. 31] about 2 o'clock."

Cyrene sent a penny postcard to her brother Dewitt Minard on March 1, 1937 that has survived to today. In that era of time, when some families still did not have telephones in their home, postcards served as a quick and inexpensive way to communicate with relatives and friends living nearby. In faded pencil, she wrote:
Dearest brother and sister I want you both to come up soon as you get this card. Something struck me a bout my hips this morning and I got rite down in the floor and coulden't get up. Elwood had to help me up. It still is thretening me yet. Please come from your sister Cyrena.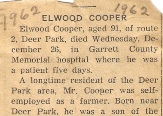 Obituary, 1962

As she aged, Cyrene began to suffer from an undisclosed illness, which lasted a total of eight years. She went to live with Mrs. Mary Keyser of Mountain Lake Park near Oakland.

She died in the Keyser home in 1938, at the age of 62. The specifics are not yet known, nor is her final resting place.

Elwood survived his wife by 24 years, almost a quarter of a century. He maintained his home in Route 2 in Deer Park.

Several days before Christmas 1962, he was admitted to Garrett County Memorial Hospital with what was to be his final illness. He died there, on Dec. 26, 1962, at the age of 91. His funeral arrangements were handled by the Minnich Funeral Home in Oakland, Garrett County, followed by a funeral led by Rev. Lawrence Sherwood of St. Paul's Methodist Church of Oakland. Elwood's remains were laid to rest in Paradise Church Cemetery near Sand Flat, Garrett County. A newspaper obituary said he "was the last surviving member of his family."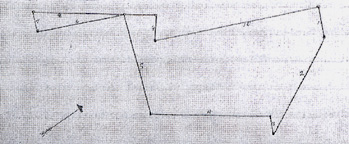 Unusually shaped Cooper/Hetrick land tract in Garrett County, MD. Note the north arrow for orientation.

Copyright © 2004-2009, 2012, 2022 Mark A. Miner