Dewitt Minard
(1868-1939)


Dewitt and Rebecca Jane (Mayle) Minard
Dewitt Minard was born in December 1868 near Philippi, Barbour County, WV, the son of William and Margaret (Mayle) Minerd.
When Dewitt was a boy of 11, his parents separated and then divorced. He and his siblings were divided among relatives, and he went to live with an uncle and aunt, William and Susanna Mayle, near Grafton, Taylor County, WV.
Dewitt is shown in the Mayle household in the 1880 census, when he was age 12. The uncle put him to work, and Dewitt became a farm laborer before reaching his teens.
Dewitt married Rebecca Jane Mayle (1862-1944), a cousin and the daughter of Isaac and Sarah Mayle of Deer Park, Garrett County, MD. They were married in Garrett County. He was six years younger than his bride.
The Minerd/Minard and Mayle families were close, and Dewitt's sister Minerva Minard married Rebecca's brother Ellsworth Mayle.

Dewitt and Rebecca's 1890 marriage certificate, signed by William J. Sharpes, presiding elder of the Oakland District. Note the spelling of Rebecca's maiden name as "Mail."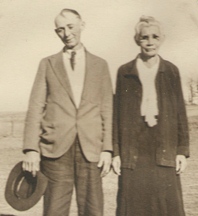 Dewitt and Rebecca
Dewitt and Rebecca had three children -- Edward Harrison Minard, Lillian Minard and Maude E. Minard.
In January 1900, the Minards bought a 73-acre farm tract near Deer Park, Garrett County, from Wilbur and Olive B. Jones for $250. The acreage was part of Military Lots #1082, 1084 and 1085, and bounded a "corner of Mrs. O'Maley's land..." Deer Park was near the town of Oakland.
Deer Park was famed as the site of the Deer Park Hotel -- "one of the most exclusive mountain resorts in the east" -- where many nationally prominent people were guests over the years, including four presidents of the United States. It was constructed by the Baltimore and Ohio Railroad in 1873 and was in use for 56 years, until its closure in 1929. The building was demolished in 1942.
Dewitt and Rebecca provided farm produce and services for the hotel, in addition to farming their land. They also worked for some of the summertime vacationers who owned homes in the area. The Minards sold butter, milk, eggs, farm-cured hams, venison and vinegar made from apples raised on the farm. Dewitt kept about 25 types of apple trees on his farm, and maintained records dating back to 1903.
Dewitt and Rebecca apparently had angry clashes over real estate with their neighbor, widow Nancy Cooper, who in turn may have been the mother of Dewitt's brother in law, Elwood Cooper. To resolve the boundary dispute, the Minards retained the services of attorney Gilmore S. Hamill of nearby Oakland.

Old Deer Park Hotel, a local landmark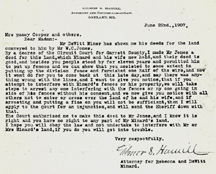 1907 letter regarding Dewitt's land
After studying the situation, the lawyer wrote a threatening letter on June 22, 1907 to Mrs. Cooper and her family -- note the two different spellings in his text:
Mr. DeWitt Miner has shown me his deeds for the land conveyed to him by Mr. W.C. Jones. By a decree by the Circuit Court for Garrett County, I made Mr. Jones a deed for this land, which Minard and his wife now hold, and their deed is good, and besides you people stood by for eleven years and permitted him to put up fences and we can show that you assisted to some extent in putting up the division fence and furnished one half of the wire, and now it wont do for you to come back at this late day, and say there was anything wrong with the lines, and I want to give you notice, that if you attempt to interfere with Minard's fences or his property, we will take steps to arrest any one interfering with the fences or any one going in side of his fences without his consent, and now we give you notice with all others not to enter or cross over the land of he and his wife, and if arresting and putting a fine on you will not be sufficient, then I will apply to the Court for an injunction, and will send the Sheriff down with that.
The Court authorized me to make this deed to Mr. Jones, and I know it is right and you have no right to any part of Mr. Minard's land. I hope you will obey the law and not undertake to interfere with Mr. or Mrs. Minard's land, if you do you will get into trouble.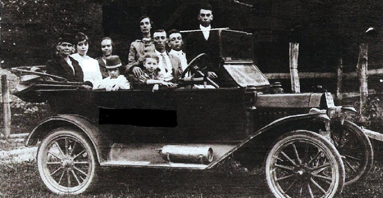 Dewitt (behind wheel) and Rebecca (far left). Others, from left: Lillian (3rd), Maude (4th), Edward (5th) and nephew Dewey Mayle (far right).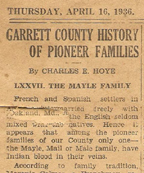 1930s story about the Mayles
A local newspaper, the Mountain Democrat, published a history of the Mayle/Male clan in its edition of April 16, 1936. The article was authored by local historian Capt. Charles E. Hoye, and the Minards proudly saved the treasure. (In 1942, Hoye published a book, The Hoyes of Maryland, which mentioned Dewitt's distant cousin, Louisa Minerd and her husband John J.P. Hoye and their five children, who were residents of Oakland before moving to Dunbar, Fayette County, PA.)
When the federal census was taken in 1910, and again in 1920 and 1930, the Minards and their children made their home in Deer Park. Rebecca's older brother, widower Hugh Mayle, resided with the family during that era. Dewitt's occupation in 1910 was listed as "farmer" and Hugh's as "farm laborer" on the "home farm."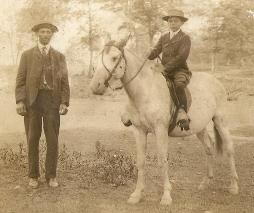 Dewitt and son Edward and their
family horse, Dewey Dewitt Edward
Rebecca was a member of the Methodist church in Deer Park. Circa 1913, the Minard children attended school at Spring Glade School No. 11, taught by Anna Harvey. The building was a one-room school house located next to Dewitt's farm, which doubled as a Sunday School building. (Trustees of the school were Henry D. Strawser, Charles Tasker and Walter W. Flanigan.)
The census of 1930 shows young grandchildren Cecil and Rosalie A. Minard living under the Minards' roof.
The Minards' longtime dwelling was built circa 1902-1902. Their home was along the Deer Park to Oakland Road. A Maryland Historical Trust survey of historic sites notes that their house was located on the south side of Spring Glade Road, screened by trees and tall grass, about three-tenths of a mile west of the road, and about a quarter mile west of Sand Flat Road. It was described as "a two-story, gable-roofed, ell plan dwelling with a three-bay, center door facade. The house rests on a stone foundation and is covered by weatherboarding." The survey added that the house was of a typical western Maryland design, a rectangular main block and rear kitchen wing. [link]
Dewitt took pride in his clothing, and is said to have always worn a coat, necktie and shirt at times when plowing his farm fields. He also carried a treasured pocket watch that has become an heirloom in the family.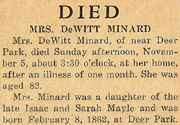 Obituary, 1944
On March 23, 1939, at the age of 79, Dewitt died while working in the fields of his farm. A local newspaper reported that "dropped dead at his home" and added that he was "a resident of this county for about fifty years."
Dewitt was laid to rest at Deer Park Cemetery after a funeral service led by Rev. David C. Trimble. The pocket watch was brought to son Edward, who kept it for many years, and later bequeathed it to his son Cecil.
Rebecca outlived her husband by five years. After suffering from an illness for one month, she passed away on Nov. 5, 1944, at the age of 82. The funeral was held at the Minard home, led by Rev. J.C. Foster of the United Brethren church of Mt. Lake Park. Her remains were laid to rest beside her husband's. In an obituary, the Cumberland (MD) Evening Times noted that she was survived by her sister Mrs. Upton Croston of Parkersburg, WV and a brother Ellsworth Mayle of Swallow Falls, MD.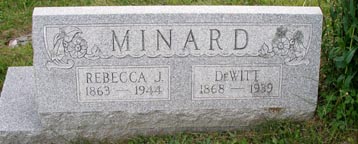 Final resting place for Dewitt and Rebecca in Deer Park, MD

Maude Minard
~ Daughter Maude Minard ~
Daughter Maude Minard (1891-1990) was born on Jan. 24, 1891.
She never married, but lived at home with her parents.
When she was 17 years of age, in January 1908, she wrote to her beloved uncle Hugh Mayle, just after Christmas, describing some of the family activities for the holiday and in to the new year:
... it has been snowing all day. It is about knee deep. i am afraid it is going to drift up the road tonight. The meeting commenced last night. it was such a nice night but to night the preacher did not have no church. He has been here every since yesterday him and papa was over to Kenedys to day. the preacher had his quarterly meeting a Sunday week but the elder did not get to come.... Papa got us a nice christmas present. it cost $34 but I will not tell you till you come home. we got it about three weeks before christmas. we got the post cards for christmas. they was very nice. we got us some nice christmas trimings for the tree. papa got a nice big turkey for christmas. it was grand.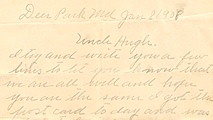 Maude's letter to Uncle Hugh Mayle, 1908
When the United States Census was taken in 1920, Maude made a home with her parents in Deer Park. Also living in the household that year were her unmarried siblings and niece Mildred Garnet Minard as well as their uncle Hugh Mayle.
She was a member of the Ladies Aid Society of the Methodist Episcopal Church in Deer Park. She is named in an April 1930 Cumberland Evening Times article for having attended a business meeting and taken part in enjoying Easter-related freshments. She was elected secretary of the church's Women's Auxiliary in January 1939.
Maude for many years worked as a live-in maid in Deer Park for self-employed carpenter and house builder Wilfred A. Chadderton and his wife Jessie. In both the 1930 and 1940 federal census enumerations, she is shown in the Chadderton residence on Church Street. As the Chattersons held or attended local social events, Maude too seems to have been included and named in Evening Times gossip column stories. She is known to have hosted a meeting of the Ladies Aid in her home in July 1938, with the following in attendance in additon to her employers: Mrs. Clarence Rollman, Mrs. William Mayle, Mrs. G.P. Marley, Mrs. Earl George, Anna Thrasher, Rev. Daniel Trimble, and Miss Robbie. During the month of January 1937, when she traveled to Clarksburg and Fairmont, WV for visits, her return home likewise was mentioned in the local newspaper.
In later years, probably following the death of her mother in 1944, Maude relocated to Takoma Park, Montgomery County, MD, a suburb of Washington, DC, where she shared a home with a niece. She was gathered in by the Angel of Death on Oct. 28, 1990, at the age of 99.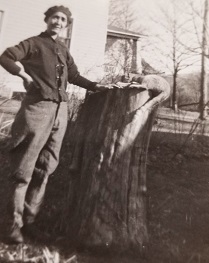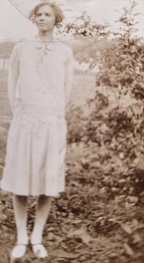 Sisters Maude (left) and Lillian

Lillian Minard
~ Daughter Lillian May "Lilly" Minard ~
Daughter Lillian May Minard (1893?-1975) was born in about 1893 in Garrett County, MD and went by the nickname of "Lilly."
As with her sister Maud, she never married.
When she was 20 years of age, Lillian gave birth to a daughter, Mildred "Garnett" Minard, on Aug. 7, 1913. The identity of the girl's father is not yet known.
Lillian and Garnett resided for decades in Deer Park, Garrett County. The federal census enumeration of 1920 shows Lillian and six-year-old Garnet living in the Minard household in Deer Park. Lillian's unmarried siblings and widowed uncle Hugh Mayle also resided in the household that year, with Lillian marked as having no occupation.
Garnett converted to the Pentecostal faith movement as a young woman.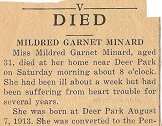 Daughter Garnet's obit
When the United States Census again was taken in 1930, Lillian and Garnett continued to dwell with Lillian's parents, and with uncle Hugh Mayle living under their roof as well.
Lillian grieved in 1939 at the death of her father. She and Garnett and her widowed mother remained in their longtime home, with Benjamin Bell brought in as a hired man who lived on-site.
In about 1944, Lillian suffered the tragic death of her daughter Garnett at the age of 31. A local newspaper reported that Garnett "had been ill about a week but had been suffering from heart trouble for several years." Funeral services were led by Rev. J.C. Foster, of the Mt. Lake United Brethren Church, followed by burial in the Deer Park Cemetery.
In a card of thanks published afterward in a newspaper, Lillian expressed her "sincere thanks and appreciation to my friends and neighbors for all kindness and helpfulness during the illness and following the death of my daughter." She added that "I also want to thank all who gave flowers and donated the use of their automobiles for the funeral service."
Later in life, most likely after the death of her mother in 1944, Lillian relocated to a new home in Takoma Park, Montgomery County, MD, a suburb of Washington, DC.
She passed into heavenly eternity at the age of 81 on Feb. 14, 1975. Her remains were transported back home for burial in Deer Park Cemetery. Her obituary was published in the Cumberland (MD) Evening Times, which gave the names of her late parents and surviving siblings.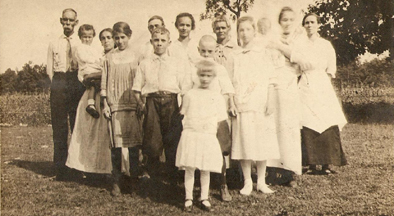 Minard/Mayle gathering, circa 1914. Known faces: Hugh Mayle (back row, far left); Dewitt (5th from left, with half of his face showing), standing next to Lillian May Minard and Rebecca (Mayle) Minard; baby Mildred Garnett Minard in the arms of Maude Minard.
~ Son Edward Harrison Minard ~
Son Edward Harrison Minard (1897-1975) was born in 1897.
On Aug. 4, 1921, at the age of about 24, Edward was united in holy matrimony with 19-year-old Olga O. Smith (1902-1967), the daughter of William H. and Serepta Belle (Johnson) Smith of Fauquier County, VA. They were wed in a Baptist parsonage in Washington, D.C. by the hand of Rev. Downs. News of their marriage license application was published in the Washington (DC) Evening Star.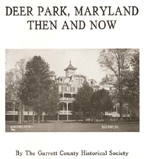 Book citing the Minard house
The Minards went on to produce two children -- Cecil Warren Minard and Rosalie Arlitis Minard.
At age 20 in 1917, Edward registered for the military draft during World War I. On his registration card, he marked himself as a farmer residing near Deer Park.
The newlywed Minards first made their home in Enterprise, near Clarksburg, where their children were born.
On the eve of the Great Depression, Edward and Olga purchased an attractive, two story home on Main Street in Deer Park. They only resided in the house for six months, when the impact of the economic crash caused Edward to seek employment elsewhere. During that time, their children went to live on the farm of their Minard grandparents.
During the 1930s, with the nation in the iron grip of the Great Depression, obtaining employment was exceptionally difficult for laborers. One of the ways President Roosevelt and the federal government tried to overcome this was by forming the Works Progress Administration. The WPA is widely considered one of the Roosevelt's largest and most ambitious undertakings of his "New Deal" to get the nation back on sound economic footing. Over the years, the WPA hired millions of out-of-work individuals to build public works projects, such as roads, bridges, retaining walls and buildings.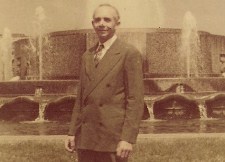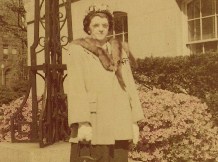 Edward and Olga, May 1951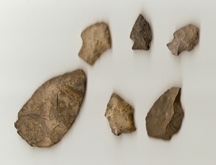 Some of the many arrowheads found
on the Minard farm in Deer Park
The federal census enumeration of 1940 shows the Minards in Deer Park, with Edward earning a living as a WPA laborer. Olga generated income of her own as a sewing teacher.
They were members of St. John's Episcopal Church of Deer Park. Edward worked in carpentry and belonged to the Carpenter's Local Union 1665.
The Minard house appears on an old postcard of Deer Park and is pictured in the book, Deer Park, Maryland, Then and Now, published by the Garrett County Historical Society, and identified as the "Minard house." Today a great-grandson occupies the dwelling.
At some point, the Minards moved from Deer Park into the city of Washington, DC. Their residence was located at 926 Massachusetts Avenue NW.
About that time, they stopped pronouncing the family name the original way -- "MY-nerd" -- and began saying it "Minn-ARD." This may have been due to the fact that the family name was well-known to be German. Since our nation was at war with Germany during World War II, and German-Americans were being persecuted, it may have been rather convenient to give the name more of a French or Canadian sound.
Even as they made their primary home in the District of Columbia, the Minards "spent summers in the Deer Park Lake area," reported the Cumberland (MD) News.
Above: aerial view of Oakland, MD. Below: graves in Deer Park Cemetery


Obituary, 1967
Olga became a member of the Daughters of the American Revolution and the Colonial Dames of the 17th Century.
Olga was employed for two decades by the United States Government. She retired in 1966, at the age of 64.
The year following her retirement, after suffering from an illness of four months' duration, Olga died on Nov. 19, 1967 when she was 65. Her remains were returned to Deer Park for a viewing at the Leighton-Durst Funeral Home followed by local burial.
Edward outlived her by eight years and made his home with his daughter Rosalie in Takoma Park at 7313 Cedar Avenue. He passed away at the age of 78 on Nov. 24, 1975. His remains were laid to rest beside Olgg's in the Minard plot at Deer Park Cemetery, with Rev. John Grant officiating at the funeral service. An obituary in the Cumberland Evening Times said that he was survived by nine grandchildren and three-great-grandchildren.

Cecil W. Minard
Son Cecil Warren Minard (1922-2005) was born in 1922. He came into this world in a cottage near where his father was employed in Charles Rockwell's greenhouse in Enterprise near Clarksburg, Harrison County.
He was united in holy wedlock with Yvonne Joy Arnold ( ? -1990).
The couple produced six children -- Phillip Warren Minard, Michael E. Minard, Robert Minard, Loretta Smith, Elizabeth "Betty" Peake and Suzanna Latos.
In the early 1940s, Cecil was employed in a military procurement division in Washington, DC. He enlisted in the U.S. Army Air Force in February 1943.
Cecil was a veteran of World War II and served as a technical sergeant, engineer and top turret gunner with the 490th Bomber Group, 8th U.S. Air Force, taking part in 27 missions, and receiving the Purple Heart. In a June 7, 1945 edition of a local newspaper in Oakland, Cecil described a memorable mission where his craft, heavily damaged after being rammed by a "wildly careening German fighter that inflicted a cut like a giant can-opener,... got back to friendly territory safely by playing a grim game of hide-and-seek in the clouds with stalking enemy planes."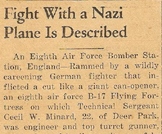 Story naming Cecil and book about his air battle
The bomber was part of a formation out to get a Nazi airfield when five Messerschmitt 109's attacked. One of the Germans darted into the formation with his gung guns winking flame and appeared to be headed for a plane under the Marylander's Fortress when Sgt. Minard and the ball turret, waist and tail gunners opened up on him... In a fraction of a second this happened: the Messerschmitt knocked the left waist gun back into the plan into the lap of the gunner, who was thrown to the floor; a six-foot long, foot-wide gash was torn in the fuselage down to the ball turret; the turret was smashed and crumpled and the arm of the gunner inside was broken in three places, his only injury; three feet of the left wing was torn off where it joined the body of the plan. The broken Messerschmitt hurtled under the bomber and came up under the engines on the right win. It struck the turbo-supercharger under the inboard engine and then ran into the propeller of the outboard engine. One blade of the propeller snapped off, but the Messerschmitt kept gong to a point ahead and to the right of the bomber, hung there posed for an instant and then disintegrated , falling apart in a cloud of debris... As the crippled B-17 turned back, four Messerschmitts took up the trail. The Fortress sought concealment in the clouds. Two of the Germans broke off the chase, but the others hung on, dropping back when the bomber hid in order not to lose the plan when it emerged from the clouds... After landing at the emergency field in France, the crew stayed overnight returning to England the following day.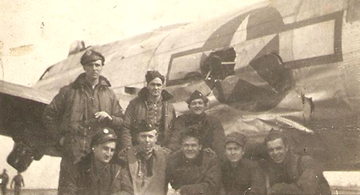 Cecil (far right) with his crew of a B-17 "Flying Fortress" bomber during World War II. Note the heavy damage to the fuselage, caused by a collision with an enemy Messerschmitt.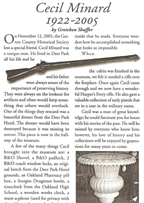 Tribute to an antiquer
The air battle is described more fully, although Cecil not mentioned, in the 1997 book The Last Flight of the Luftwaffe: the Fate of Schulungslehrgang Elbe, 7 April 1945, authored by Adrian Weir, and published by Arms & Armour Press, London. (See pages 132-133.) The book details an almost suicidal attempt by the German Luftwaffe at the end of the war to inflict heavy damage on Allied bombers in a desperate attempt to buy time for a new force of German jet fighters to be placed into service.
While in London during the war, Cecil met his future wife, teenager Yvonne Joy Arnold (1929-1990), a native of the Aylesbury District of England, and who had grown up in Kidderminster, near Brigham. In March 1947, with Cecil having returned to the United States, they were married by "proxy" over a shortwave radio, and then she traveled to the U.S. so they could begin married life together.
In the postwar years, Cecil worked as a carpenter and collected watches. He and his father also placed great value on antiques with local historical connections, and donated a number of them at the Garrett County Historical Society. These included park benches modeled upon one from Dewitt's home; a white cast iron vase; guns in the log cabin room; clock over the fireplace; Oakland High School clock; and oil lamps, butter dish and butter mold. Says a daughter, "Dad thought that these things needed to stay in Garrett County."
Yvonne passed away in Florida on May 27, 1990, at the age of 59. She was laid to rest in Lauderdale Memorial Park in Fort Lauderdale, FL.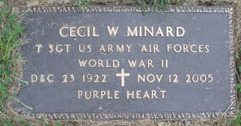 Deer Park Cemetery
Cecil outlived his wife by 15 years. He passed away at the age of 83 in Mariner Health Center of Bethesda, MD. He rests for eternity in Deer Park Cemetery. At his death, The Glades Star published an admiring tribute.
Grandson Michael E. Minard (1955-2010) was born in 1955. He resided in Rockville and Gaithersburg, MD. He married Mimi ( ? - ? ). They were the parents of Jennifer Minard, Lara Minard and Eric Minard. Sadly, Michael died at age 55 on Feb. 19, 2010. His obituary was printed in the Washington Post.
Grandson Robert Brian Minard (1958-2014) was born in 1958. He married Alexa Leffler (July 14, 1960-2019),

daughter of William and Ruth Nickerson Leffler

. The couple resided for many years in Rockville, MD. They did not reproduce. Circa 1985, Robert was a drummer with the band Modest Proposal which performed in and around Washington, DC. Among the band's hits were "I've Seen Your Face Before" and "Nobody Says No," issued on both sides of a 45 RPM vinyl record at Hit & Run Studio in Rockville. Other members of the band and entourage were engineer Steve Carr; cover designer Wings Anson and type by Dirk Bender; photographer John Crandall; vocalist Neal Augenstein; guitarist and backing vocalist Bill Crandall; and electric bassist Perry Flint. Sadly, Robert passed away at the age of 55 on June 9, 2014. Alexa survived her spouse by another five-plus years in Rockville. She passed into eternity, at the age of 59, on Nov. 29, 2019. She was survived by her adult siblings Barbara Gwynn of Massachusetts and Paul Leffler of Maryland. In an obituary, the family asked that any memorial donations be made to Montgomery Child Care Association or to Greyhound Welfare, Inc.


Dust jacket for Modest Proposal's 45 RPM record, 1985
Daughter Rosalie Arlitis Minard (1926-2011) was born in Enterprise, Harrison County on Feb. 10, 1926. Circa 1967, Rosalie's married name was "Scaggs." Later, she wed Robert L. McNish ( ? - ? ), who brought a son to the marriage, Dennis McNish. They resided in Germantown, MD and all told produced three children of their own -- William E. Scaggs, Kathryn Simone and Debra Derr. Rosalie passed away at the age of 85 on Oct. 7, 2011, at home. Following a funeral service held at the New Hampshire Avenue Gospel Chapel in Silver Spring, MD, she was laid to rest in the Gate of Heaven Cemetery Chapel.
Copyright © 2004-2009, 2018-2020 Mark A. Miner
Minerd.com extends its grateful appreciation to Betty (Minard) Peake for sharing information and images for this biography.