Edna (Minerd) Madison
(1880-1902)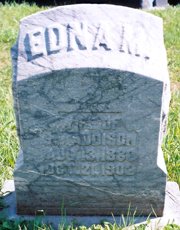 Edna's grave, Hill Grove Cemetery
Edna (Minerd) Madison was born on Aug. 13, 1880, in Fayette County, PA, the daughter of Charles A. and Sarah Jane (Kincell) Minerd Sr. Her death at age 22 left a grieving husband and a very young son.
Circa 1900, Edna was united in the bonds of matrimony with Joseph G. Madison (Dec. 8, 1878-1910), when she was age 19, and he 22. Born in December 1878, Joseph was an immigrant from England, having come to the United States as an infant, and was the son of William and Mary Madison.
During their brief married lives together, the pair bore a family of three known sons, Alfred C. Madison, Leroy Madison and Charles William Madison.
When the federal census was taken in 1900, the newlyweds Edna and Joseph resided in Dunbar, Fayette County. He was employed there as a stable boss.
Triple tragedy rocked the family in the fall of 1902. Edna passed away on Oct. 21, 1902, at the age of 22, of causes that are not yet known, but may have been due to complications of childbirth.
Son Alfred then died just 22 days later, on November 12, 1902.
Their other son, Leroy, also died in 1902. The causes of both the boys' deaths also are unknown. They are buried together in the family plot at Hill Grove Cemetery in Connellsville, Fayette County, PA.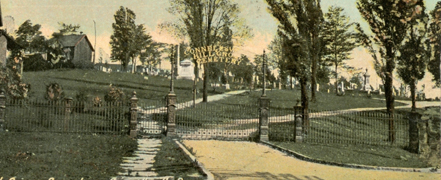 Connellsville's Hill Grove Cemetery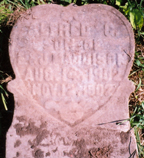 Baby Alfred's grave
When Alfred's red, heart-shaped grave marker photographed in July 2000, it had been uprooted, and was lying flat, face up.
After Edna's death, their son Charles was taken into the home of his grandparents in Wheeler, Fayette County.
Young Charles and his grandfather must have been close, and they later resided together in Buckhannon, WV, until the time of the elder man's death in 1938.
Joseph remained in Connellsville and made his home in the New Haven section. He made a living as a clerk for the Henry Rhodes merchant business.
When he was 25 years of age, on March 27, 1907, he wedded a second time to 19-year-old Letta Trump ( ? - ? ), daughter of John N. and Hattie Trump. Ellis B. Burgess presided over the nuptials, held in the Trump residence. On their marriage license, Joseph gave the date of his first wife's death as Oct. 26, 1903. In announcing the wedding, the Connellsville Daily Courier said that Letta was "a well known young lady of town."
Joseph and Letta established their home at 306 Hill Street. But their marriage was short-lived and limited only to a little more than three years.
In the autumn of 1910, Joseph was working as a teamster. At that time, and for the past three years, he had suffered from pulmonary tuberculosis. Death swept him away just three days before his 31st birthday on Dec. 5, 1910. Interment of the remains was in Hill Grove Cemetery.
Letta's fate after that is not yet known.
Charles and
grandfather Minerd
~ Son Charles William Madison ~
Son Charles William Madison (1901-1960) was born on Jan. 18, 1901 in Connellsville, Fayette County, PA. He was only a year of age when his mother died.
As a boy, he moved with his grandfather Charles A. Minerd to Buckhannon.
Then as an adult, he labored as a sign painter in Buckhannon. He did not marry.
Charles' address was 20½ North Kanawha Street.
Charles shared his Buckhannon residence with his beloved grandfather Minerd. The elder man passed away in their home in November 1938.
In June 1941, Charles is known to have traveled to Connellsville to attend the funeral of his aunt, Alice (Alderson) Minerd. The news was reported in the Connellsville Daily Courier.
Charles contracted an upper respiratory infection and then an acute heart attack at the tail-end of 1959. He was admitted to the Leonard Memorial Hospital in Buckhannon. He passed away therein at the age of 55 on Jan. 9, 1960. His uncle, Alfred Mason Minerd, was the informant for the West Virginia certificate of death.
Interment of the remains was in Heavner Cemetery in Buckhannon.
Copyright © 2001, 2009-2010, 2021 Mark A. Miner