Elizabeth (Minerd) Rosensteel
Zadowsky Wilson
(1867-1936)
Elizabeth (Minerd) Rosensteel Zadowsky Wilson was born on July 15, 1867 (or 1872) at Rogers Mills, Fayette County, PA, the daughter of Joel and Catherine (Seneff) Minerd. She was married at least three times.
Her first proven husband was James G. Rosensteel (1867-1940), son of Irwin Rosensteel of Westmoreland County, PA. They were wed in about 1899, when Lizzie and James were age 32. Whether they had any children is unknown, but needs to be confirmed.
They often returned to their mountain homeplace for visits. The April 21, 1899 issue of the Connellsville Courier reported that "James Rosensteel of Hogg's spent Sunday with his father in law, Joel Minerd."
Yet strong evidence suggests that the Rosensteels divorced on Nov. 4, 1899, after just a very short-lived marital union. James disclosed this date on his marriage license when he wed for a second time. As late as May 1904, the Courier noted that James was living in Mt. Pleasant, Westmoreland County, and that he had visited with Joel the past week. It's possible that he maintained a relationship with his in-laws despite the divorce.
Lizzie made a major move in the 1900s, leaving Western Pennsylvania and migrating to Colorado. Details are not yet known, but when her brother David died in December 1903, the Connellsville Courier obituary mentioned Lizzie by name and said she was "of Colorado." She may have relocated there to join her brother, John Wesley Minerd, who made his home in Denver.
By August 1913, Lizzie had married her second husband, Peter Zadowsky ( ? - ? ), according to a family history prepared that year. Nothing further is known about Zadowsky, but is being researched.
Lizzie later moved to Dayton, Montgomery County, OH, and married her third husband, Allen E. Wilson (1863- ? ). They resided at 132 Maryland Avenue in Dayton, where Allen was employed as an inspector on the city railway, and she was a housewife. The federal census of 1920 shows Allen and "Lizzy" making their home together with children (or step-children) Lydia Wilson (1896- ? ) and Florence Wilson (1905- ? ) and lodger Osborn Ross.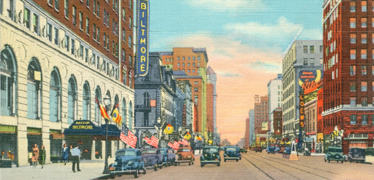 Main Street in Dayton, near the Biltmore Hotel, 1930s
In the middle of February 1936, Lizzie fractured her left femur, and her health declined significantly after that. She died at age 63, at St. Elizabeth Hospital in Dayton, on April 9, 1936. she was laid to rest in the Memorial Park Cemetery in Dayton. The informant on her death certificate was Corda Smith of 813 Vermont Avenue.
In the Bible of Lizzie 's brother, William Henry "Squire" Miner, are inscriptions stating that she died in 1943 at the age of 76. Why this record is different than the actual record is unknown.
~ Lizzie's Former Husband James Rosensteel ~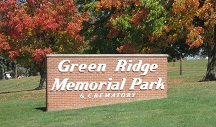 Site of James' interment
Lizzie's former husband James Rosensteel is believed to have resided for many years in Mt. Pleasant, Westmoreland County, and later in the Wheeler section of Connellsville area.
On May 31, 1900, at the age of 33, and just under seven months after his divorce, James married again, to 37-year-old widow Elizabeth (Sleasman) Miller (1863-1939). She was the daughter of James and Elizabeth (Coughenour) Sleasman.
She had three children to a previous marriage -- Mildred Miller, Arland G. Miller of Buffalo, NY and August Miller of Millville, NJ.
They resided in Dunbar, Fayette County. Elizabeth passed away at the age of 75, following surgery for a ruptured appendicitis, on April 19, 1939.
On Sept. 10, 1940, at age 72, James suffered a heart attack and "was found dead at his home ... by Mrs. Charles Cutter, a neighbor," reported the Daily Courier. "[His] death was unexpected as he had been in apparent good health and had been seen about his house earlier in the day." The obituary went on to say that he "had lived all his life in Westmoreland and Fayette Counties, the past 34 years residing at Wheeler. He had worked as a watchman for the Connellsville Silk Company for 20 years, retiring more than a year ago. He was a member of the Covenanter Church of Connellsville."
His obituary in the Courier said that surviving were "an only son, Elmer Rosensteel of East Pittsburgh, the two stepchildren: A.G. Miller of Buffalo, N.Y. and August Miller of Millville, N.J. He also leaves 12 grandchildren, including Gary Miller of Johnstown, who had made his home with his grandfather until two months ago when he secured employment in Johnstown." James was laid to rest in Green Ridge Memorial Park north of Connellsville.
James' son Elmer R. Rosensteel (1904- ? ) is shown on the 1930 federal census with his wife Helen (1906- ? ) and son Elmer. That year, they made their home on Arc Street in East Pittsburgh, where Elmer was a laborer in a steel works. In 1939, he resided at 501 Center Street in East Pittsburgh, and the following year at 24 Maple Avenue, also in East Pittsburgh.
Copyright © 2000, 2002, 2008-2010, 2014, 2020 Mark A. Miner