William Henry 'Squire' Miner
(1862-1953)


Henry and Sarah Jane Miner
William "Henry" Minerd, nicknamed "Squire," was born on July 15, 1862 at Rogers Mills, Fayette County, PA, the son of Joel and Catherine (Seneff) Minerd. He shortened the family name to "Miner" as an adult. His nickname of "'Squire" was in recognition of his many respected years of public service as a justice of the peace.
Henry married a cousin, Sarah Jane Basinger (1867-1939), the daughter of James and Phoebe (Seneff) Basinger.
The couple primarily resided near Mill Run, Fayette County and produced 13 children: Margaret Dull, Irene Welsh, Raymond Miner, Franklin Miner, Kathryn Burkholder, Harry Miner, Clyde Miner, William Miner, Wesley Miner, Edward Miner, Anna "Elizabeth" Miner, Lester Miner and Ralph Miner. Mrs. John Hiltabidel of Mill Run assisted as a midwife in at least one of the births.
Sadly, sons Harry and William, and daughter Anna Elizabeth, died in infancy. Smms Elizabeth died at the age of seven months, 25 days on April 30, 1907, with no physician in attendance. All of the babies are buried in unmarked graves at the Indian Creek Baptist Church Cemetery in Mill Run.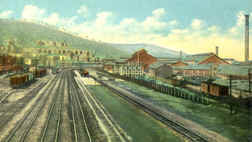 Wilmerding, PA
In the early 1890s, Henry found employment in Wilmerding, Allegheny County, PA. During that time, he lived away from home. It's not known where exactly he worked, though the Westinghouse Electric Company had a major Air Brake Works operation in Wilmerding. The air brake manufacturing plant and adjacent Pennsylvania Railroad lines are seen here in a rare old postcard of the era.
Then, in 1896, Henry returned home for good when he bought Harrison Whipkey's farm near Mill Run.
Henry was a farmer until retirement, and a member of the Mill Run Grange. The Connellsville Daily Courier said he:
...was justice of the peace in Springfield township for 42 years. He was a member of the Mill Run E.U.B. Church and was superintendent of the Sunday school. [He] was awarded a bronze medal by the Pennsylvania Sunday School Association for a half century of activity at the Mill Run church.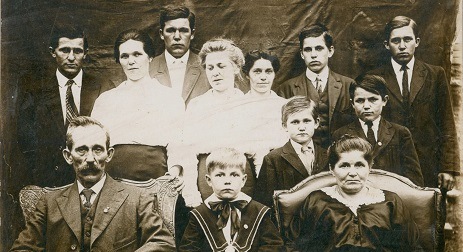 Back, L-R: Raymond, Irene, Frank, Kathryn, Maggie, Lester, Wesley, Ed and Clyde. Front: Squire, Ralph, Sarah Jane.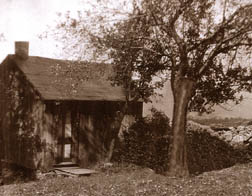 Henry's justice of the peace office
While born under the name "Minerd," he used the shorter "Miner" as an adult, according to a 1992 booklet, Miner Family: Descendents of William Henry Minerd & Sarah Jane Basinger. The spelling change occurred because:
... when his notary stamp was made at Uniontown, the "d" was left off the end of the name by mistake. From then on he signed his name "Miner" as do all his descendants.
In February 1904, Henry and fellow members of the Mill Run Grange No. 1109 held their annual oyster supper at the home of Mr. and Mrs. John Schobert of Stewarton. The Daily Courier reported that guests "partook of an elegantly prepared supper of oysters and other delicacies of the season... the evening was spent in social conversation and flinch."
In about 1914, Henry's left hand was mangled in a threshing accident, after his sleeve was caught in the machinery. Most of the hand was amputated. Shortly afterward, he and Sara Jane and their 10 children posed for a portrait photograph. In the image, Henry hides the stump behind his knee, and his sunken eyes and cheeks attest to the pain he had suffered.
Henry lived for nearly 40 more years after his injury. In public, he wore a sock-like cover over the stump of his hand, or allowed the sleeve of his jacket to obscure the fact.
As justice of the peace, Henry served as a type of local magistrate, hearing complaints regarding misdemeanors, moving vehicle violations and minor criminal infractions. He maintained a written record of each case in a ledger, writing out the names of the plaintiff and defendant and writing the nature of the alleged offenses in clear, plain English. Henry worked from home, but to keep his business affairs separate from the residence, he maintained a small office a short distance away, where he could conduct meetings in privacy.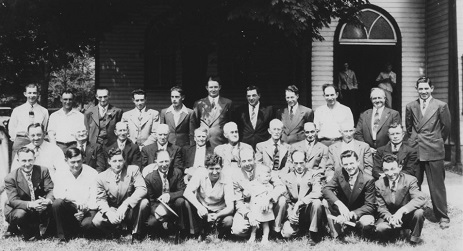 Henry (middle row, 4th from right) with fellow members of the Mill Run Evangelical United Brethren Church, probably the men's Sunday School class.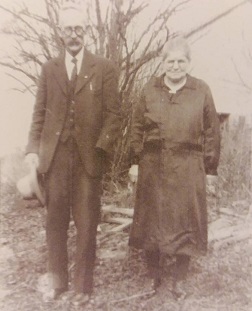 Henry and Sarah Jane
Sadly, during a lingering illness which must have been painful and incurable, Sarah underwent a self-imposed starvation and succumbed at the age of 71 on Sept. 27, 1939. Following funeral services held in the family church, officiated by Rev. Arthur Ritchey, her remains were placed into eternal rest in the Normalville Cemetery. In an obituary, the Connellsville Daily Courier noted that she was "one of the best known residents of the Mill Run vicinity where she had spent all of her life" and noted that there were 44 surviving grandchildren and nine great-grandchildren.
Henry survived her by 14 years, and toward the end was burdened with heart and kidney failure as well as senility. He died at the age of 90 on March 3, 1953. An obituary in the Daily Courier reported that his survivors included 53 grandchildren and 63 great-grandchildren. A prayer service and funeral were held in the home of his married daughter Maggie Dull in Mill Run, followed by rites in the family church, led by Rev. Robert Blank.
The day after his passing, cousin and neighbor Albert 'Ward' Minerd wrote in his diary: "Daniel Burkholder came in this evening to ask if [I] would be a pallbearer for Henry Miner." Two days later, on March 6, Ward wrote: "Squire W. Henry Miner buried this afternoon. [I] was pallbearer."
Henry and Sarah are buried together at the Normalville Cemetery. He is mentioned in the 1970 book, A History of Mill Run, published by the History Committee of the Socialite Club.
As of February 1992, a history of their family was published by granddaughters Donna Miner and Denise (Kessler) Miner of Mill Run, entitled Miner Family: Descendents of William Henry Minerd & Sarah Jane Basinger, In that encyclopedic work, more than 700 descendants and spouses had been identifed.
This branch of our family has had a more than six-decade working relationship with Fallingwater, known widely as the "most famous modern house in America." Fallingwater is the masterpiece that architect Frank Lloyd Wright designed over a waterfall in Mill Run in the mid-1930s for the family of Pittsburgh department store owner Edgar J. Kaufmann Sr. Our family's role with Fallingwater has ranged from construction, conservation and preservation to interpretation, and is the theme of the 2004 national family reunion.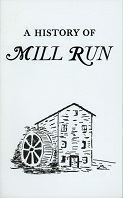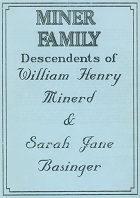 Books naming the family, published in 1981 (left) and 1992
Copyright © 2000, 2003-2004, 2016-2017, 2019-2020 Mark A. Miner