Emma (Minerd) Green
(1882-1927)
Emma (Minerd) Green was born on June 17, 1882 at Lemont Furnace near Uniontown, Fayette County, PA, the eldest of 15 children of James Calvin and Suvina (Yauger) Minerd Sr.
In the family, it's been said that Emma's father never accepted her as a daughter, and that she was raised by a family friend.
Emma married Joseph Green (1877- ? ),a native of East Liverpool, Ohio whose parents were born in Scotland. The marriage took place in about 1900, when Emma was age 18 and Joseph 23.
The Greens had a large family of 10 children -- Clarence Green, Joseph Green, Clyde Green, Elizabeth "Lizzie" Barr, Anna Morris, Dorothy Laria, Viola May Harrison, Harold Green, John Green and James Calvin Green.
When the federal census was taken in 1910, the family lived in Perry Township, Fayette County. By 1920, the Greens had moved to a new home in Rostraver Township, Westmoreland County. Joseph's occupation during those years was as a miner in a coal mine, with sons Clarence (fireman with a steam shovel) and Joseph (coal mine laborer) also working circa 1920.
The Greens later resided in the town of Floreffe, Allegheny County, PA along the Monongahela River near Belle Vernon and Monessen. Circa 1927, their home was along the Belle Vernon-Webster road.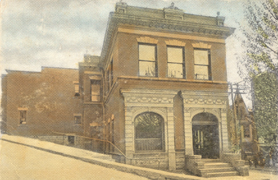 A local Belle Vernon landmark, the First National Bank, showing how steep the hillside was even in the business district of town.
Tragically, while pregnant again at age 44 in January 1927, and working at a cookstove, Emma's dress accidentally caught on fire. She was severely burned, and was confined to bed. During her recovery, she came down with a serious case of influenza, and died on Jan. 22, 1927 at Belle Vernon, at the age of 45. Following a funeral held at the Union Church at Pricedale, she was laid to rest in the Belle Vernon Cemetery.
Widowed with 10 children, Joseph kept his family together as best he could. The 1930 census shows him living Rostraver Township, with daughters Emma and Dorothy, and sons John and James, still in the household. Joseph had abandoned the coal mining work for a job as a highway laborer. Son Clarence was living next door, with his wife and young daughter, and working as a truck driver for a gas well company.
Joseph's fate after that is unknown.
In August 1965, Emma and Joseph's children held a reunion at the Monessen Sportsman's Club, drawing 19 family groups. The Monessen Daily Independent reported the identities of the group as follows:
Attending from North Charleroi were Mr. and Mrs. James C. Green and daughter Bernadette; Belle Vernon area, Mr. and Mrs. Tom Benicky and son Mark, Mr. and Mrs. Clyde Green, Mrs. Joseph Green, Mr. and Mrs. Marrien Barr, Mr. and Mrs. Howard Harrison Sr., Mr. and Mrs. William Huweart and son Kevin, Mr. and Mrs. William Sickles and children Lane and Lana, Mr. and Mrs. William Krivyanik, Mr. and Mrs. William Green and children Bruce and Donna, Mr. and Mrs. James Strenner and children Jay, Jody, Joni, James, Jerry and Judy; and from Lynnwood, Mr. and Mrs. Frank Farquher and daughters Susan and Claudia. From Monongahela were Mr. and Mrs. Lawrence Morris and children Donna, Judy and Jack; Buddy Henson; West Newton - Mrs. Margaret Sikosky; Donora, Mrs. Ann Greene, Mr. and Mrs. John Haluskha Jr. and daughter Nancy Ann, and Mr. and Mrs. John Hasch Jr. and daughter Susan Marie. Mr. and Mrs. Samuel Laria and daughter Joyce of Clarksburg, W.Va.; and Mr. and Mrs. Howard Harrison Jr. and sons Mark and Paul of Syracuse, N.Y., also attended.
~ Son Clarence Green ~
Son Clarence Green (1901- ? ) was born on March 31, 1901 in Wick Haven, near Uniontown, Fayette County.
He married Sadie E Castle (1905- ? ) in 1924. They had at least five children -- Betty I. Huweart, Dorothy Green, Emma Green, Clara Kusmirak and Clarence A. "Moe" Green.
In 1930, Clarence worked as a truck driver for a gas well company. By 1941, he was employed as a laborer with Pittsburgh Steel Company at its plant in Monessen, Westmoreland County.
When the census was taken in 1930, they lived on Webster Road, next door to Clarence's widowed father and younger siblings. When his grandparents hosted a family reunion in Bowood, Fayette County in 1928, Clarence and Sadie attended, along with daughters Betty, Dorothy and Emma, and were mentioned in a related article in the Uniontown Morning Herald.
Tragedy struck while Clarence, age 40, was at work on July 28, 1941. While laboring on electrical wires connected to a boiler at the Pittsburgh Steel plant, he received a heavy shock, and died of electrocution. His remains were placed at rest in Belle Vernon.
~ Son Clarence A. Green ~
Son Clarence A. Green (1934-1993) was born in 1934 in Belle Vernon.
He married Mary Lettie (?) and had seven children -- Barry R. Green, Brian W. Green, Sean A. Green, Edwin R. Green, Diane McBeth and Roxanne Cooper.
Clarence "was retired from the Wheeling Pittsburgh Steel Company, where he had worked in the coke works," reported the Valley Independent of Monessen. "He was a veteran of the U.S. Marine Corps,... a member of the Webster United Presbyterian Church, Webster Boat Club, Belle Vernon Moose, Donora American Legion, Fireman's Club of Monessen, Russian Club of Donora and a former member of the Rostraver Fire Company number one in Webster."
Clarence died at home at the age of 59 on Sept. 27, 1993.
~ Son Clyde Green ~
Son Clyde Green (1902- ? ) was born in 1902.
He may have been a coal handling crew leader for 24 years for a coke plant in Belle Vernon.
~ Son Joseph F. Green ~

Joseph F. Green's workplace -- American Steel and Wire in Donora
Son Joseph F. Greene (1903-1964) was born in 1903 in Wick Haven, Fayette County.
He married Gladys Harrison ( ? - ? ) and they made their home in Belle Vernon. they had two children -- David H. Greene and Joanna Strennen.
The 1930 census shows the Greens living in Rostraver, Westmoreland County, near Joseph's father, and with Joseph working as an electrician in a steel plant, likely American Steel and Wire. Said the Connellsville Courier, Joseph "retired in 1961 from employment by the American Steel and Wire Division Donora plant, in its tractor shop. He was a member of Pilgrim Holiness Church of Donora."
Joseph passed away at the age of 60, in Monongahela Memorial Hospital, on March 18, 1964.
~ Daughter Lizzie (Green) Barr ~
Daughter Elizabeth "Lizzie" Green (1906-1968) was born in 1906.
She married Marvin F. Barr. They made their home in 1964 in Belle Vernon. They had three daughters -- Bonnie Lavonne Farquhar, Agnes Krivyanik and Kathryn Sickles.
Elizabeth passed away at the age of 62 on Oct. 25, 1968. Following a funeral held at the First Baptist Church, burial was held in Belle Vernon Cemetery.
~ Daughter Viola May (Green) Harrison ~
Daughter Viola May Green (1908-1983) was born on July 31, 1908. in Wickhaven, Fayette County. Dr. J.F. Mohan of Whitsett, Fayette County assisted in the birth.
She wed Howard Harrison (1909- ? ).
The Greens and Harrisons were next door neighbors circa 1930, so it's natural that she and he were friends and later married. They lived in Sweeney Plan, Belle Vernon. Howard's work circa 1930 was as an ice puller in an ice house.
They had one son, Howard G. Harrison.
The family were members of the Nazarene Church of Belle Vernon.
Viola passed away in Pittsburgh's Mercy Hospital at the age of 75 on Nov. 11, 1983. Burial was in Monongahela Cemetery.
~ Son Harold Green ~
Son Harold Green (1912- ? ) was born in 1912. His story is not known.
~ Son John D. Green ~
Son John Green (1913-1953) was born on Sept. 3, 1913 at Wick Haven, Fayette County.
He is not known to have married. Circa 1953, he resided at 270 South McKean Avenue in Donora, Washington County, PA, and was employed as a second helper in a steel works. That year, in April, he received three degree burns when a steel ladle exploded in the mill. He was rushed to Charleroi-Monessen Hospital, where he lingered for two weeks. At the age of 39, on May 1, 1953, he suffered a heart attack and died while in the hospital, having not recovered from the shock of his injuries. Burial was in St. Dominic Cemetery in Donora.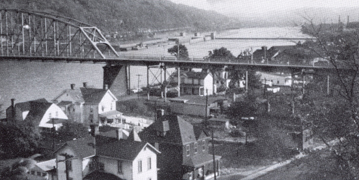 View of the Monongahela River, toward Lock #5, Charleroi
~ Daughter Emma (Green) Henson Morris ~
Daughter Emma Green (1915-1994) was twice married.
Her first husband was George Henson ( ? - ? ). They had four children -- Harold Henson, Jack Henson, Donna Jones and Judy Revetta.
Later, she wed her second spouse, Lawrence M. Morris (1929-1984) and resided in Monongahela, Washington County, PA in 1964.
Emma "was the former owner and manager of Henson's Cleaning Service of Monongahela," reported the Valley Independent of Monessen. "She was a member of First church of the Nazarene, Monongahela, and its Reaper's Sunday School class and Missionary Society."
Lawrence was an employee of the Charleroi Plant of Corning Glass Works and a veteran of the Korean War. He died at the age of 55 on Nov. 22, 1984, in United Hospital Center in Clarksburg, Harrison County, WV.
After the death of Lawrence, Emma continued to make her home on Reservoir Avenue in Chaleroi. She passed away in Mon Valley Hospital on July 25, 1994, at the age of 78. At the time of her passing, she was survived by 12 grandchildren and nine great-grandchildren. Burial was in Mon Valley Memorial Park.
~ Daughter Dorothy (Green) Laria ~
Daughter Dorothy Green (1919- ? ) was born in 1919.
She married Samuel Laria ( ? - ? ).
In 1964, they made their home in Clarksburg, Harrison County, WV.

James C. Green
~ Son James Calvin Green ~
Son James Calvin Green (1924-2005) was born on Feb. 1, 1924 in Belle Vernon. He was only three years old when his mother tragically died and never knew much about her. In fact, when he was to be married, he wrote on the marriage license application that her birthplace was in England and spelled her maiden name "Minor."
When he was 22 years of age, on Nov. 23, 1946, James was united in holy wedlock with 24-year-old Grace Sanfilippo (Aug. 5, 1922-2012), daughter of Italian immigrants Fortunato and Josephine Angelina (Oderi) Sanfilippo of Donora. The nuptials were held at the St. Phillip Neri Roman Catholic Church in Donora, with Rev. Nicholas A. Biondi officiating. At the time, James was employed as a mill worker living in Donora.
They produced one daughter, Bernadette Crosby.
Over the years, the Greens resided in North Charleroi, Washington County.
Said the Valley Independent, he "was a veteran of the U.S. Army, [and] retired after 28 years of employment at Wheeling-Pittsburgh Steel, Monessen Plant, where he worked in the blast furnace department and as a trussell operator." He also drove a truck for a decade for Cuddy Packing Company, was employed by Weiss Packing Company and served as a custodian at several Donora-area schools.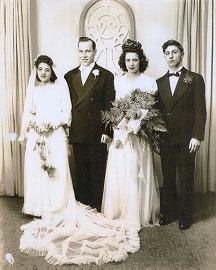 The Greens' wedding day, 1946 and 50th anniversary, 1996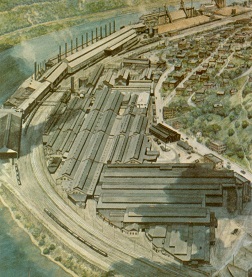 Pittsburgh Steel plant in Monessen
Of Grace, a newspaper once noted that she was "a devoted catholic who always said to 'trust God', and she never quit praying. When her husband was working, she would battle the elements and walk to church. She was a kind hearted woman who would give food to her neighbors and give a cold drink to the mailman on a hot day. She was a very independent minded and self sufficient woman. She had her mind and her spunk right until the end. She was an avid reader and loved animals. Grace considered her most important job to be a homemaker, as she loved her husband and daughter to death."
James and Grace were members of Mary, Mother of the Church Parish, and she participated in Christian Mothers. He belonged to the American Legion Post 22 of Charleroi. They enjoyed vacations at Lake Erie.
On Nov. 23, 1996, the Greens celebrated their golden wedding anniversary with a mass at their church in Charleroi. The Greensburg Tribune-Review published an article and photograph about the happy event.
The last surviving of the nine siblings, James passed away in Mon Valley Hospital on Oct. 24, 2005. He was laid to rest in Sacred Heart Cemetery in Monongahela.
Grace survived her husband by five years. She passed away at the age of 89 on May 28, 2012. Interment was next to James in Sacred Heart Cemetery.
Daughter Bernadette Green was wedded to Dayne Crosby but divorced in the 1980s. Her home in 1996 was in North Charleroi. She graciously came to our 2017 national Minerd-Minard-Miner-Minor Reunion, and we are grateful for the images of her parents which she has shared.
Copyright © 2001, 2005, 2008-2010, 2017 Mark A. Miner