James Calvin Minerd Sr.
(1862-1932)

Suvina Minerd
James Calvin Minerd Sr. was born on the Fourth of July, 1862 in Wharton Township, Fayette County, PA, the son of James and Candace (Rush) Minerd Jr. Other sources give his birthdate as July 6, 1862.
On his mother's side, he was a first cousin of Charles Harold Williams (1888-1947), who in turn was the grandfather of famed actress and singer Shirley Jones.
James was a longtime coal and coke laborer, and he and his wife, seen here, produced 15 children, one of the largest such clusters in our family. Despite his long life, no good quality photographs of James are known to exist.
James was born while his father was away serving in the Civil War. In fact, father and son may not have spent any significant time together until the soldier's discharge in 1864, when the boy was age 2.
Heartache rocked the family when James was 10 years old. His mother died of tuberculosis in March 1872. James later wrote, "I was at the burial ... and saw her in the coffin and went to the semerty and saw her buried." Motherless, he was sent to live with his maternal uncle and aunt, Marcellus and Mary F. (Rush) Brougher, while his younger sister Virginia "Jennie" Minerd went to Dunbar, Fayette County, into the home of a paternal uncle and aunt, Isaac F. and Frances Caroline (Jordan) Minerd.
On April 8, 1882, at the age of 20, James married 17-year-old Suvina Yauger (1865-1933), the daughter of Uriah and Amelia (Chew) Yauger of Brownsville, Fayette County, PA.
The Minerds had 15 children, all who were born over a span of a quarter-century, between 1882 and 1907 -- Emma Green, Jennie Marie Darby, Frank J. Minerd, Etta McDowell, Mary Ellen Rodeheaver, Blanche McCabe, James Calvin Minerd Jr., William Minerd, Caroline Lambert, Catherine Zinn, Stella Hager, Henry Daniel Minerd, Harriet Dettling, Evelyn A. Walters and Harry Calvin Minerd.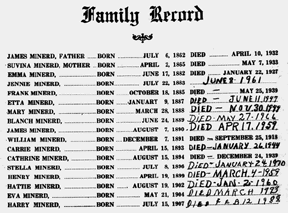 James and Suvina's offspring in a "Family Record"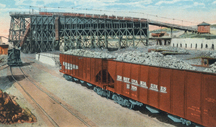 Lemont No. 1 mine and coke works
James was coal mine laborer for the H.C. Frick Coke Co., working at the company's facilities at Lemont Furnace and Broadford.
Seen here is a rare old postcard image of the Lemont No. 1 mine and coke works, as well as the "Pennsylvania Lines" railroad cars.
James later was a stable boss at the Searights Mine, taking care of the horses used underground to haul coal in and out of the mines. Suvina was a member of the Percy Methodist Protestant Church near Uniontown, Fayette County. While at Searights, the Minerds resided in a log cabin.
In 1919, James received the shocking news that the uncle who had raised him, Marcellus Brougher, had been assaulted while at work as a night watchman at the Carroll lumber yard in Uniontown. The uncle was struck over the forehead and his skull was fractured at the base of the brain, reported the Uniontown Daily News Standard. He lingered in the Uniontown Hospital for two weeks but died as a result of his injuries.
In 1923, Suvina was given a surprise birthday party at her home in Searights. Said the Uniontown Morning Herald, "The impromptu hostess was the recipient of many gifts. The evening was spent in playing games and music after which a delightful luncheon was served."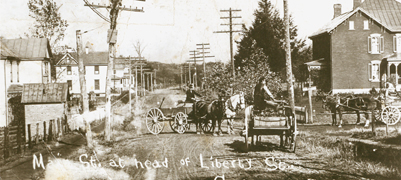 Early view of Main Street, north end of Liberty Street in Smithfield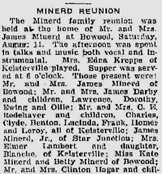 Uniontown Morning Herald
After retirement, James and Suvina moved to a farmhouse at Bowood in Nicholson Township near Smithfield, Fayette County. They had an orchard, cornfield, strawberry patch, horses, cows and pigs. A granddaughter recalled that the Minerds never celebrated Thanksgiving because it was threshing time and they were too busy. James often was absent from the family, and spent his final years in bed, away from the grandchildren. One granddaughter remembered that he was "never around," and that she only met him once, when she was age 17. Otherwise, she said, he stayed in bed, and had his meals brought to him.
The family endured further tragedy over the years at the deaths of their adult children -- son William, 27, died of typhoid fever in 1918, and daughter Emma, 45, suffered fatal burns during a kitchen fire in 1927. They also endured great anxiety when son James served with the US Army in France during World War I.
In mid-August 1928, the Minerds hosted a family reunion at their home in Bowood, generating a detailed newspaper account in the Uniontown Morning Herald. "The afternoon was spent in talks and music both vocal and instrumental," said the Herald. "Mrs. Edna Krepps of Keisterville played. Supper was served at 6 o'clock." Among those present were:
Mr. and Mrs. James Darby and children Lawrence, Dorothy, Ewing and Ollie; Mr. and Mrs. C.E. Rodeheaver and children Charles, Clyde, Benton, Lucinda, Frank, Homer and Leroy, all of Keisterville; James Minerd, Jr., of Star Junction; Mrs. Elmer Lambert and daughter Blanche of Keisterville; Miss Kate Minerd and Betty Minerd of Bowood; Mr. and Mrs. Clinton Hagar and children, Evelyn and Bobby of Keisterville; Mr. and Mrs. Henry Minerd and children, Harold and Thelma Jean of Somerfield; Mrs. Harry Dettling of Connellsville; Mrs. Cleveland Walters and children James and Betty; Harry Minerd of Bowood; Mr. and Mrs. Clarence Green and daughters, Betty, Dorothy and Emma Green of Monessen; Mr. and Mrs. James Rodehaver and daughter, Marie, of Bittner; Mrs. John Conn and Mr. and Mrs. E. Hix and son of Fairchance; the Rev. Mr. and Mrs. D.E. Minerd of Connellsville; Mrs. Anna Montgomery, Charles Davis and son, Floreffe; Mrs. John Hagar, Mr. and Mrs. Edgar Krepps and children, Edgar and Claire of Keisterville.

James' obituary, 1932
James keeled over dead at home on the evening of April 10, 1932, at the age of 69. A physician who had treated him since January 1928 noted that the cause was "probably acute cardiac dilatation" -- illness of the heart's pumping ability. A contributing cause was "aortic stenosis," otherwise known as a narrowing of the heart valve. His death was reported in an obituary in the local Uniontown newspapers.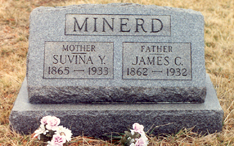 Pleasant View Cemetery, Smock
Suvina survived by a little more than one year. She suffered from "dropsy," swelling due to buildup of fluids. Doctors cut her legs, without anesthetic, to drain the matter. She passed away on May 7, 1933, at the age of 68.
They are buried together at the Pleasant View Cemetery at Smock, PA. At the time they died, James and Suvina had 45 grandchildren and 17 great-grandchildren. Today their number of descendants has grown exponentially and is enormous.
A photo of their son Frank appeared on the cover of Coal, Coke & Steel, the 1999 Minerd-Miner-Minor Reunion booklet, and in an accompanying guest column in the Pittsburgh Post-Gazette.
Great-granddaughter Aimee McCabe-Walker has many photos of this branch on her website, and graciously hosted our 1998 and 1999 reunion webpages. Aimee also provided valuable advice in the development of the Minerd.com website.
Copyright © 2000-2001, 2009-2011, 2014 Mark A. Miner
Minerd Reunion clip courtesy of Ancestry.com