Gertrude (Minerd) Thomas
(1882-1970)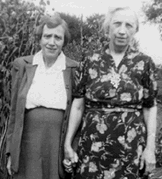 Gertrude and daughter Dorothy

Gertrude A. (Minerd) Thomas was born in 1882 in Fayette County, PA, the daughter of Charles B. and Ada (Tressler) Minerd.
Gertrude married Harry J. Thomas (Oct. 1, 1873-1949), son of Jacob Thomas of Markleysburg, PA.
They had eight known children -- Mary Elizabeth Lewis, Dorothy Mae Wilson, Harry Thomas, Ira Thomas, Thurman H. Thomas, Maud Thomas, Clarence Thomas, Ray Thomas and Ephraim F. Thomas.
The Thomases lived in the Fayette County area, where Harry earned a living for years as a coal miner. They resided in Hopwood, near Uniontown, and later moved to Masontown.
The Grim Reaper visited the young family thrice during the decade of the 1910s. On Nov. 10, 1910, four-month-old daughter Maud died of exhaustion caused by lack of nutrition. Then, on April 16, 1917 son Ray, age 15 days, died instantly of heart failure. On July 5, 1918, one-month-old son Ephraim passed away following a case of croup and pneumonia. Burial for all three was in Hopwood.
Circa 1930, Gertrude worked as a dishwasher in a Uniontown-area hotel. They dwelled at the Provance Works near Masontown in the late 1940s.
During Harry's last years, he endured heart disease and brain seizures which a physician labeled as "idiopathic epilepsy.
At the age of 76, contracted heart failure and was admitted to Uniontown Hospital. He passed three days later on Dec. 7, 1949.
Gertrude outlived him by 21 years and appears to have moved into the city of Uniontown. She passed away on July 31, 1970. Her funeral arrangements were handled by the Edward E. Minerd Funeral Home of Uniontown, PA. At the time of her death, she had 16 grandchildren and 23 great grandchildren. She and Harry are buried in the Greendale Cemetery, Masontown.


~ Daughter Mary Elizabeth (Thomas) Lewis ~
Daughter Mary Elizabeth Thomas (1904- ? ) was born in about 1904.
She married (?) Lewis.
Mary made her home in Uniontown in the 1970s.
~ Daughter Dorothy Mae (Thomas) Wilson ~
Daughter Dorothy Mae Thomas (1906-1974) was born on May 18, 1906 in Uniontown.
She entered into marriage with Lindsay Wilson Sr. ( ? 1972 ), a laborer in a coal and coke yard circa 1930.
Eight children were born to this couple -- Thelma Shipley, Lindsay Wilson Jr., Mary Ritenour, Mildred Schroyer, Hugh Wilson, Phyllis Crise, Norman Wilson and John Wilson.
Sadness blanketed the family when Lindsay died in 1972.
Dorothy survived her spouse by two years, remaining in Masontown.
She was gathered away by the angels at the age of 68 on Nov. 21, 1974. An obituary was published in the Uniontown Evening Standard. She was survived by 21 grandchildren and one great-grandchild.
Daughter Thelma Wilson married Wayne Shipley. The couple made their home in 1974 in Mount Sterling, PA.
Son Lindsay Wilson Jr. relocated to Wisconsin and settled in Racine.
Daughter Mary Wilson wed Robert Ritenour. Circa 1974, they dwelled in Masontown.
Daughter Mildred Wilson was joined in wedlock with Jack Schroyer. They lived in Masontown in the mid-1970s.
Son Hugh Wilson migrated to Racine, WI.
Daughter Phyllis Wilson was united in matrimony with Ray Crise. The couple moved to Aliquippa, PA.
Son Norman Wilson made the move to Racine, WI, following his elder brothers Lindsay and Hugh.
Son John Wilson resided in South Carolina in 1974.

His home circa 1977 was in Uniontown.
~ Son Harry R. Thomas ~
Son Harry R. Thomas (1908-1977) was born on April 6, 1908 in Hopwood near Uniontown.
Harry was the fatheer of Ray Thomas.
He made a residence in Uniontown.
Sadly,, at the age of 69, Harry surrendered to the spirit of death in Uniontown Hospital on July 28, 1977. Funeral services were conducted by the hand of Major Burton Johnson, with burial in Greendale Cemetery. An obituary appeared in the Uniontown Evening Standard.
~ Son Ira Thomas ~
Son Ira Thomas (1910- ? ) was born in about 1910.
He put down roots in Uniontown.
~ Son Thurman H. Thomas ~
Son Thurman H. Thomas (1912-1970) was born on Sept. 21, 1912.
Thurman entered into marriage with Betty Hixon ( ? - ? ).
They resided in Uniontown and had five children -- Ray Franklin Thomas, Thurman "Skip" Thomas, William Thomas, Sharon Henegar and Ann Forsythe.
Thurman was a World War II veteran. He later worked for many years for U.S. Powder Company, from which he retired.
He was a member of the Salvation Army.
Thurman died on Feb. 10, 1970. Funeral services were held in the Edward E. Minerd Funeral Home of Uniontown, led by Salvation Army Brig. Myrtle A. Reynolds. The remains were laid to eternal rest in Sylvan Heights Cemetery. The Uniontown Evening Standard published an obituary.
Son Ray Franklin Thomas (1947-2010) was born in 1947. He married Catherine Bellish ( ? - ? ). The pair became the parents of two children. A computer programmer by training, he was the owner/operator of Laurel Computer on Fayette Street in Uniontown. He was a veteran of the Vietnam War and a member of Veterans of Foreign Wars Post 47 and American Legion Post 51. He died at the age of 62, in Pittsburgh's Allegheny General Hospital, on April 13, 2010.
Son Thurman "Skip" Thomas Jr. dwelled in San Diego in 1970.
Son William Thomas
Daughter Sharon Thomas entered into marriage with Carl Henegar. In 1970, they were in Knoxville, TN.
Daughter Ann Thomas wed (?) Forsythe
Son Ray Thomas dwelled in Masontown in 1977.
~ Son Clarence Thomas ~
Son Clarence Thomas (1915- ? ) was born in about 1915.


Copyright © 2000, 2002, 2010, 2014, 2022 Mark A. Miner