Home

Charles B. Minerd
(1861-1952)


Charles B. Minerd was born on Sept. 3, 1861 in Lawrence County, OH, the son of John V.S. and Elizabeth (Livingston) Minerd. He and his wife lived a long life of heartache.
Charles was born in or around Ironton, Lawrence County, where his father worked in the mines. This place was just across the Ohio River from Kentucky, where Charles later claimed to have been born. After his father's return from the Civil War, the family moved back to Dunbar, Fayette County, PA, when Charles was about five or six years of age.
In 1881, Charles married Ada Althea Tressler (1862-1951), a native of Milford Twp., Somerset County, PA. He was age 20, and she 19, at the time of their marriage
The Minerds went on to have 10 children -- Gertrude Thomas, Bertha May Pringle, Frank Minerd, Daisy Hiles Predilla, George Minerd, Grant Minerd, Arthur Ralph "Buck" Minerd, Elizabeth "Lizzie" Rankin Rice, Ross Minerd and Harry Russell Minerd.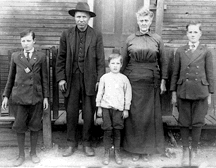 In the photo seen at left, Charles and Ada pose with their youngest sons Ross (left) and Harry (center) and grandson Homer Pringle (right).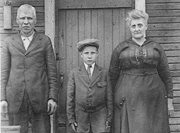 At right, the Minerds are shown standing on a house porch with their youngest son Harry.
As with many of his siblings, nephews and cousins, Charles worked as a coal mine laborer for decades -- from the 1870s to the 1900s, including in Fairchance, Fayette County; Hawkeye, Westmoreland County (1887); Atlas Coke Works and Searights (1912). Daughter Bertha is known to have been born in Fairchance in 1884.
In an August 1912 letter by daughter Bertha Pringle, she wrote that "Papa and Arthur is a still a diggin coal."
The Minerds eventually settled at Masontown, Fayette County, where they spent the remaining years of their lives.
Fairchance's unpaved Church Street, looking west from Main Street, from an old postcard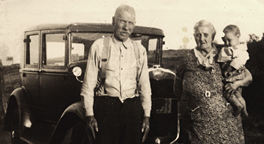 Seen here, Charles and Ada are seen with grandson John Hiles, and with a shiny automobile.
During their lifetimes, the Minerds endured more than their share of tragedy and heartache, losing at least nine children or grandchildren of unusual, often violent deaths.
These included:
1895 - Sons George (age 3) and Grant (age 1) died of whooping cough within a week of each other.

1912 - Daughter Bertha died of heart and kidney disease after divorcing her husband, following years of suffering violent domestic abuse.

1917 - Son in law Josiah Hiles Sr. was killed when he broke his neck at the Plumer Coke Works near McClellandtown.

1917 - Grandson Homer Pringle drowned in an unidentified location in Fayette County.

1919 - Charles' brother Andrew was crushed to death in the Allison Mine near Brownsville.

1928 - Grandson Harry Rebock Hiles drowned at Hope Works, near Masontown.

1930 - Grandson Josiah Hiles Jr. was crushed to death in the Provance Mine near Masontown.

1946 - Grandson in law Robert Nugent was killed in a fall of slate at the Robena Mine in Greene County, PA.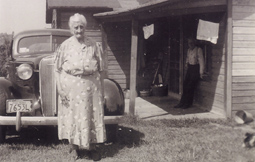 Ada at home near Masontown, circa 1942. Note Charles in the shadows on the porch.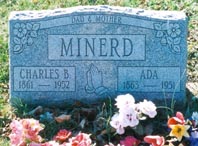 Ada passed away at age 89 on Jan. 20, 1951 at their home at Rocks Works near Masontown. Her pallbearers were James Predilla, Robert Shipley, Barney Shields, William Rhodes, Carlus Satini and Thomas Ralston.
Charles outlived Ada by only about a year. On Jan. 10, 1952, he died at Rocks Works at age 90. He was survived by seven children, 41 grandchildren, 48 great-grandchildren and three great-great grandchildren.
They are buried together at the Masontown Cemetery. Their grave marker, decorated with flowers when photographed here in 1994, is inscribed "Dad & Mother" at the top.
Copyright © 2000, 2002-2005, 2008, 2010 Mark A. Miner