Home

Jacob Minerd, Sr.
(1814- ? )
Of the Chestnut Ridge Community of Grafton and Philippi, West Virginia and Athens and Washington Counties, Ohio
Jacob Minerd, Sr. was born in 1814, presumably in Fayette County, PA, and was Pennsylvania-German. The names of his parents are not known to us, but he most certainly was a grandson of pioneers Jacob and Maria (Nein) Minerd Sr. (also of Pennsylvania-German ancestry). It is presumed that Jacob's father or mother was a Minerd, one of five of their dozen children whose fates are not known to us and thus apparently lost.
In 1933, a grandson stated Jacob's birthplace as "Dunbar, PA" -- an industrial region consisting of South Connellsville, Dunbar Borough and East Liberty, Fayette County. A great number of branches of the Minerd-Minard-Miner-Minor family have lived in the Dunbar region since the 19th century through today.
Jacob's birthdate of 1814 is the earliest known connection of our family in Dunbar. While tax lists show no Minerds on the Dunbar assessments for 1814 and the few years immediately before and after, his presumed uncle Henry Minerd was taxed there in 1819. This will be researched more fully.
As a young adult, Jacob purchased a farm on the Fayette/Somerset County border in Pennsylvania, just two miles from the home of his grandparents. This is very strong evidence of a connection, because this region was quite remote and mountainous, and where few families made their homes. We also know that Jacob and his sons spelled the family name "Minerd" as ours' have done, and that their descendants' names also had spelling variations of Minard, Miner and Minor, as seen in some of our branches.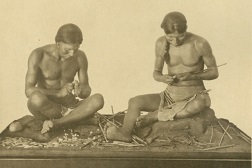 Native American arrow-making exhibit,
Carnegie Museum of Pittsburgh in Ruth
Ann's home region, early 1900s
Jacob married Ruth Ann Adams (1818-1895), who was of Pennsylvania birth, and the daughter of John O. Adams. Ruth was a Native American and was considered mulatto. The mother's name is not known.
The identity of Ruth Ann's tribe is not known, although the Six Nations of New York were "the recognized owners of this region of country" circa 1767, just a few decades before Jacob and Ruth were born. When the comprehensive, 840-page History of Fayette County was published in 1882, author Franklin Ellis wrote the following:
There is nothing found either in written history or in tradition to show that the section of country ... [of Fayette] was ever the permanent home of any considerable number of the aboriginal people whom we know as Indians, the successors of the mysterious mound-builders. When the first white traders ... came into this region, they found it partially occupied by roving Indian bands, who had here a few temporary villages, or more properly camps... These were composed of the Delaware and Shawanese tribes and some colonized bands of Iroquois, or "Mingoes," as they were commonly called, who represented the powerful Six Nations of New York.
In 1795, when the Treaty of Greenville (PA) was signed, "the western Indians made their peace with the United States," write Solon J. and Elizabeth Hawthorne Buck in their 1939 book, The Planting of Civilization in Western Pennsylvania. "A long cycle of Indian resistance to the advance of the frontier had been completed, and the Indian boundary had been pushed from the Allegheny and the Ohio far beyond the western limits of Pennsylvania. No longer was the Indian to be a factor in the history of western Pennsylvania; his culture had been superseded by that of another race."
The Minerds' 10 known children were Henry C. Minerd, John Minerd, William Minerd, Margaret Mayle, Sarah Wright, Mary Mayle, Ruth Ann Kennedy, Jacob Minerd Jr., Rebecca "Becky" Goins and Susanna Woody. They also raised a grandson, Stephen T. Minerd.






Jacob and Ruth Ann's adult children, L-R: William, Margaret Mayle,
Mary Mayle, Ruth Ann Kennedy, Jacob Minerd Jr. and Susanna Woody.
~ A Question of Racial Identity ~
All of the Minerd children were considered of mixed race or mulatto (in the language of the mid-1800s) and were described in such terms in public documents such as censuses, marriage licenses and other records. This was a politically charged description which essentially branded them as second-class citizens.
Daughter Sarah Wright provided testimony in 1906 that reveals firsthand information about Jacob and Ruth's heritage:
I am colored. That is what we always went by. My father was a white man, -- a Dutchman. My mother was called colored. She was part Indian. Her father was an Indian. Everybody regards me as colored. I do not know that there is any African blood in me. My father and mother were both born and raised in Pennsylvania. I do not know where the colored, or indian, blood in me comes from.
Family friend William Norris of Philippi, Barbour County, WV, once stated that Jacob "was white" and "Dutch, I think." He also said that Ruth "was colored ... quite dark. Her hair was straight - a little curly... she was always regarded as a colored woman.... I do not know whether she had indian blood. Her maiden name was Adams and the Adams race is quite dark." Researcher Thomas McElwain wrote that Minerd-Miner descendants he interviewed in the 1970s "claim a Pennsylvania origin and Dutch background." His findings were published in the 1981 book, Our Kind of People: Identity, Community and Religion on Chestnut Ridge.
~ Jacob and Ruth's Time in Pennsylvania ~
The first known record of Jacob on paper is the tax assessment list of 1836 for Saltlick (now Springfield) Township, Fayette County, PA. He was recorded as a single man. Two years later, in 1838, his assessment record shows him as a laborer. In 1840, his occupation was listed as a farmer.
In about 1836, Jacob purchased 365 acres of somewhat flat land from Daniel Arthurs, ranging from 2,700 to 2,900 feet above sea level. (Today, part of Route 653/Springfield Pike cuts across the property, and a radio tower stands on its highest point.) A county surveyor correctly wrote in his notes that the tract was "on or near the line of Somerset [County]." The surveyor also wrote that the land "has been settled about 4 years, about 12 acres cleared, a house & Barn and the family of Jacob Minord residing on the tract." The property today is in the northeast section of Springfield Twp., considered to be part of the broader Laurel Hill region.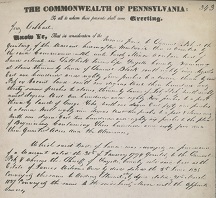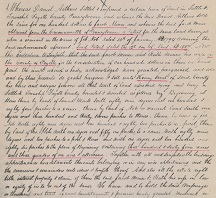 Left: Jacob's land patent from the Commonwealth, 1837. Right: deed signed by Jacob and Ruth upon selling the farm to Henry Imel, 1841. Below: the couple's signatures as copied by a court clerk, 1841, with Ruth signing with an "X."

The following year, Jacob obtained a patent for this acreage -- a title issued by the Pennsylvania state government. The Minerds resided on this tract for four more years. When the federal census enumeration of 1840 was made, Jacob is listed as living in Saltlick Township (Springfield Township would not be carved out of Saltlick for seven more years), with a wife and two sons under the age of five. His neighbors were Dennis Coon, Susanah Brooks and Charles McFaden.
In 1841, Jacob and Ruth sold their farm to Henry Imel. The deed for the 1837 transaction is found in the Fayette County Courthouse in Uniontown, PA, and the patent document may be found in Book H-37 in the Division of Land Records in the State Library in Harrisburg, PA.
Of interest is the fact that Jacob and Ruth's 1841 deed spells the family name three different ways – Minerd, Minard and Miner. Another interesting note is the fact that Henry Imel may have been the son of Martha (Minerd) Imel-Harbaugh. As well, Thomas Hanna, who witnessed the deed, is known to have had many business dealings with other branches of our Minerds in and around Somerset County. Today the tract is located between Laurel Ridge State Park and Kings Mountain Golf Course.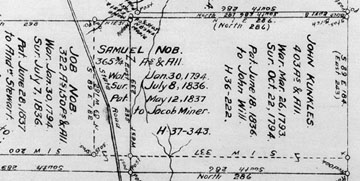 Jacob's name appears on a map of official land patents in Springfield Township, Fayette County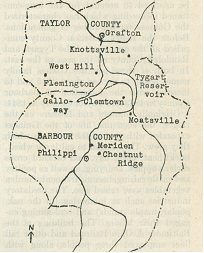 Barbour and Taylor County towns
where the Minerd offspring lived
~ Integral Part of the Chestnut Ridge Community ~
Jacob and Ruth's descendants have been an integral part of the tri-racial "Chestnut Ridge Community" of Grafton, Taylor County and Philippi, Barbour County, WV, and also of Athens and Washington Counties, OH. This remarkable group has been studied by academics, anthropologists and sociologists over the years. As of New Year's Eve 1984, when the Pittsburgh Post-Gazette carried a major feature story about this community, about 1,500 members were said to be "tucked away high in the West Virginia Appalachians..." Said the Post-Gazette:
The likeliest explanation of the origin of the [community] is that they are of combined Indian-white-black ancestry... The main social feature of the Chestnut Ridge people today is their familiar cohesion. All 1,500 of them bear one of less than a dozen surnames. A 1977 survey of obituaries in the Barbour County Democrat showed that 135 of 163 ridge people -- 83 percent -- were married to people having the same last names -- Mayle, Norris, Croston, Pritchard, Minard, Collins, Adams and Kennedy.
As will be seen in a thorough reading of biographies on this website, Jacob and Ruth's offspring married into families with the same names cited in the Post-Gazette. Many hundreds of their descendants are living today scattered throughout the Chestnut Ridge hills and in southern Ohio.
~ The Family's Move to West Virginia ~
In about 1845, having sold their farm in Fayette County, Jacob and Ruth took their children and migrated south across the state line into Monongalia County, WV, where their daughters Sarah and Mary were born. In the federal census of 1850, Jacob (age 36) and Ruth (age 32) were both shown to be "mulatto" as were all of their children.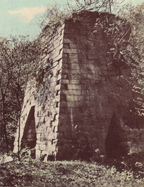 Iron furnace ruins in
Preston County, WV
It's not known exactly why the Minerds moved to the area, but it may have been in connection with employment opportunities provided by growing coal, iron and industrial operations. Seen here is a rare old photographic postcard of the ruins of the Henry Clay Iron Furnace above the Cheat River in what is now Coopers Rock State Forest. The cold-blast furnace was built in the early 1830s and operated until about 1847, producing four tons of pig iron every day. It employed 200 people who made a small community there of more than 100 houses, a church, schoolhouse and store.
By the early 1850s, the family had migrated to adjacent Preston County, WV, where they settled near the town of Evansville. Living as next door neighbors were the families of Ephraim and Sarah Adams and William and Mary Adams, all marked as mulattos. Another branch of our clan, the family of Hiram B. and Catherine (Miner) Hanshaw, also lived in Evansville … another possible clue linking Jacob to our clan? According to the 1979 book, Preston County West Virginia History:
In the 1800s Evansville was a flourishing town. Its growth was due to the building of the Northwestern Turnpike (now U.S. 50). Its growth stopped with the coming of the Baltimore and Ohio Railroad.
When son Jacob was born in Evansville in September 1854, and daughter Rebecca in November 1857, they were marked as "white" in the county birth records. The Minerds may also have resided in Ohio for a short time in the late 1850s, as recalled by family friend William Norris.
The federal census of 1860 shows Jacob as a farm laborer and of the race of "Indian." Ruth and the children were marked as "mulatto." That year, the Minerds "lived on Wm. Walters' place about one mile from Evansville," said one of their sons, "and followed farming and digging coal. Father had a lease on Walters' place." Among neighbors who knew the family well were Reuben Walthorn, William Shaw, Samuel Casbello, Samuel Evans, George Walters and William Larue.
During the Civil War, between February and June 1865, sons Henry, John and William all served in the 17th West Virginia Infantry. None of them saw any action, and they survived without injury, though all of them became sick in the army. In June 1865, they returned home. Jacob and sons John and Henry obtained work cutting a meadow around that era.
A daughter in law once said that Jacob and Ruth "moved around a great deal. They lived near Philippi a part of the time."
South Grafton -- Jacob and Ruth's residence in 1880
Jacob next appears on the federal census of 1880, when he and Ruth were in their 60s and residing in the southern subdivision of Grafton, Taylor County, WV. Jacob's occupation was listed as farmer. Residing in their house were married son John and John's young son Peter; divorced son William; and Margaret Glendenning, an 85-year-old widow and Maryland native. Margaret's identity is not yet known -- could she have been Ruth Minerd's mother?
At some point, Jacob and Ruth moved to Marietta, Washington County, and/or to near Athens, Athens County, OH. Two of their daughters (Rebecca and Susan), and one son (Jacob Jr.) came with them and remained permanently in the area. On or about New Year's 1885-1886, Ruth was sick, and their son William came from Philippi to visit her. He "stayed about three or four months," said William's wife, before returning home to West Virginia.
Ruth apparently returned to Philippi later in life. She passed away there in about 1895, at about age 77, in the home of her son William. There is no record of her death in the Barbour County records, and this information may be lost to history. The whereabout of her grave also is not known, but it's assumed she rests for eternity in the Chestnut Ridge Cemetery.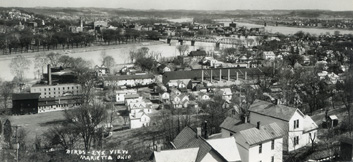 A bird's-eye view of old Marietta, Ohio
The fate of Jacob is a mystery. A search of courthouse and cemetery records in 2004 and 2005 of Monongalia, Taylor, Barbour and Doddridge Counties, WV, and in 2005 of Washington and Athens Counties, OH, did not answer this question. It is entirely possible that he died in or around Marietta, and is buried there, but there is no evidence one way or the other.
In 1964, author Brewton Berry mentioned the "Miner" name specifically when publishing his research of the Chestnut Ridge community and other mixed-race clusters nationally in the book Almost White. He reported that the group carried the derogatory nickname of "guineas" and estimated that between 2,000 and 8,000 resided in West Virginia, "especially concentrated in Taylor and Barbour counties, though they are found also in eight other nearby counties in the northeast corner of the state." He said that members of this group "are not readily identifiable, and reliance is placed more upon surnames than upon physical traits. Characteristic names are Adams, Collins, Croston, Dalton, Dorton, Kennedy, Male, Miner, Newman, Norris, and Prichard. Of these, the most frequent in occurrence is Male (or Mayle, Mail, Mahle)."
We are grateful to the late Bernard V. Mayhle of Spokane, WA, who has published his research of the Male-Mayle-Mayhle family and has personally shared his trove of information for our archives.
~ For Further Reading ~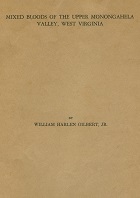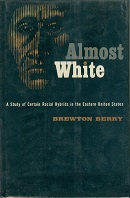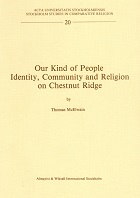 Studies in which our family is named, left to right: Mixed Bloods of the Upper Monongahela Valley, West Virginia (1946); Almost White (1963); and Our Kind of People (1981)
"We, the People of Chestnut Ridge." Goldenseal (West Virginia Division of Culture and History). Fall 1999.
Our Kind of People: Identity, Community and Religion on Chestnut Ridge. Thomas McElwain, 1981.
A Marginal Group in West Virginia: An Historical and Cultural Study. Dorothy J. Cox, Marshall University of West Virginia, July, 1979.
"Ridge Folks: Heirs to Uncertain Identity." Barry Paris, Pittsburgh Post-Gazette, Dec. 31, 1984.
Almost White - A Study of Certain Racial Hybrids in the Eastern United States. Brewton Berry. Collier Books, Macmillan Company, New York, 1963.
"Mixed Bloods of the Upper Monongahela Valley, West Virginia." William Harlen Gilbert, Jr. The Washington Academy of Science Journal, Vol. 36, No. 1, Jan. 15, 1946. (pp. 1-13). Published as "Memorandum Concerning the Characteristics of the Larger Mixed-Blood Racial Islands of the Eastern United States," Social Forces, Vol. 24, No. 4 (May 1946), pp. 438-447. Brewton Berry calls this work "The best source on the Guineas."
The Guineas of West Virginia (300.81 MB PDF file). John F. Burnell Jr., unpublished M.A. thesis, Ohio State University, 1952.
The History of Barbour County, From its Earliest Exploration and Settlement to the Present Time. Hu Maxwell, The Acme Publishing Company, Morgantown, W.Va., 1899.
"Caste Characteristics in Dominant Minority Relationships in a Rural County of West Virginia," Donald Eyler Jr., Department of Sociology at Alderson-Broaddus College, Proceedings of the West Virginia Academy of Science, 1976.
"An Introduction to the Guineas: West Virginia's Melungeons." Avery F. Gaskins, Appalachian Journal, Vol. 1, No. 3 (Autumn 1973), Appalachian Journal & Appalachian State University (pp. 234-237).
The Epithet "Guinea" in Central West Virginia. Avery F. Gaskins, West Virginia University Philological Papers 17 (1970): pp. 41-44.
Founding Chestnut Ridge: The Origins of Central West Virginia's Multiracial Community. Alexandra Finley, The Ohio State University, Department of History, 2010. 140 pages.
Other unnamed study by Clark (1953).
Copyright © 2004-2007, 2010-2011, 2013, 2015-2017 Mark A. Miner