Home

Rebecca (Minerd) Goins
(1857-1919)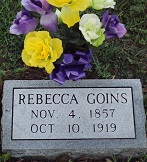 Rebecca's grave
Rebecca "Becky" (Minerd) Goins was born on Nov. 4, 1857 (or 1859) in or near Evansville, Preston County, WV, the daughter of Jacob and Ruth (Adams) Minerd.
Rebecca's father was a "Dutchman" (Pennsylvania German), and he lived just a few miles from the farm in the Fayette/Somerset County, PA, border region where Jacob and Maria (Nein) Minerd Sr. were pioneers in the 1790s. Her mother was a Native American, and Rebecca and her siblings thus were considered of mixed race (or "mulatto" in the language of the mid-1800s).
Rebecca followed her parents and siblings when they migrated to Taylor and Barbour Counties, WV, and thence to Athens and Washington Counties, OH.
On June 30, 1886, at the age of 29, Rebecca gave birth to a daughter, Anna Nancy Cook. The child's father was "Linc" Cook, and Anna was raised under his surname. It is not known if Rebecca and Linc were married. Based on information in the 1880 census, it's thought that Linc was born in 1860 and the son of Rolla and Mary Cook. (But this is not proven.)
Five years later, on Jan. 13, 1891, in Athens County, OH, Rebecca married Hiram Goins (1861- ? ), the son of Jesse and Eveline Goins of Virginia. In their marriage license, they are marked as "colored." The ceremony was performed by John Featherstone, a justice of the peace. Rebecca was age 34, and Hiram 30, at the time.
The Goinses produced two children of their own -- Jesse Floyd Goins (born in 1892 in Sharpsburg) and Bertha Mae Norris Adams.
1908 wintry scene in the Muskingum Valley near Marietta
When the federal census was taken in 1900, the Goinses resided in Washington County. Hiram's occupation was listed as "day laborer." They lived next door to Nelson and Cora Goins, and also to James and Sarah E. Goins.
Rebecca and Hiram resided off and on in Philippi, Barbour County, WV, over the years. She was living there in 1907 shortly after the death of her brother, William Minerd.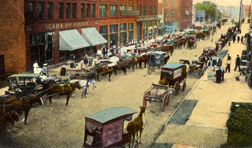 Toledo market day, Monroe & Huron, 1915
In 1910, the family was enumerated in the census of near Clarksburg, Harrison County, WV. Hiram worked as a common laborer, and he and Rebecca had been married for 13 years. Widowed daughter Anna Ransom, and her children Gilbert and Dale, also made their home under the Goins roof that year.
As she aged, Rebecca went to live at the home of her son Jesse at 702 Front Street in Toledo, Lucas County, OH. Supposedly, the family's oral history states that Hiram was last seen by loved ones in 1918, when he left home never to return. Legend has it that he was a bounty hunter and the family didn't know whether he was killed or possibly ran off and started another family elsewhere.
Stricken with cancer of both breasts, Rebecca passed away at the age of 59 on Oct. 4, 1919 in Toledo, Lucas County, OH. There is no evidence in her Ohio death certificate to suggest that she had sought medical treatment. She was laid to rest in Forest Cemetery in Toledo. A marker was never placed on her grave.
In the late winter of 2007, some 88 years after Rebecca's death, her grandson Donald Oneal Goins Sr. told his family that he wanted to obtain a stone. Unfortunately, his health continued to decline, and he was unable to complete the task. He passed away in March 2011. Afterward, his widow Elizabeth and her daughter Irita Canady ordered the stone and later that year, they along with son Donald returned to Toledo and with the assistance of the groundskeeper, the marker was set. The marker was photographed in the spring of 2012.
Copyright © 2004-2008, 2010, 2015, 2017 Mark A. Miner
Grave marker image courtesy of the late Irita (Goins) Canady