Lela (Minerd) Dean
(1900-1982)
Lela (Minerd) Dean was born in January 1900 in Vanderbilt, Fayette County, PA, the daughter of William H. and Missouri (Shelkey) Minerd.
At an early age, Lela moved with her parents to Uniontown, Fayette County. For many years, she never married.
Lela worked as a bookkeeper for the Home Furniture Company circa 1921-1931. She was living with her parents in 1934 at the time of death of her father.
Circa 1952, when her sister Nettie Kerr died, Lela was still using the name "Minerd" and living in Uniontown.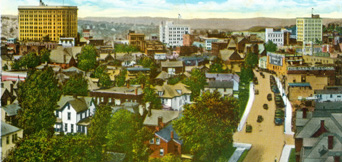 Uniontown skyline, circa 1920s
On March 11, 1953, at the age of 51, Lena married David Ray Dean (1902-1984). They were about the same age. He was a native of Oliphant Furnace, Fayette County, and was the son of Eli and Bertha (Dinsmore) Dean. He worked as a mine foreman.
Lela survived her husband by almost three decades. In March 1966, while walking in front of the State Theatre in Uniontown, she was struck by a truck and suffered bruises to the forehead.
Lela died in Uniontown in November 1982.
David passed away at Lemont Furnace, near Uniontown, in September 1984.
Copyright © 2001-2002, 2020 Mark A. Miner