Home

Catherine (Minerd)
Nesmith Dean
(1836-1909)
Catherine (Minerd) Nesmith Dean was born in October 1836, likely near Kingwood in Turkeyfoot Township, Somerset County, PA, the daughter of Burket and Susan (Hartzell) Minerd. Both of her husbands were veterans of the Civil War, with one tragically losing his life in a railroad accident.
As a young girl, Catherine moved with her parents south across the state line into Virginia, settling near the county seat town of Kingwood, Preston County, VA (later West Virginia). She never learned to read or write, and signed her name with an "X."
By 1860, when Catherine would have been age 14, her parents separated, and she apparently moved into Pennsylvania in or near Dunbar or Connellsville, Fayette County, PA. She has not yet been located on the 1860 federal census.
Catherine married Jordan M. Nesmith ( ? -1869), a farmer and a native of Fayette County. His name also has been spelled "Kessmath" and "Smith." They were wed in about 1859, when she was age 23. How the two of them met is not yet known. He stood 5 feet, 6½ inches tall, with a fair complexion, blue eyes and dark hair. They did not reproduce.
They remained together until Jordan's enlistment in the army during the Civil War, and never saw each other again.
~ Jordan Nesmith's Civil War Service ~
During the Civil War, Jordan joined the 8th Pennsylvania Reserve Infantry, Company G, also known as the 37th Pennsylvania Volunteers. The company was recruited in Fayette County, PA. He enlisted on May 23, 1861 for a term of three years. He was one of three men named Nesmith in the regiment, the other two being corporal William D. (or "V.") Nesmith and private John H. Nesmith. While Jordan and John Nesmith both were honorably discharged on surgeons certificates, William Nesmith met a worse fate, dying on Oct. 15, 1862 or April 22, 1864, with burial in Alexandria National Cemetery (grave 1,787).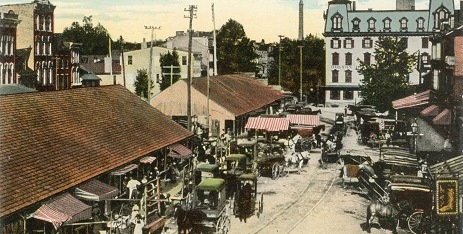 Harrisburg during the Civil War, as Jordan Nesmith may have seen it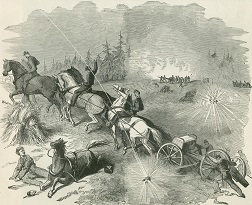 Shelling at the Battle of South Mountain
The 8th Pennsylvania Reserves are known to have been sent to Harrisburg, PA for basic training but immediately were transferred to a facility in Maryland. They went on to see action three times during the Seven Days Battle, north of the Chickahominy River, with more than 94,000 men taking part -- at Mechanicsville (Beaver Dam Creek) on June 26, 1862, Gaines Mill on June 27, 1862 and Charles City Cross Roads ("Glendale") on June 30, 1862.
In total, about 300 soldiers of the 8th Pennsylvania were killed or wounded in these fights, and Gaines' Mill is considered Robert E. Lee's first major victory of the war. The regiment then was assigned to Harrison's Landing in Virginia before moving again to Maryland, where it was engaged on Sept. 14, 1862 in the Battle of South Mountain, also known as the Battle of Boonsboro.
Suffering from some sort of debilitating injury or wound, Jordan received his discharge three days after the South Mountain battle, on Sept. 15, 1862, after 16 months of military duty. The precise nature of his ailment is not yet known.
He enlisted again the following month, in the 14th Pennsylvania Cavalry, Company F, on Oct. 24, 1862. He was promoted to first sergeant and served with many of his wife's cousins, among them Samuel H. Imel, Adrian Johnson, Andrew Minerd, David J. Rowan, Jonas Rowan and Alexander Rush. Several of Jordan's kin -- John H. Nesmith and James H. Nesmith -- also were members of the regiment, with John wounded at Ashby's Gap, VA in 1865.
The 14th Pennsylvania Cavalry did not see battle action for nine months after Jordan's enlistment. On July 3, 1863, the same day the Battle of Gettysburg was concluding in Pennsylvania, the regiment saw its first engagement at Beverly, WV. From that time forward, the 14th Pennsylvania took part in 87 other battles and skirmishes, taking an active part in General Philip Sheridan's extended campaigns in the Shenandoah and Luray Valley, VA.
Among the more significant battles, the 14th Cavalry fought for four days at Rocky Gap, known as White Sulphur Springs, WV, where Catherine's cousin Burkett M. Fawcett was killed as a member of the 3rd West Virginia Cavalry. Other fights were at Droop Mountain, WV; Chambersburg, PA; Third Winchester, VA; and Cedar Creek, VA. Their battles concluded with Ashby's Gap, Virginia on Feb. 19, 1865.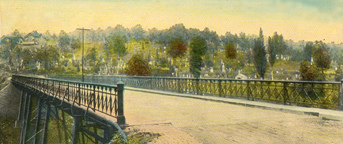 Jordan's final resting place, Chestnut Hill Cemetery in Connellsville, beyond the bridge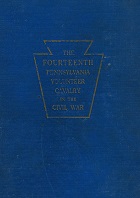 History of Jordan's
cavalry regiment
After his honorable discharge on Aug. 24, 1865, Jordan returned home to Fayette County, PA. His home-coming apparently did not include a reunion with his wife. In her words, "after he came home from the war I did not live with him. I went to work to make my own living and he went to work on the railroad...." He found employment as a laborer with the Baltimore and Ohio Railroad.
Tragically, Jordan was killed in an accident at work in about 1869, the first known cousin in the extended Minerd-Minard-Miner-Minor family to lose his life on the rails. His remains were placed into rest in the Chestnut Hill Cemetery in Connellsville. Smith Dawson and Mrs. C.M. Stoner attended the funeral and the burial. Later, Catherine recalled that Jordan "was killed by the cars arunning over him. I was not at his furnerial and did not no he was dead at the time." Any other details are lost.
In the 1915 book, The Fourteenth Pennsylvania Volunteer Cavalry in the Civil War, authored by Rev. William Davis Slease, Jordan is named in a roster of the regiment. Because death occurred at such a young age, he never submitted a claim for a federal pension as compensation for any wartime injuries. For reasons not known, Catherine did not know he had a middle initial of "M.," or recall the exact year of his death, once stating it incorrectly in government paperwork as 1865 when others remembered it as 1868 or 1869.
~ A Young Widow ~
After her husband left for war, Catherine's whereabouts from 1861 to 1871 are not known. She may have returned to West Virginia to be with her parents, but this is only conjecture. She has not yet been found on the 1870 federal census.
Catherine eventually moved into her mother's home in Oakland, Garrett County, MD sometime in the mid to late 1870s.
When the federal census was taken in June 1880, the 44-year-old Catherine -- with the name of "Smith" as recorded by the census-taker -- was residing in Oakland in the household of her mother, who was a "hopeless invalid" crippled by "rheumatism." Catherine was marked as a "widow" and her occupation was "assist to keep House." Also living in the residence were Catherine's younger sister Louisa Hoye, age 25, and Louisa's daughters Ina and Maggie.

Bird's eye view of Oakland, with the distant mountains ever-present
Later in the 1880s, perhaps after her mother's death, Catherine again migrated back into Pennsylvania, settling in the town of Dunbar where her sisters Louisa Hoye and Mary Cole also made their homes.
While in Dunbar, at the age of 49, on Sept. 2, 1885, she married 52-year-old widower William Penn Dean (1833-1907), son of Samuel Dean. Justice of the peace Daniel K. Cameron performed the nuptials. The ceremony is believed to have been held at the home of Catherine's sister and brother in law, Mary "Mollie" and Jacob Cole.
William had been married once before, to Mary Ann Turner ( ? -1885), and had resided in Dunbar, where William worked as a laborer. Thus he brought these children to the second marriage: George W. Dean, John Dean, Isaac N. Dean, Arminda E. (or "Armenia") McCann, Charles W. Dean, Eliza Jane Crawford, Warren McEwen Dean, Jessie Elizabeth Pegg and Thomas Dean. The first wife died on Jan. 21, 1885 at Percy, a mining town near Uniontown, Fayette County, PA. All of these names and dates were inscribed in the family Bible.
Among those who had attended Mary's funeral in 1885 were Joseph Collins and Sarah J. Hawk. Many years later, in 1907, Collins wrote: "she died and was burried on the 21 day of Jan. 1885. was a poll bearer at her furnerl and saw her in the coffin and helped take it to the smetery and saw it put in the grave...." Hawk said that "I was at thare house when she died and helpd to prepare her body for the casket... Have lived by them for 29 years."
William waited a little more than six months before being wed again to our Catherine.
(The Minerd, Dean and Turner clans apparently were close, with William's son Warren marrying Sophia (Turner) Inks and son Isaac wedding Mary Belle Minerd.)
Catherine and William may have had one daughter of their own, Lydia Dean, but this needs to be confirmed.
~ William Dean's Civil War Service ~
During the early part of 1861, William was an able bodied man, standing 5 feet, 9½ inches tall, with a fair complexion, grey eyes and dark hair. Just a few weeks after the outbreak of the Civil War, he gave up his labors as a boatman to serve in the U.S. Army. He joined the same regiment as Catherine's first husband -- the 37th Pennsylvania Infantry, Company D, also known as the 8th Reserves. To do so, he traveled to Brownsville, Fayette County, where he enlisted on May 1, 1861.
By December of that year, William sought medical treatment for what was labeled "scrotal irritation."
At the Battle of Mechanicsville, VA, on June 27, 1862, William was struck by a fragment of an enemy shell, embedding itself in the crown of his head and fracturing his skull, and causing a depression of the bone. The shrapnel apparently never was removed. While the wound was dressed the same day by a regimental surgeon, he was sent to Harrison's Landing where he stayed for some period of time. Then he was transferred to a hospital at York, PA, remaining three months. From there he was ordered to Camp Convalescent in Alexandria, VA, staying six weeks. He was then sent back to his regiment, where the wound "got worse," as he recalled. He then went to a hospital at Wind Mill Point, VA, staying three weeks, and from there shipped to Lincoln Hospital in the District of Columbia.
Layout of Lincoln Hospital, one mile directly east of the United States Capitol building, where William was treated in 1862. Below: the site today.

In filling out a certificate of disability for discharge, near Belle Plains, VA on Jan. 6, 1863, first sergeant J.M. Anawalt wrote that the wound was "seriously affecting his mind; he has been twice sent to General Hospital, and returned in the same condition.... He has not been fit for duty more than one month in all since receiving the wound." The discharge was approved on or about March 7, 1863 at Upton's Hill, VA, and finally discharged at Munson's Hill near Alexandria on March 13, 1863.
After a little more than a year of recuperation, while at Wheeling, WV on March 29, 1864, William re-joined the army as a member of the 1st West Virginia Light Artillery, Company H, otherwise referred to as Independent Battery H. The company was commanded by 1st Lt. John E. Morgan. Whatever action he may have seen with the 1st West Virginia Light Artillery is unknown. He was discharged at the close of the war in June 1865.
~ The Deans' Years Together ~
Immediately after the war's close, William applied for a government pension as compensation for his skull wound. By that time, the bone had not mended correctly, and there was a one-inch long by quarter-inch wide opening through the skull. He claimed that he experienced constant pain in the back of the head in addition to dizziness. The pension was approved, with William receiving monthly payments of $4.00. [App. #129906, Cert. No. 89388] His home in 1874 was in Mount Braddock, Fayette County.
William underwent periodic medical examinations with government surgeons to confirm the nature of his disabilities. He told authorities that "at times he falls over & loses consciousness for a few minutes, & that he can't do much work. Claims he can't sleep at night...." They measured his cranium and reported bone missing of the size of a quarter dollar "with a great deal of depression" in the skull. Several doctors said they could place the tip of a finger inside the opening. One reported "tongue heavily coated brown, stomach and bowels tender. Bowels alternate between diarrhea and constipation. Skin dry and harsh. Nutrition poor." But surgeons could find no disability caused by the wound sufficient to merit an increase in pay. William also suffered with hemorrhoids, and his friend Hugh McCann once said "I saw piles on him in the worst form."
In 1890, when a special census was made of war veterans, their home was in Lemont Furnace, near Uniontown; in 1897 at Yauger Hollow; and in 1907 at Percy. They owned no land, apparently renting dwelling houses as they moved around. The census of 1900 shows the couple in North Union Township, Fayette County, with 66-year-old William having no occupation other than his status as "pensioner." On the 1900 census, Catherine's name is listed as "Mary" but all of the other references in her entry seem to be accurate.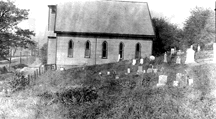 Church and burying ground at Percy
William was felled by a stroke of paralysis and passed away on Sept. 1, 1907, at the age of 74. Funeral director J.M. Burhans was called to the home to prepare the body for burial, and Catherine's distant cousin Rev. David Ewing Minerd performed the funeral service. Burial was in Percy Cemetery.
Catherine, age 73, applied to receive William's pension payments as her support. She claimed in an affidavit that her husband "was not insurd in no company and I hav no way to make aliving only by my labor." Neighbors Fannie Morgan and Agnes Stevenson of Lemont Furnace provided supporting comments in writing, saying "She was at his bed side During his last sickness and at his Death. have lived near them for 20 years and 10 years respectfully."
Jacob Barnhart Cole, born in 1855 and not to be confused with Catherine's recently deceased brother in law Jacob Cole, testified in 1908 that he had known Catherine for 45 years (dating to approximately 1863) and David Cole stated that he had known Catherine his entire life. Catherine's step-daughter Minnie McCann and family friend John Zebley examined the family Bible to confirm the date that William's first wife had died.
The pension was approved, and her payments in 1909 were $12 per month. [App. #878030, Cert. #640437]
Suffering from "interstitial nephritis" (kidney disorder), Catherine died on Sept. 8, 1909, at the age of 73. Burial was in the Fairview Cemetery at Percy near Uniontown. In another interesting twist, several other distant relatives are buried at Fairview, among them William H. Minerd (the first known cousin to be killed in a coal mining accident, circa 1884); U.S. Grant Turner; and Frank and Margaret (Kilgore) Minerd and family.
A search for Catherine's grave over the Memorial Day weekend in 2014 proved fruitless. The cemetery was overgrown and many markers had toppled off their base, or were sunken into the ground. If she has a marker, it remains to be discovered. As well, no obituary has been located in either Uniontown or Connellsville newspapers.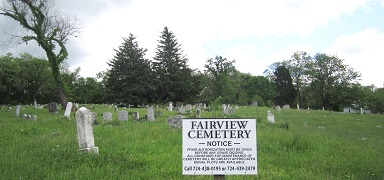 Fairview Cemetery in Percy, where Catherine and William apparently rest anonymously
~ Daughter Lydia Dean ~
Daughter Lydia Dean was born in (?). Nothing more is known.
~ Stepson George W. Dean ~
Stepson George W. Dean (1856-1925) was born on April 9, 1856.
He lived in Uniontown. He married Mary Elizabeth Johnson (1855-1923) and had four children -- Elijah Ira Dean, William Weaver Dean, Eunice Valetta Cramer and Ivan Raymond Dean.
~ Stepson John Dean ~
Stepson John Dean (1858- ? ) was born in 1858. At the age of 22, unmarried, he lived in his parents' home in Dunbar and earned a living as a laborer. His fate is unknown.
~ Stepdaughter Arminda E. "Minnie" (Dean) McCann ~
Daughter Arminda E. "Minnie" Dean (1864-1941) was born Dec. 5, 1864.
She married Hugh L. McCann (1862-1926), son of Michael and Mary A. McCann. The event took place in Dunbar on Sept. 25, 1886, when Minnie was age 21 and Hugh 24, and was held at the St. Aloysius Roman Catholic Church at Dunbar. Rev. Arthur Devlin officiated.
Hugh was a native of Johnstown, Cambria County, PA but at the time of marriage worked as a coal miner in North Union Township.
They resided in Lemont for many years but are thought not to have had any children.
On the morning of April 18, 1926, Hugh ate a "hearty breakfast and apparently was in the best of health," reported the Uniontown Morning Herald, "when he was suddenly stricken with a heart condition and died within an hour." He was age 64 at the time of death.
Circa 1935, Minnie made her home in Morgan Station, Fayette County. That year, her niece, Irene Edna Dean, postmistress at Lemont Furnace, died in her home.
Minnie died on May 23, 1941. Burial was in Park Place Cemetery.
~ Stepson Charles W. Dean ~
Stepson Charles Dean (1867-1938) was born on March 24, 1867 in Dunbar.
He made his residence in Mt. Braddock. He married Fannie McLaughlin (1879-1935) and they had these children: Raymond Dean, Nancy Fowler, Jessie Grimm, Dorothy Chambers, Sylvester Dean and Charles Russell Dean.
Tragedy struck in 1935, when Fannie was killed in an explosion of a can of paint in their kitchen.
Charles outlived his wife by three years. Afflicted with a serious case of pneumonia, followed by a stroke, he went to convalesce in the home of his married daughter Mrs. Harry Martin at Continental No. 2 mine. He died in the Martin dwelling on Oct. 5, 1938. Funeral arrangements were handled by the Minerd Funeral Home in Uniontown.
Their sons Raymond and Charles were employees of the Fayette Publishing Company in 1938.
~ Stepdaughter Eliza Jane "Lide" (Dean) Crawford ~
Stepdaughter Eliza Jane "Lida" Dean (1870-1936) was born on March 6, 1870.
On Jan. 31, 1888, at the age of 18, she wed 24-year-old Frank M. Crawford (1864- ? ), son of James and Isabelle Crawford. Rev. J.O. Critchlow officiated. Because she was legally underage, Lida's father signed his consent to the union.
They lived in Uniontown and had three children -- James H. Crawford, Rhea Roby and Lula Lowden.
Lide died at the home of her sister Minnie McCann at the age of 66 on Sept. 27, 1936. After funeral services at the McCann household, Lide was laid to rest in Uniontown's Park Place Cemetery. Rev. Foy, of the Free Methodist Church, officiated.
Grandson James H. Crawford lived in Republic, Fayette County in 1936.
Granddaughter Rhea Crawford married Paul Roby. They made their home in Uniontown in the mid-1930s.
Granddaughter Lula Crawford married Matthew Lowden. They resided in 1936 in Lemont Furnace.
~ Stepson Warren McEwen Dean ~
Stepson Warren McEwen Dean (1873- ? ) was born on May 2, 1873. He was a longtime coke-drawer in Fayette County and was married twice.
He wed his first wife, Bessie Elizabeth McNutt (1879- ? ), daughter of Joel and Jane McNutt, on July 1, 1897 in Uniontown.

Coke drawers at work in a Fayette County beehive oven
They had eight children: Charles William Dean Sr., Robert Dean, Minnie Schimansky, Aaron Dean, Aurella "Rella" Turner, Laura Dean, Florence Foster and George Dean.
Later he married widow Sophia (Turner) Inks, who was seven years older than he. They lived in Lemont and Youngstown, Fayette County and in 1936 in Keisterville, Fayette County. Click on Sophia's bio for more on this family.
~ Stepdaughter Jessie Elizabeth (Dean) Pegg ~
Stepdaughter Jessie Elizabeth Dean (1875- ? ) was born on March 8, 1875.
She married farmer Lewis W. Pegg (1871- ? ) on March 30, 1892. She was age 17 at the time, and he was 21. Lewis was the son of William and Juliet Pegg.
They resided in the now-gone coal mining patch town of Helen, Fayette County.
Copyright © 2006, 2008, 2014 Mark A. Miner