Margaret (Minerd) Bailey
(1902-1927)

Chauncey A. Bailey Sr.
Margaret Alice (Minerd) Bailey was born on Sept. 24, 1902 at Smithfield, Fayette County, PA, the daughter of Charles A. and Sarah Jane (Kincell) Minerd Sr. Her early death left a young son and daughter motherless.
When Margaret was a year old, the family moved to Uniontown, Fayette County, where she grew up.
Margaret married Chauncey Alston Bailey Sr. (Aug. 13, 1895-1949), a native of Thornton, Taylor County, WV, and the son of John and Sallie (Shroyer) Bailey. In an interesting twist, Chauncey was born on a Friday the 13th.
During World War I, Chauncey served in the U.S. Army and received two Purple Heart medals. He went to college to be a preacher but never practiced in ministry. He stood 5 feet, 9 inches tall, weighed 198 lbs., and had grey eyes.
The Baileys resided in Clarksburg, Harrison County, WV, and had two children -- Chauncey Alston Bailey Jr. (born in 1921) and June Bailey (born in 1924).
In the 1920s, the Baileys moved to Detroit, Wayne County, MI.
Monroe Avenue in Detroit, early 1900s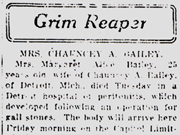 Margaret's Daily Courier obituary
As an adult, Margaret suffered from gall stones. In the summer of 1927, she underwent surgery in a Detroit hospital to correct the problem.
Tragically, during the operation, she was stricken by an attack of peritonitis, a bacterial infection of the inner wall of the abdomen. Word was sent to her father that she was gravely ill. Before he could arrive in Detroit, she died the first week of August 1927. She was but the tender age of 25.
Margaret's remains were sent by rail back to Connellsville, Fayette County, PA for her funeral and then her burial at Hill Grove Cemetery. The Connellsville Daily Courier published a lengthy, detailed obituary.
Their five-year-old son, and three-year-old daughter, were taken into the household of Chauncey's mother, Sally Bailey in the Fetterman District of Taylor County. Sallie raised her grandchildren to adulthood.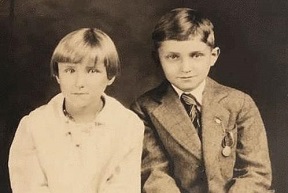 June and Chauncey Jr.
Courtesy Vicki Hoffman
Chauncey worked during the Depression as a part-time minister, and "during the Depression collected scrap metal from abandoned cars to support his family," said the Pittsburgh Tribune-Review.
When the federal census enumeration was made in 1940, Chauncey and the children were under his mother's roof in Fetterman. At that time, he and his 18-year-old son both earned a living as truck drivers in a local junkyard.
The family later relocated to the Christy Park section of McKeesport. Circa 1941, Chauncey was employed by Reliance Steel Products Company in McKeesport. His address was 733 West Fifth Street in McKeesport.
On the move again, Chauncey relocated by 1944 to River Rouge near Detroit, where he obtained employment during the World War II years in defense plant protection, likely
There, at the age of 48, on April 18, 1944, he was joined in wedlock for a second time to 36-year-old Lura Ratcliff ( ? - ? ), also of River Rouge and the daughter of Adam and Julia (Adkins) Radcliff of Grundy, VA. The nuptials were led by justice of the peace Alger E. Salliette in Ecorse, Wayne County.
Chauncey passed away at age 53 in March 8, 1949 in River Rouge near Detroit. His remains were transported back to West Virginia to be laid to rest in the National Cemetery in Grafton, Taylor County, WV.
Lura's fate is not known.

Chauncey A. Bailey Jr.
~ Son Chauncey Alston Bailey Jr. ~
Son Chauncey Alston Bailey Jr. (1921-2005) was born on Nov. 19, 1921 in Clarksburg, Harrison County, WV.
He was six years old when his mother died, and then was taken into the home of his grandmother Sallie Bailey in the Fetterman District of Taylor County, WV. In adulthood he stood 5 feet, 8 inches tall with blue eyes and brown hair.
He was married twice. On April 12, 1941, when he would have been 19 years of age, Chauncey entered into marriage with 18-year-old Kathleen Virginia Parsons (Nov. 30, 1922-2015). She was a native of Parsons, Tucker County, WV and the daughter of Homer Mace and Nell (Phillips) Parsons. Their wedding ceremony was held in the small town of Independence, Preston County, WV., with Rev. A.C. Auvil officiating.
Three children born to the first marriage were Chauncey Alston Bailey III, Margaret N. Flowers and Patricia Sisseck.



Chauncey in young manhood. Courtesy Vicki Hoffman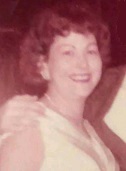 Kathleen (Parsons) Bailey

Courtesy Vicki Hoffman
Later in the year of their marriage, Chauncey and Kathleen resided at 733 West Fifth Avenue in McKeesport, where he was self-employed as a scrap hauler.
Chauncey joined the U.S. Army after the outbreak of World War II and was deployed to the Pacific Theatre, attaining the rank of sergeant. He was an Army truck driver and is known to have been was wounded in action.
After the war, he "worked for the former Columbia Radiator Co. in Christy Park, operated a tavern in McKeesport and was appointed street commissioner for Eden Park Borough before it was merged with the City of McKeesport," said the Pittsburgh Gribune-Review. "Eventually Mr. Bailey became a member of the City of McKeesport Fire Department, where he remained until he retired in 1973."
The first marriage dissolved with a divorce.

Doris Jean Bailey
Kathleen married again to World War II veteran Herbert Elton Roberts (Sept. 30, 1923-1998), daughter of Lester and Gertrude (Taylor) Maurer. Their union endured for 33 years. She passed away at the age of 93, on Dec. 18, 2015, in Corbin, Knox County, KY. Her obituary and photograph were published in the Corbin News-Journal.
Chauncey's second bride was Doris Jean (Maurer) Brewster (March 4, 1929-2021.).
She had been married previously to James R. Brewster and brought several children into the second marriage -- Senator James Robert "Jim" Brewster and Ronald Brewster.
Circa 1959, their address was 402 Greenwood Street in McKeesport. Doris Jean earned a living through her work at the McKeesport Housing Authority.
The second marriage is believed to have resulted in these offspring -- Sandra Snyder Hreha, Wade Ancarana, Cary Alan Bailey, Carl Alan Bailey and Chris Alden Bailey.
He owned and operated an excavating and hauling company, C.A. Bailey, later run by his son Chris. In the community, he served as president of the McKeesport Optimist Club and held memberships in the Christy Park United Methodist Church and the McKeesport posts of the American Legion and Amvets.

A local landmark, the Allegheny County Airport near McKeesport, 1940s
The family was plunged into grief when infant son Cary, born with fluid buildup on the brain ("hydrocephalus"), began to further suffer with bleeding in his lungs. He was admitted as a patient to Pittsburgh's Childrens Hospital. After a stay of 19 days, death carried him away into eternity on Feb. 4, 1959, at the age of seven months and 14 days. His tender remains were placed in eternal repose in Jefferson Memorial Park.
In retirement, the Baileys enjoyed traveling with their motorhome.
As his health declined, Chauncey was admitted to the Veterans Administration Medical Center in Aspinwall near Pittsburgh. He died there at the age of 83 on April 29, 2005. Funeral services were preached by Rev. Lola J. Turnbull in the family church, with burial following in Jefferson Memorial Park. An obituary in the Pittsburgh Tribune-Review said he was survived by 24 grandchildren, 22 great-grandchildren and a great-great granddaughter.
Doris outlived her spouse by nearly 16 years and remained in McKeesport. Death carried her into eternity at the age of 91 on Feb. 22, 2021. She was survived by 12 grandchildren and many great-grandchildren and great-great grandchildren. The funeral was held in the Wesley United Methodist Church.
Son Chauncey Alston Bailey III ( ? - ? ) relocated to Arizona.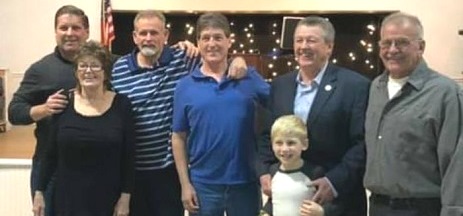 Bailey-Brewster family gathering. Courtesy Vicki Hoffman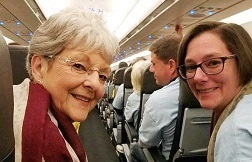 Margaret Flowers and daughter Kathy
Daughter Margaret N. Bailey ( ? -living) was born in (?). She was united in matrimony with John D. Flowers ( ? -2010), son of Amos and Annie Flowers. The couple bore three children -- John D. Flowers Jr., Kathy F. Hill and Trey Flowers. Their residence in the 1960s was in or around Lanscaster, SC and in 2005-2015 was in Corbin, KY. Sadly, John is believed to have passed away in about 2010.
Grandson John Donald Flowers Jr. (1965-2010) was born on Dec. 13, 1965 in Lancaster, SC. He lived in Detroit in 2003 and in Lexington, KY in 2010. He belonged to the Central Baptist Church. Sadly, at the age of 44, he died in the University of Kentucky Medical Center on July 18, 2010. His funeral service was conducted by Dr. Don Mathis. Burial was in Lancaster (SC) Memorial Park. In an obituary in the Corbin (KY) Times-Tribune, the family asked that any memorial donations be made to the Matthew Ministry at the family church.
Granddaughter Kathy Flowers ( ? - ? ) was united in matrimony with Michael Hull ( ? - ? ). The pair together produced two children, Tristan Hull and Tiernan Hull. Their home in 2010 was in West Chester, OH.

Patricia, 1970s
Daughter Patricia Ann "Pat" Bailey (1942-living) was born in 1942. She has been thrice-married. Her first husband, whom she wed on April 1, 1961, was William Michael O'Connell Sr. ( ? - ? ). Together, their union produced three offspring -- Vicki L. Hoffman, William Michael O'Connell Jr. and Mary Kathleen O'Connell Leflore. Pat in 1966 was united in matrimony with her second spouse, Albert Justick ( ? - ? ). The nuptials took place in Michigan. One son born into this family was Chauncey Albert Justick. The Justicks relocated to McKeesport so that she could be closer to her father. The second marriage ended in divorce in 1980. Five years later, Pat met Neil Sissick ( ? - ? ) of Tulsa, OK. They entered into marriage and in 1998 maintained their residence with her younger children in Tulsa. The Sissicks eventually separated, with Pat moving back to the Versailles community of Pittsburgh. As of 2021, Pat has four children, 11 grandchildren, five great-grandchildren and one great-great grandchild.
Granddaughter

Vicki L. O'Connell (1961-living) was born in 1961. She married (?) Hoffman. Vicki graciously has contributed important content and photographs for this biography.
Grandson William Michael O'Connell Jr. (1963-living) was born in 1963.
Granddaughter Mary Kathleen O'Connell (1964-living) was born in

1964

, also on a Friday the 13th.

She was united in wedlock with (?) Leflore. She has made a home in Tulsa.
Grandson

Chauncey Albert Justick
Daughter Sandra Bailey ( ? - ? ) was born in (?). She has made her home in McKeesport. She first was married to (?) Snyder ( ? - ? ). By 2021, she had wed again to John Hreha ( ? - ? ).
Son Wade Ancarana ( ? - ? ) was born in (?). He made his home in 2005-2021 in Elizabeth Township near Pittsburgh.
Son Carl Alan Bailey ( ? - ? ) was born in (?). He was joined in matrimony with Sherry ( ? - ? ). They resided in McKeesport in 2005 and in North Huntingdon, Westmoreland County in 2021.
Son Chris Alden Bailey ( ? - ? ) was united in wedlock with Guyann ( ? - ? ). The Baileys have lived in the Library/South Park section of Pittsburgh. He took over management of his father's excavating and hauling company, known as C.A. Bailey.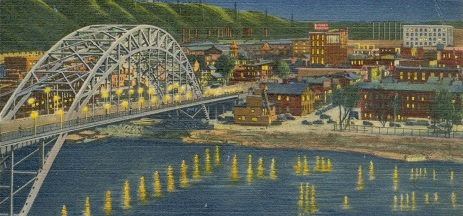 McKeesport and the Jerome Avenue Bridge at nighttime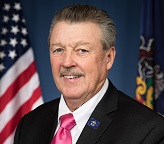 Pennsylvania State Senator and former McKeesport Mayor James R. Brewster
Stepson Senator James Robert Brewster ( ? -living) was born in (?). He married Linda Leah Harding ( ? -living). Together they produced three daughters -- Jamie Filotei, Jodi Adams and Jill Lape. In young manhood James was employed by the Pittsburgh Post-Gazette newspaper. He received a bachelor of science degree in education from California University of Pennsylvania. He eventually joined Mellon Bank where he rose to the position of vice president of operations. In 1995, he was elected a McKeesport City Councilman and went on to serve as council president for seven years. He was elected mayor in 2004 and held the post for six years. His mayoral accomplishments include bringing $27 million in state, county and federal dollars to the city to help develop the Palisades, McKee's Point Marina and Greater Allegheny Passage Trail at the Waterfront. He was elected as a Pennsylvania state senator in 2010, with responsibility for parts of Allegheny and Westmoreland Counties. His community activity is broad and deep. Among them are service as a director or board member for the Allegheny League of Municipalities, Pennsylvania League of Cities and Municipalities, McKeesport Optimist Club, Municipal Risk Management, Allegheny County Air Quality Control, McKeesport Development Corporation, McKeesport Recreation Board and Penn State of Greater Allegheny. He also has served on the board of Soldiers and Sailors Memorial Hall & Museum Trust, as secretary of the board of the Port Authority of Allegheny County, board vice president of the Monroeville Convention and Visitors Bureau and chair of the McKeesport Housing Authority. In recognition of the benefits he has brought to McKeesport, he was inducted into both the McKeesport Area School District Hall of Fame and McKeesport Athletic Hall of Fame in 2009. He was also honored as "Mayor of the Year" in 2010 by the Pennsylvania Mayor's Association and as a "Friend of Youth" by the McKeesport Optimist Club for founding the "Toys for Tots" program and starting a youth basketball program at the McKeesport Salvation Army. View his SenatorBrewer.com website.
Granddaughter

Jamie Brewster 1973- 2020) was born on Dec. 22, 1973 in McKeesport. She married Kenneth Filotei ( ? - ? ), son of Thomas and Kathy (Kovacs) Filotei. They were the parents of Thomas J. "T.J." Filotei and Nina G. Filotei. She played scholastic basketball and attended Mansfield University of Pennsylvania on a basketball scholarship, receiving both bachelor's and master's degrees.

She made her career in McKeesport where she taught mathematics and science at Francis McClure Elementary School for 24 years. She also was elected to McKeesport City Council where she held the post of vice president. They belonged to Christy Park United Methodist Church, and she was a member of the Kiwanis Club of McKeesport and Girls on the Run, a charitable organization devoted to child development. Tragically, Jamie contracted lung cancer and endured a lengthy illness until the angel of death carried her away at the age of 46 on May 12, 2020. Burial was in Mt. Vernon Cemetery. The

Greensburg Tribune-Review

published a feature obituary, headlined "McKeesport woman remembered as extraordinary teacher, friend of community." In May 2021, a little league baseball and softball field was dedicated in her name in Renziehausen Park, located in the Sulphur Springs section.
Granddaughter Jodi Brewster wedded Curtis Adams. They established a residence in Mount Gilead, Morrow County, OH.
Granddaughter Jill Brewster was united in matrimony with Jeffrey Lape

. They have dwelled in McKeesport.
Stepson Ronald Brewster ( ? - ? ) put down roots in McKeesport. He married Darla ( ? - ? ).

June Wilt
~ Daughter June Alice (Bailey) Wilt ~
Daughter June Alice Bailey (1922-1996) was born on Dec. 17, 1922.
She was united in marriage with Baxter C. Wilt (Sept. 15, 1921-1992) of Grafton, Taylor County, WV.
They resided for years in Fairmont, Marion County, WV and produced two daughters together, Sandra Jean McGushin and Barbara Kasa.
Sadly, Baxter died on Feb. 1, 1992.
June outlived her husband by three years. She passed into the realm of the everlasting in Fairmont in June 1995.
More will be added here about her life when learned.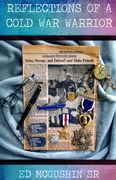 Edward McGushin's book
Daughter Sandra Jean Wilt (1945- ? ) was born on July 22, 1945 in Fairmont, Marion County, WV. In young womanhood she dwelled at 811 Vermont Avenue in Fairmont. At the age of 20, on Jan. 29, 1966, she was joined in holy wedlock with 27-year-old Edward Francis McGushin Sr. (Nov. 13, 1938-2010), son of Joseph F. and Doryce (Hutcheon) McGushin. Their nuptials were led by Rev. Stephen J. Wolan of the Immaculate Conception Church. Edward was a native of Sacramento, CA and at the time of marriage resided at 1580 McDaniel Avenue in San Jose, CA. The two sons the couple bore together were Edward Francis McGushin Jr. and Brian McGushin. He had received his bachelor's degree in 1960 from the University of San Francisco and a master's in international relations in 1970 from the University of North Carolina in Chapel Hill. He was a decorated 20-year veteran of the U.S. Army, serving in the 82nd Airborne Division as a ranger. He is known in 1961 to have been posted at Checkpoint Charlie in Berlin at the time the Berlin Wall was built. He also saw two tours of duty in Vietnam, in 1966 and then again in 1972. The family resided in Virginia for the first 28 years of their marriage. Edward later joined the office of the Army Chief's General Staff with offices in the Pentagon, and he retired from this position in 1980 with the rank of lieutenant colonel. After leaving the military, he was employed with the consulting firm SRA International in northern Virginia, specializing in emergency response management. In 2004, the couple relocated to Farmington, CT. Edward's community activities over the years included the Fauquier County Fire and Rescue, Notre Dame Academy in Middleburg, Middleburg Community Center, Hill-Stead Museum, Farmington Friends of the Library, Country Club of Farmington, 82nd Airborne Association and Chapel of the Four Chaplains. He also authored a memoir of his military service experiences, entitled Reflections of a Cold War Warrior. Sadly, Edward passed away on Nov. 20, 2010, bringing to a close their marriage which had endured for 44 years. A mass of Christian burial was sung in Farmington at the Church of St. Patrick. Burial of the remains was in Arlington National Cemetery.
Grandson

Edward Francis McGushin Jr.
Daughter Barbara Wilt wedded (?) Kasa.
Copyright © 2001-2002, 2005-2006, 2012, 2021 Mark A. Miner