Mary (Minerd) Eicher
(1895-1979)
Mary (Minerd) Eicher was born on Aug. 30, 1895 in Dunbar, Fayette County, PA, the daughter of James and Emma (Meyers) Minerd Jr. She appears to have been named after a half-sister who had died some 10 years earlier.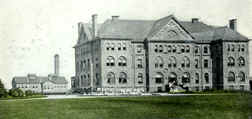 Even though her father was still alive, Mary at age eight was sent to the Uniontown Soldiers' Orphans' School. Later, she was transferred to the Soldiers' Orphans' Industrial School at Scotland, Franklin County, PA. The school is seen here.
When Mary was age 14, it was clear to her that her father was dying. One day, as she was washing clothes, he drew her near and kissed her. She was so blinded by her tears that she could hardly work. He finally passed away on Memorial Day 1909, then known as Decoration Day. For years afterward, on Memorial Day, Mary would weep thinking about him.
Mary married Earl Eicher (1895-1980). He was a native of Westmoreland County, PA. They had six children – Dorothy Tascher, Donald E. Eicher, Marion A. Srogi-Andeits, William Eicher, Eugene Eicher and Rose Menke.
The Eichers first lived in Connellsville, Fayette County, where Earl worked as an electrician in a glass factory and also for the Baltimore & Ohio Railroad. After he suffered through some serious railroad accidents, Mary insisted that he quit.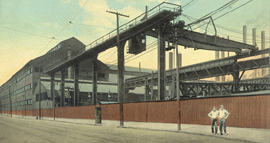 Circa 1919, the Eichers moved to Pittsburgh, where they resided at 1952 Greenleaf Street. Earl worked as a machinist at Jones & Laughlin Steel Company on the city's South Side. He also was a welder. A rare old photographic postcard of J&L's South Side Works is seen here.
The Eichers resided in Pittsburgh for the rest of their lives.
Mary passed away in Pittsburgh in August 1979.
Earl lived less than a year afterward, and passed away in Pittsburgh in May 1980.
Copyright © 2002, 2004, 2007, 2010 Mark A. Miner