Mary Jane 'Jennie'
(Minerd) Miller
(1857-1919 )
Mary Jane "Jennie" (Minerd) Miller was born in January 1857 near Farmington, Fayette County, PA, the daughter of Jesse and Sarah (Smalley) Minerd.
She was but a young girl of four years of age when her father was tragically killed in an accident. Her mother then married Frederick Nicolay, and raised the children in the Nicolay home, but Mary Jane always retained her "Minerd" surname. She did not know her own birthdate.
Very little is known of her life.
Mary Jane married George B. Miller (1858-1922) in about 1878. At the time, she was age 21 and he 20.
The Millers had at least five children -- Gertrude Turley, Joseph L. Miller, Hadden Miller, Frank Clayton Miller and Helen Feeney. The elder two sons were twins, born in August 1881.
They first resided in Uniontown, Fayette County. In 1880, at the time the census was enumerated, George and Jennie and their eldest daughter Gertrude made their home on the city's Church Street in the east end. George's occupation was as a clerk in a dry good store. Also residing under their roof was 19-year-old lodger Maggie Kremer, a dress maker.
The July 15, 1898 edition of the Connellsville (PA) Courier reported that Hadden and Joseph had spent the past Sunday visiting at the home of their unmarried aunt, Margaret Minerd, in Ohiopyle.
When the federal census again was taken in 1900, George was employed as a nurse. That year, son Joseph worked as a clerk in a confectionary store, while son Hadden was an apprentice printer.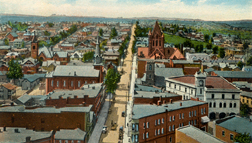 Uniontown's Morgantown Street
During the decade between 1900 and 1910, the Millers moved to New Castle, Lawrence County, PA, where George continued his occupation as a nurse. The family is enumerated there in the census of 1910, living on North Beaver Street. Under their roof that year were 22-year-old son Frank Miller, who labored as a flagman on the railroad, 20-year-old daughter Helen, and two-year-old granddaughter Gertrude Feeney.
The Millers returned to Uniontown by 1917, residing at 152 West Berkeley Street.
Mary Jane was mentioned in the 1915 newspaper obituary of her sister Sabina Minerd.
Tragedy struck in the summer/fall of 1917, when son Frank, a railroader based in Conway, Beaver County, PA, was stricken with typhoid fever. Frank came to his parents' home in Uniontown to try to regain his health. Sadly, he could not recover, and died on Dec. 8, 1917, at the age of 30. The untimely passing left his widow Bessie Catherine with two young children.
Mary Jane was stricken with acute myocarditis (inflammation of the heart) and died in Uniontown at the age of 63 on Nov. 27, 1919.
George outlived Mary Jane by two and a half years. As a widower, he made his home with his married but single daughter Helen Feeney and granddaughter Gertrude. They are shown together on the 1920 census, on West Berkley Street in Uniontown. Geroge's occupation again was listed as private duty nurse.
George's health declined significantly following Mary Jane's death. He and daughter Helen moved to a residence at 57 West Main Street in Uniontown. He contracted pneumonia in May 1922, and after passing that "crisis," said the Uniontown Morning Herald, "bronchitis developed and in his weakened condition he was unable to withstand the additional shock."
He passed away at the age of 65 on May 24, 1922, at Uniontown Hospital. The funeral was held at the home of his son Hadden in Uniontown, followed by burial at Oak Grove Cemetery. Said the Morning Herald, George "was a lifelong resident of Uniontown and leaves many friends to mourn their loss and condole with the bereaved family in the death of their father." He was survived by six grandchildren and one brother, Calvin Miller, of Wheeling, Ohio County, WV.


Copyright © 2005, 2008-2009, 2014, 2022 Mark A. Miner