Home

Jesse Minerd was born in 1825 in Fayette County, PA, one of 15 children of Henry and Hester (Sisler) Minerd. His life was cut short by a tragic accident.
Jesse married Sarah Smalley (1827- ? ), one of 13 children of English immigrant Jonathan Smalley and his wife Margaret Shaffer.
The Smalley farm was located about 1.5 miles west of Ohio Pyle, Fayette County, and the Minerd and Smalley families were close. Jesse's brother Samuel Minerd married Sarah's sister Rebecca.
Jesse and Sarah produced a brood of five known children -- Hannah Maria Gaither, Sabina A. Minerd, Daniel Lucas Minerd, Mary Jane Miller and Margaret H. Minerd.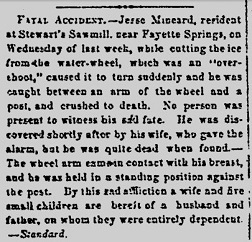 Washington (PA) Reporter, Feb. 15, 1860
Courtesy Google News

The Minerds lived near Ohio Pyle and Farmington, Fayette County, where Jesse worked as a four miller, possibly for his father in law. The lives of the in-laws are described in "Record of the Smalley Family," a 1956 manuscript written by the Minerds' niece Alverda (St. Clair) Kennedy with help from a cousin, John C. Tate:

Grandfather Smalley must have been a good mechanic. I (John Tate) have two small millstones he made. they are 24 inches in diameter. They were left at the Smalley homestead where I got them. He also built a small stone bur portable hand-powered grist mill about three and a half-feet square and four feet high. On this little hill, he ground all the corn meal and buckwheat flour for his family of thirteen. Grandmother Smalley gathered herbs, bark and roots to make medicines and is said to have doctored the mountain people from Chalk Hill to Ohiopyle. My aunt told me about a neighbor who came to her one day saying that his son was very sick and they thought he would surely die. Grandmother got on her horse, went to the home where she found a very sick child. She gave him something to cause him to vomit and up came a cud of tobacco. They discovered that he swallowed it to avoid being caught with it. On the old home place was a very odd plant no one had ever seen before. It produced a green flower. The neighbors told us that Grandmother used it for sick cows.

Circa February 1860, Jesse was employed at Stewart's Sawmill, near Fayette Springs, and he and the family resided at the mill. Tragically, he was killed accidentally in a most sudden and gruesome way. The Washington (PA) Reporter spelled out that:
...while cutting the ice from the water-wheel, which was an "over-shoot," caused it to turn suddenly and he was caught between and arm of the wheel and a post, and crushed to death. No person was present to witness his sad fate. He was discovered shortly after by his wife, who gave the alarm, but he was quite dead when found. The wheel-arm came into contact with his breast, and he was held in a standing position against the post. By this sad affliction a wife and five small children are bereft of a husband and father, on whom they were entirely dependent.
The accident was included in the 1860 Fayette County Mortality Schedule.
Jesse's entry, 1860 Fayette
County Mortality Schedule

Jesse's burial site also is un-recorded, but he may rest in the Rush Cemetery which adjoined the Smalley farm. The reason for suspecting so is that his father in law was buried there in 1863, just a few years later. The small cemetery sits along the road to the Ohiopyle Camping Grounds, marked by a sign reading "Fact or Local Legend?"

Among the others who repose in Rush Cemetery is the infamous Thomas Faucet, alleged to have shot and killed his commanding officer, General Edward Braddock, during the French & Indian War battle in 1755 in which English troops were routed. Today, Rush Cemetery also is known as Tom Faucet Cemetery.

On the 1860 census, Sarah was listed as a "widow" at age 33.

After nine years alone, on June 13, 1869, Sarah married 54-year-old Frederick Nicolay (1815- ? ), also spelled "Nicklow," who was 14 years older than his bride.

During the first year of marriage, they dwelled with Sarah's widowed mother and a large household of other relatives on a 66-acre farm near Ohiopyle. The census-taker of 1870 recorded the names of those under the Smalley roof that year -- Ruth A. Ogle (age 30) and son Absolom (5), Frederick Nicklow (55) and wife Sarah (41) and baby Ida E. Nicklow (two months), Sabina Miner (19), Daniel Miner (17), Mary J. Miner (14), Margaret H. Miner (11).

Sarah and Frederick went on to produce two children of their own, Ida E. Speicher Anderson plus one who died in infancy.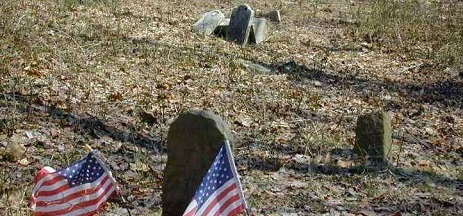 Tom Faucet Cemetery, where Sarah's parents sleep, and possibly Jesse also

Courtesy Brenda (Turner) Luckey
When the federal census enumeration was made, with the family name spelled "Nicola," they dwelled on a farm in Stewart Township. Sarah's ellderly mother Margaret Smalley lived in their household at that time. When the mother died two years later, on April 17, 1882, her remains were laid to rest in the Faucet burying grounds.
The fates of Sarah and Frederick are unknown but will be added here when learned.
Much of this information was provided in the 1956 manuscript, Record of the Smalley Family, by J.C. Tate and Alverda St. Clair Kennedy, as retyped in 1961 by Dale R. Hall. A copy is in the Minerd-Miner-Minor Archives.
~ Sarah's Daughter Ida (Nicolay) Speicher Anderson, 2nd Marriage ~
Ida E. Nicolay (1870- ? ) was born on April 10, 1870 in or near Ohio Pyle.
She grew up in rural, neighboring Stewart Township, Fayette County.
In about 1894, when she was age 24 and he 23, she was united in matrimony with Milton R. Speicher (1871- ? ), also spelled "Spiker."
They had two children -- Fred Speicher and Gertrude Estella Hutchinson.
By 1900, when the census was taken, they had moved from Ohiopyle to Homestead, Mifflin Township, near Pittsburgh, Allegheny County. That year, Milton made a living as a teamster. They are known to have been in Homestead in August 1902 at the birth of their daughter.
Sadness blanketed the family when Milton died at the age of 32 on April 11, 1903. Interment was in Sansom Cemetery in Farmington.
Circa 1907, Ida married her second husband, Charles C. Anderson (1881- ? ). She was 11 years older than her spouse. They first lived at Ohiopyle, as shown in the 1910 census, just a few doors away from Ida's invalid half sisters Sabina and Margaret Minerd. Charles worked as a teamster, driving large skids of logs for timbermen. Gertrude moved in with her infirm elder half-sisters Sabina and Margaret Minerd at times during the 1910s to help give care and assistance.
The Andersons later relocated to Rochester, Beaver County, PA. By 1920, they had moved across the Ohio River to Monaca, Beaver County, making their home on Washington Avenue. That year, when the federal census was taken, Charles was employed as a teamster, performing "general hauling."
Monaca's leafy Pennsylvania Avenue, early 1900s
The 1930 census shows Charles and Ida remaining on 1242 Washington Avenue in Monaca, with him employed as a driver for a coal dealer. By 1941, they dwelled at 1210 Atlantic Avenue in Monaca.
Stricken with diabetes, hardening of the arteries and syphilis in 1940, Ida suffered for a year. Toward the end, she was admitted to the Beaver County Home Infirmary in Potter Township, near Monaca. Nine days later, she died, on Oct. 17, 1941, at the age of 71. Following a funeral at the Batchelor Funeral Home in Rochester, Beaver County, burial was in Monaca's Union Cemetery, reported the Beaver Daily Times.
Charles' fate is unknown.
Son Fred Speicher (1895- ? ) was born on Aug. 9, 1895. At the age of 23, in about 1918, he married 24-year-old Eunice Jane (?) (1894- ? ). They apparently had no children. At the age of 24, he was employed as a shipping clerk in an electrical manufacturing business in the Monaca area. By 1930, he accepted a position as clerk with Westinghouse Manufacturing's plant in Chester, Delaware County, PA. The Speichers' new address there was 212 East Roland Avenue in Parkside. The federal census of 1930 shows the couple in Parkside with boarders Robert and Rebecca Miller living under their roof. But in October 1940, enduring chronic kidney problems, Fred was forced to quit work to seek medical treatment. He died in Chester Hospital on Jan. 4, 1941. Burial was in Chester Rural Cemetery in Delaware County.
Daughter Gertrude Estella Speicher (1902-1929) was born on Aug. 23, 1902 in Homestead, Allegheny County, PA. She married William Hutchinson ( ? - ? ) of Pittsburgh. They produced two children, Eleanor Violet Frank and James Hutchinson. In 1929, their home was on 844 Walnut Street in East Rochester, Beaver County. Tragically, while expecting their third child, and in a move of desperation, Gertrude decided to end the pregnancy. She used a slippery elm stick to try to abort the fetus, but ended up slicing into her intestine, causing peritonitis which led to shock and death 14 days later, in Rochester General Hospital, on Nov. 14, 1929, at the age of 27. A short obituary in the Beaver Daily Times spelled her maiden name "Speiker" and noted that funeral services were held at the residence of her mother in Monaca. Gertrude's remains were placed into rest in the Union Cemetery in Monaca. Her grave was never marked. Circa 1941, the children made their home in Coraopolis, Allegheny County, PA. William earned a living as a widower as a machinist, making his home in Beaver.
Granddaughter Eleanor Violet Hutchinson (1922-2000) was born on Oct. 15, 1922 in Beaver, Beaver County, PA. She was age six when her mother died such a senseless and untimely death. At the age of 19, on Aug. 23, 1942, she was united in marriage with Attilio J. Frank (1920-2003), son of Italian immigrants Bernard and Angeline (Ciccone) Frank of Beaver County. Attilio was a native of Jeannette, Westmoreland County, PA and at the time of marriage worked as an apprentice craneman in Coraopolis, while she made her home in Beaver at 245 Commerce Street. The nuptials were led by Rev. E.C. Pires in Beaver. The Hutchinsons' marriage lasted for 57 years until the separation caused by death. They lived in Coraopolis and had four children -- William Frank, Trude Mancini, Timothy Frank and David Frank. Said the Pittsburgh Post-Gazette, Eleanor "was a member of St. Joseph Church and was employed nineteen years by Sewickley Valley Hospital as an Environmental Engineer in the psychiatric ward." Eleanor passed away at the age of 77 on May 8, 2000. Attilio survived his wife by three years. He entered into eternity on July 2, 2003.
Copyright © 2000, 2002, 2008, 2015, 2023 Mark A. Miner
Sue Ellen (Colbert) Martin has contributed content for this biography.